Last week, Shell Upstream Americas Director Marvin Odum announced that they had green-lighted a massive investment in Gulf of Mexico offshore drilling and deepwater production, specifically the Appomattox deepwater development.
The hub will be Shell's largest floating platform in the Gulf. In an environment of falling oil prices and shrinking capex budgets, many wondered how such a huge project could survive the funding process.
Odum, giving interviews at this years Aspen Ideas Festival, gave some insight into why this is exactly the time for projects of this scale.
Basin-Play Concept in Effect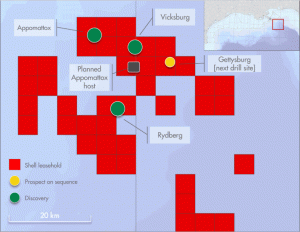 The Appomattox discovery was part of the larger Norphlet play in which Shell is already active.  This announcement is the culmination of over 10 years of exploration activities in the Eastern Gulf.
The proximity of Appomattox to the Vicksburg and Rydburg discoveries allows for the development of a hub to service the entire play. It is estimated that the entire play could produce 700 million barrels of oil equivalent.
---
Related EKT Interactive Resources:
Podcasts:
Sound Off Podcast – Big Data and Analytics in Refining
Drill Down Podcast – Offshore and Deepwater Drilling
Pages:
Upstream and Downstream – What's the Difference?
BSEE – Bureau of Safety Environmental Enforcement
Deepwater Horizon
Offshore Drilling
---
Struggling Oil Services Providers Means Negotiating Power for Shell
It is no secret that oil services sector, those companies that provide all of the technical support from offshore rigs to drilling and completion services are hurting. These companies have felt the brunt of lower oil prices, scaled back head counts, and idled assets.
In addition to technological developments which have affected project economics, there is no doubt that Shell has been able to negotiate with a strong hand in this environment.  These factors led to a reported reduction in project costs of 20%.
Shell has even taken the unusual step of reporting the breakeven point of this project. At $55 a barrel, it is in line with many onshore shale projects.
Playing in the Sweet Spot
People tend to lump all production together, whether it's shale, deepwater, conventional. As lower oil prices have revealed, economics vary greatly from play to play, or even field to field.
To quote Odum in this CNBC interview:
Not all shale resources are created equally, not all deepwater projects are created equally.  You have to be in the very best projects in each of those parts of the portfolio.  Appomattox is a world class deepwater project.
Related Articles:
Shell takes final investment decision on Appomattox deepwater development in Gulf of Mexico – Shell
Upstream and Downstream – What's the Difference? – EKT Interactive
---