---
Thanks for listening to the CRG Channel on the EKT Interactive Oil and Gas Podcast Network.
---
Commodity Research Group (CRG) is an independent research consultancy specializing in base and precious metals, as well energy products. The Group provides research and general price analysis for these markets, along with advice to companies seeking to construct hedging strategies.
In this podcast, market experts Edward Meir and Jim Colburn discuss key elements of the metals and currency markets.
---
Topics and Time Stamps:
[01:25] Base metals on a tear – Follow China
[03:00] Aluminum production dropping
[06:20] Eye on upcoming China communist party meeting
[07:20] Copper – Supply back better than expected – Deliveries to LME
[11:25] China property market still red hot
[12:10] Gold story and outlook – hard to determine
[15:40] Palladium – Strongest commodity on US & China auto outlook
[18:00] Platinum and Euro diesel automobile outlook
[19:15] Electric vehicles and metals
[23:30] US dollar and the Fed
[30:00] Global economies in sync
---
About the Experts
Edward Meir
Edward Meir was named the most accurate price forecaster for base metals in 2011, 2014 and 2015 and finished second for 2013, as ranked by Metal Bulletin, a leading trade publication. Additionally, he obtained the #2 ranking for precious metals in 2014 and was third in 2013. Prior to providing research under the banner of Commodity Research Group (formerly Madison Holdings), Mr. Meir sourced nonferrous metals out of Europe, China, and Russia for a number of clients, utilizing the 9 years of trading experience he had acquired while working with UK-based trading company Trans-World Metals.
Currently, Mr. Meir's CRG has been retained by INTL FCStone as an independent research consultant for both base and precious metals. CRG provided similar services to MF Global for eight years prior to its demise in late 2011, covering the suite of energy products as well. Mr. Meir obtained his BA in Economics from Montreal's McGill University and his MBA from New York University. He is a long-standing registered principle with the National Futures Association and his firm is registered with the NFA as an independent introducing broker.
James Colburn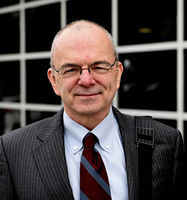 Jim Colburn is a futures and options professional with 30 years of wide ranging experience in commodity markets. For much of his career, at Man Financial (1989-2011) and Jefferies LLC (2012-2013), Mr. Colburn worked with major integrated oil companies, hedge funds, pension funds and other entities to develop market hedging and trading strategies.
He has conducted trading, hedging and risk management workshops in energy markets worldwide.
Mr. Colburn is a published author on options trading, hedging, market making and risk management. In 1986, while at the New York Mercantile Exchange, Mr. Colburn helped develop new markets in energy option contracts by educating the oil industry, banks, floor traders and brokers, worldwide.
---
Links:
Commodity Research Group Podcast
---
Sponsors:
EKT Interactive Oil and Gas Podcast Network
Oil 101 – A Free Online Introduction to the Oil and Gas Industry
---