Summer is behind us and I can tell by the rate of sign-ups to our Oil 101 e-learning community that people are getting back in action.
Next week, EKT Interactive Sr. Associate Terry Gardner is presenting his Deepwater Drilling and Production Technology course in conjunction with the SPE Deepwater Drilling and Completions Conference in Galveston, TX.
Members of our community already know Terry through the ebooks he has contributed on offshore drilling.  Get them now FREE with your Oil 101 membership.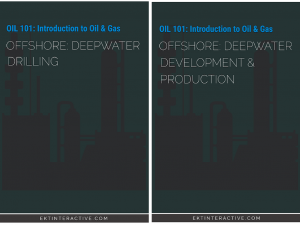 From the conference website:
The SPE Deepwater Drilling and Completions Conference brings together experts from around the world to explain how operators and service companies develop and utilize new technologies to meet current challenges in deepwater basins.
​

Conference Highlights
Technical Sessions on Drilling Challenges, and Design and Drilling Fluids Technology
Focus on proven techniques, recent advance, and concepts
Industry expert insight on field studies and discoveries
Event Website  |  Course Information and Registration
We sat down with Terry a while back for an episode of the Drill Down podcast.  It is a great chance to get to know Terry and his enthusiasm for this topic.
Listen now at EKTInteractive.com or on iTunes.