Friday, March 20th, 2020
Hello all,
Welcome to Energized, your weekly look into the geopolitics, news, and happenings of energy markets. From our family to yours, stay safe, wash your hands, and smile. These tough times will pass.
Given the importance and volatility of the time, we are going to continue where we left off last week with Part 2 of the Oil Price Collapse.
If you missed last week's issue, be sure to check it out. Also, we'd like to remind you to join the over 300 folks on our Energized LinkedIn Group for a discussion on this week's topics and more.
Energized! 
Curated weekly oil and gas newsletter
The index of this spotlight issue is as follows:
Weekly Price Ranges
+ Oil plummets 26% to 18-year low as global price war escalates – Business Insider
Business and Finance
+ March 2020 Oil Market Analysis – Commodity Research Group
+ Oil traders stand to make fortunes as more oil hits market – Houston Chronicle
OPEC, Russia, and the U.S.
+ OPEC, R.I.P. – The Wall Street Journal
+ Now comes the oil shock – The Wall Street Journal
+ Tomlinson: Texas oil companies can't compete if OPEC doesn't manipulate prices – The Houston Chronicle
+ OPEC's lever loses its pull on oil – The Wall Street Journal
+ Can Saudi Arabia Survive the Oil Price War It Started – OilPrice
Data
+ Blood in the streets, we share our views – Seeking Alpha
Women in Oil and Gas
Honoring Women in Energy – Hart Energy
Technology
+ FPSOs: The New Business Model – Offshore Engineer
---
March Spotlight Issue:
Part 2: The Oil Price Collapse
Weekly Price Ranges
+ Oil plummets 26% to 18-year low as global price war escalates – Business Insider
The threat of record supply and the ongoing coronavirus is bludgeoning oil prices.
"Saudi Arabia and Russia are both preparing to boost production as soon as April. Saudi authorities have issued a statement nearly every day for the past week and a half raising the stakes in its showdown with Russia."
Business Insider reports that oil is down over 50% in March alone.
WTI Crude Oil: $20.06 – $33.57
Natural Gas ($ per million BTU): $1.65 – $1.91
Rig Count: 792
Business and Finance
+ March 2020 Oil Market Analysis – Commodity Research Group
EKT Interactive is proud to host the Commodity Research Group's (CRG) podcast on our website. Andy Lebow and Jim Colburn bring you an in-depth insight into the trading side of oil markets.
Throughout the podcast, Andy and Jim talk about options contracts. So as a primer, let me explain how these contracts work. If you know how options work you can skip this section.
There are two main kinds of options contracts, puts, and calls, and of those two, you can either buy or sell them. So there are effectively four kinds of trades you can make. These contracts are called financial derivatives and exist for stocks, commodities, and more.
Options have strikes, premiums, and expiration dates.
Options contracts are in 100 share increments.
If you are buying the contract you are paying the premium. If you are selling the contract, you are receiving the premium.
Buying a call and selling a put are "bullish" contracts, meaning they benefit from an increasing stock price.
Selling a call or buying a put are "bearish" contracts, meaning they benefit from a decreasing stock price.
Buying a call is buying the right to purchase something at a given price within a certain time frame.
Selling a call is the obligation to sell something at a certain price within a certain time frame.
Buying a put is the right to sell something at a certain price within a certain time frame.
Selling a put is the obligation to buy something at a certain price within a certain time frame.
As an example, let's say Starbucks stock is trading for $60 a share and you think the price is going to go up sometime between now and June (monthly options contracts are always the third Friday of every month so it's specifically June 19, 2020.) Let's say you're confident the stock will go up at least 10% between today and June so you buy a $65 call for $4.00. That means that you paid $4.00 per share, at 100 shares, so $400, for the right to purchase Starbucks stock for $65 a share between now and June 19. So you have about 3 months. Now to breakeven, the stock needs to get to $69 (65+4).
The seller of the call could be doing one of two things. First, he could own the underlying Starbucks shares and is comfortable selling the stock at $69. He's effectively capping his gains, at $69, which is higher than the current $60 a share. Because he's getting the $4 premium, he is also protecting himself somewhat from downside risk. For example, if Starbucks goes down to $56 by June, he breaks even since the $4 premium offsets this decline. This is called a covered call. It's a conservative strategy that many investors use who are just going for reasonable returns.
The other thing the seller could be doing is what's called a naked call. This means he doesn't own the underlying stock, he's pessimistic on Starbucks and thinks there's no way it can get to $65 by June and he wants to bag the "easy" $4 premium. Since he doesn't own the shares, his potential losses are theoretically endless.
On the flip side, let's say you want to buy Starbucks stock, but you don't want to do it at $60, you'd rather buy it at $55. You can sell a June Starbucks $55 strike put for $6, meaning you are actually only paying $49 per share. That being said, you now have the obligation to buy Starbucks at $55 a share, meaning if the price goes down to $30, you still have to buy it at $55. Ouch! But if you're comfortable buying the stock at $55, then it really would act the same as owning the shares anyway.
Now the buyer of this put is betting against Starbucks. He is getting the right to sell Starbucks at $55 a share between now and June. When people buy puts, and you're going to hear a lot of this in the podcast, they are basically shorting the stock without the financially burdensome and infinitely risky action of actually shorting the stock. For example, the buyer of the $55 Starbucks put is only paying $6 for the contract, that's the maximum he can lose. If Starbucks rockets higher to $80 a share, he still only loses $6 whereas if he actually shorted the stock he would be down $25 ($80-55). And in the case of the guy that sold the naked $65 call, he would be down $11 (65+4-80).
3 minutes into the podcast, Andy and Jim mention that, at the end of last week, someone bought some June 2020 $6.50 puts on the price of oil. Both Andy and Jim are surprised that someone would even do this but it also underscores the insane volatility and fear that is tearing through financial markets right now. Someone probably paid next to nothing for that $6.50 contract since it's unlikely WTI would get down to $6.50 a barrel within 3 months, probably something like 5 cents or so, but Andy and Jim wanted to point it out as an example of a contract that is being written that you would never think anyone would do. They mention the all-time low is $9.75, so this would blast through that.
Some key takeaways from the podcast are as follows:
"We've never had a demand shock coupled with a supply shock…we've never had this. I think you have the market, traders, and all participants trying to figure it out."

Andy is pointing out the black swan nature of having an oversupply of crude oil, which was already pressuring markets downward, paired with a massive decrease in demand (see Energized #48).

The OPEC meeting:

it was unforeseen by the market. Everyone thought OPEC would cut like 1 million bpd but in fact, they weren't willing to cut without the Russians cutting too. Since Russia dug in its heels, OPEC actually decided to announce an increase of at least 2 million bpd of production, which was a huge shock to the market. The Russians gambled and failed at the meeting and now there's a full-scale price war. Saudi Arabia is discussing expanding capacity to 13 million bpd, production to 12.3 million bpd in April. Saudi Arabia's production in February 2020 was 9.7 million bpd, so going to 12.3 million bpd would be a huge jump. Andy thinks it's going to be more so in the 11 million bpd range, but still a huge jump. The UAE is also discussing increasing by 1 million bpd over its current 2.9 million bpd or so figure. Libya isn't even producing due to a political situation but if they come online that's another 1 million bpd or so.
Note: In total, that would be a threat of about 4.6 million more bpd against a demand decrease of probably 2-3 million bpd less from China and who knows how much else from throughout the world. You could conservatively say if the price war were to take full effect and demand remains low that the full swing would be at least 7 million bpd of excess supply. Just shocking.
China was at record crude storage due to the outbreak of the virus. There's a market for storage when oil is around $30 for folks that think that's a good price and want to lock in supply now, but Andy and Jim mention that this market is going to top off and be hard to come by given the limited infrastructure.
There's storage in the western hemisphere but it remains capped, whereas the east began ramping storage over a month.
Jim and Andy noted the plunge in New York harbor futures contracts on gasoline which got below 90 cents.
OPEC is upset with Russia, Russia is upset because they were hesitant to decrease production in the first place because the U.S. could just raise production (see Energized #48).
A few years ago, when prices took a big dive, U.S. production fell 1.1 million bpd. It went down about 9.6 million bpd to 8.5 million bpd then they rebounded to 13 million bpd.
It's highly likely that drilling will basically stop and production will decline, the question is how quickly will it decline.
The EIA barely changed its forecast. Andy and Jim think this is an interesting point to note.
Jim points out that many companies are hedged for 2020, probably 50-60%, but not for 2021. This means that they locked in higher prices and are somewhat protected from lower prices in 2020.
We'll see consolidation and probably some bankrupcies. The big projects in Guyana and Brazil are definitely delayed for now. Jim and Andy think those projects are in trouble.
On the trading side, Jim notes just how significant of an event this is from an options standpoint. It's not necessarily record volumes of contracts, but as oil continues to slide you see more and more people buying puts, which you may expect, but then you see a high volume of open interest in buying calls as folks look to bottom pick on falling prices. These two forces are very powerful and acting at the same time. There's this "net net" bottom picking, as Jim says.
"We're seeing April $13.50 puts, May $10.50 puts, and June $6.50 puts trade, very light volume, but it's interesting there are people that are actually doing that," said Jim.
Now that the market is in the low $30s, there's not much anyone can do. As Jim said, it's like the house is burning down and you're looking for insurance and no one wants to give you that. Jim is referring to someone who, now that prices have fallen, wants to protect themselves by buying a put but who would sell a put to you without some hefty premium? That's the issue.
Jim and Andy spend some time talking about some hedging strategies and instances of when it didn't work in the past because volatility went down. They also talk about trading and what you would do if you were an end-user like a trucking company or an airline. On one hand, you'd want to take advantage of low jet fuel prices, but on the other, you're going to get burned if no one is on your plane. There's a lot in flux there.
First-quarter already looks like a 2 million bpd surplus, second quarter looks like it's going to be 3 million bpd, the only thing stopping the surplus from growing is if the Saudis and Russians get back to the table. Both Andy and Jim think this is going to happen but not until the late in the second quarter, so not for a few months. But that's the supply side, on the demand side you have folks working from home, you have a lot less demand, so it's going to be bad either way.
Margins are now pathetic, but crude should theoretically be cheaper than end products, but the market blistered gasoline so it changed some of the refining margins. Then there's the question of filling up the crude storage and then where does it go, well products, but the downstream story is another one that Jim and Andy say they will save for later times.
People are fearful right now, there's no return to normal for a while. People are "just spooked" right now and that's undeniable.
Please support Jim and Andy and give the podcast a listen. You can listen to past CRG podcast episodes for more insight as well.
+ Oil traders stand to make fortunes as more oil hits market – Houston Chronicle
"With both Riyadh and Moscow outdoing each other by pumping more oil into an already flooded market, crude prices have flipped. A new price structure, called a contango, allows the traders to make easy money by buying crude cheap, storing it, and selling it forward."
This contango situation is discussed above in the March 2020 Oil Market Analysis.
""Everyone is looking for tanks," an executive at a major oil trading company said, asking not to be named discussing commercial matters."
"The trade is disarmingly simple: buy crude taking advantage of the discounts Saudi Arabia and others producers are offering, store the barrels inland or offshore in a tanker, and lock in the profit by selling forward in the financial market. It just requires a wide enough price difference between spot contracts and forwards ones."
As someone unfamiliar with commodity trading, this article is mostly interesting because it peels back the veil by showing what kind of trading pandamonium goes on during a price collapse and subsequent war as we are seeing today.
OPEC, Russia, and the U.S.
+ OPEC, R.I.P. – The Wall Street Journal
This article discusses the reduced significance of OPEC in the present market. It attributes this reduced significance to the fractious group that OPEC has become, as Saudi Arabia is the only consistent and powerful party left. It also argues that the influence of OPEC+ is based heavily on the inclusion of Russia, and with that relationship shaky at best, OPEC is even weaker.
The weakening of OPEC runs parallel to the rise of U.S. production. "Since the first OPEC+ agreement in 2016, U.S. oil output has grown by close to 4 million barrels a day." Still, investor sentiment towards U.S. shale is weaker now than it was in the last downturn. It's unlikely investors would step in.
Unlike some points mentioned last week, this article argues the strength of Russia against OPEC, saying Russia "can balance its budget at a far lower oil price than Saudi Arabia. That not only means that the coming oil-price slump will be nastier but that OPEC may cease to matter."
"Shale isn't gone for good. OPEC's power may be."
+ Now comes the oil shock – The Wall Street Journal
An opinion piece on Saudi, American, and Russian oil relations.
Capital investment by many upstream players is contingent on prices of $50 or more, breakeven's in shale can be in the $30s on already drilled wells. Supply would naturally drastically deplete in a $30 environment because few new wells would be drilled.
"The longer this oil-price war continues, the greater the danger that a crisis in the oil patch combined with the coronavirus will do broader damage. Even the resilient U.S. economy, which had been gaining steam as trade tensions eased, may be hard-pressed to power through the dual shocks of a pandemic and suddenly collapsing oil prices."
+ Tomlinson: Texas oil companies can't compete if OPEC doesn't manipulate prices – The Houston Chronicle
Houston Chronicle writer, Chris Tomlinson, has been questioning OPEC+ for some time. He argues Americans supported OPEC+ because they can't compete in a truly free market.
This article argues that Saudi Arabia and Russia are in the right and America is in the wrong.
He notes shale drillers can't turn a profit above $55 per barrel.
"OPEC+ has 2 million barrels a day of spare capacity, most of it cheaper to produce than West Texas Intermediate."
"OPEC and Russia are not manipulating the market; they just stopped colluding."
"The oil and stock market's behavior over the last 10 days proves that energy independence is a fairy tale told by nationalists who do not understand how markets work."
"The sad truth is that Texas shale drillers can't compete on an even playing field with Saudi or Russia, where production costs are half of those in the Permian Basin. They do not have to drill horizontally. They don't have to hydraulically fracture the well. Their oil always will be cheaper."
"Current events prove that shale oil relies on an unreliable business plan based on politics, not economics, making it a risky investment."
+ OPEC's lever loses its pull on oil – The Wall Street Journal
EKT Interactive's president, Marty Stetzer, found some striking similarities between this 2007 article and the current dynamic in energy markets. Give it a read to find out why!
+ Can Saudi Arabia Survive the Oil Price War It Started – OilPrice
This article goes more in-depth into the actual Saudi Arabian family and economy and how that's affected by the price war.
"By taking the hardline that he [Mohamed bin Salman] did after that meeting, he has put the Kingdom's economy at risk due to its heavy dependence on oil income. Without the influx of billions of dollars of oil money, other high-profile investment projects to prepare the country for a sustainable economic future are now in doubt."
"Taking into account the multitude of possible negative repercussions of the OPEC+ breakup, the current oil price slump, which could be leading to very low oil prices in Q2 and Q3, could deal the Saudi economy a tremendous blow. According to the IMF, the fiscal breakeven price for Saudi crude is around $80 per barrel."
That $80 figure is lower than the $100 figure you will see in the Data section of this issue, but still, tremendously fascinating to look at the economy as a whole and what kind of profit it needs from oil.
"The impact of the Aramco listing is already immense, with most of the exchange turning red after Aramco lost 10 percent of its value on Monday. This steep correction is a major threat, as Saudi citizens have been investing not only their own money but also borrowed money from banks to buy Aramco shares"
Data
+ Blood in the streets, we share our views – Seeking Alpha
A good article with valuable data and charts. Take the data with a grain of salt, especially the middle east cost of production which varies widely across countries and fields.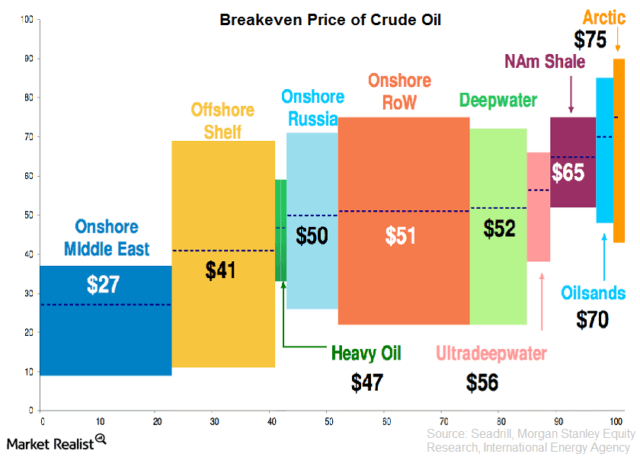 "The important answer to how long oil prices can remain low is based on the breakeven of major oil plays and the countries."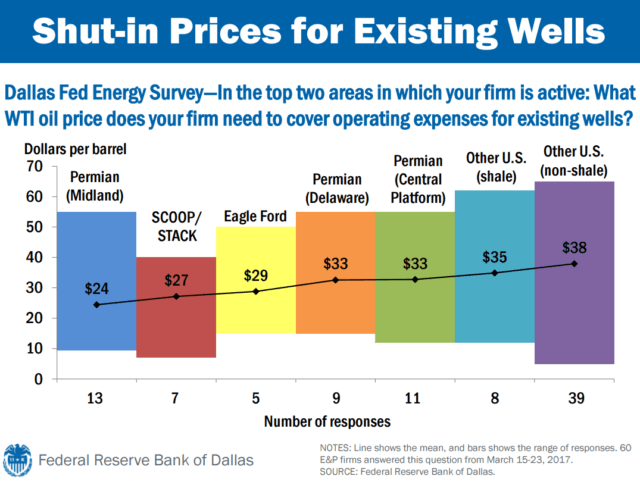 "In fact, with oil prices at $34 / barrel (Brent), prices have dropped so hard that some plays are starting to approach shut-in prices. What shut-in prices means is that development costs aside, it's not even worth producing oil from existing fields. When prices are below operating costs, you might as well write the well off as a sunk cost. Outside of the Permian Basin, SCOOP/STACK, and Eagle Ford, effectively the remaining of U.S. shale isn't profitable."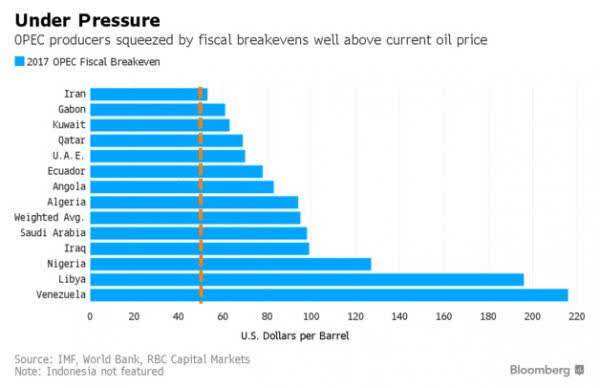 "However, the larger point here is that while OPEC countries might have low raw production costs as we saw above, they need much higher prices to balance their fiscal budgets. Saudi Arabia's breakeven is near $100 / barrel, so at $35 / barrel, the company is negative almost $240 billion / year when you account for government spending. With a $680 billion GDP, it doesn't take long for the need to keep market share to fall below the need to maintain prices. Russia, interestingly enough, has one of the lowest breakeven prices, and could actually handle a longer oil crash than Saudi Arabia. Maybe they saw this coming. Their central bank prepared a budget last year in the event that oil prices hit $25 / barrel this year. These oil production breakevens are something incredibly important to pay attention to because it leads us to our next section, an oil production drop."
Author Rida Morwa makes an amazing insight here that support the WSJ article that Russia is actually stronger than Saudi Arabia (see OPEC section). For petrol states, it's not just about turning a profit and surviving when oil and gas make up the majority of your GDP. Your business is your state, your welfare, your way of life. In that sense, Russia may be able to grind it out longer than Saudi Arabia.
The next section of the article is some intriguing "what ifs". The author is basically playing out a price war between Saudi Arabia, Russia, and the U.S. and overlaying that on top of demand drops we have already seen because of the virus. He notes China, at its peak, was down 3 million bpd, or 20% of its total consumption. Then he goes on to say that the coronavirus is peaking at different times in different countries. Now, for example, it's Europe, Korea, and Iran. He then assumes that anywhere the virus is peaking, demand should drop by 20%. For Europe, Korea, and Iran, which consume 20 million bpd, demand would drop 4 million bpd, so more than China alone. Then he adds in comparisons to the 2008 financial crisis, talks about vaccines and the stages of the testing, and when a vaccine can be expected to come into play.
I don't want to spoil the article for you. It's really worth a read for anyone remotely involved in energy
Women in Oil and Gas
Honoring Women in Energy – Hart Energy
Hart Energy recognized 25 women in energy. From executives to directors to partners, this article gives a great shoutout to all of the influential women impacting our industry. In case you're new to Energized, be sure to check out our October 2019 Spotlight Issue: Women in Oil & Gas.
Technology
+ FPSOs: The New Business Model – Offshore Engineer
A great summary of Floating Production, Storage, and Offloading units. This article's predictions, which were written in late February, are somewhat out of date now so I wouldn't pay too much attention to those. For example, the article is citing how 2020 could be a big year for FPSOs offshore Guyana and Brazil, but those plans may be delayed in the current environment although it's unlikely Exxon would sink the whole project given how far along it's come. The article's value comes from its in-depth explanation of FPSOs and how they work.
---
Have a great weekend!
-Danny Foelber
EKT Interactive Managing Editor
Unsubscribe | Update your profile | 9813 Shadow Wood Dr., Houston, TX 77080