Energy Prices Summary – Wednesday, July 22, 2020
Crude Oil (CLU20): 41.90 (-.02)
Natural Gas (NGQ20): 1.681 (+.006)
Gasoline (RRQ20): 1.2828 (+.0031)
NY ULSD (HOQ20): 1.2707(-.0093)
---
Think a friend will enjoy Oil Prices Daily?  They can sign up here!
---
*Note – Front month crude oil is now the September (U) contract.
Oil prices opened lower but managed to recover above the important 41.74 (September contract) technical support level despite the EIA reporting a 4.9 million barrel build in crude oil inventories.  Reuters poll consensus among oil analysts was for a draw of about 2 million barrels.
Refinery runs are reported at 77.9%.
"Overall this would suggest that the demand recovery we've seen from the bottom seems to be stalling," said Phil Flynn, senior analyst at Price Futures group in Chicago.
In the EIA report (link below) I think it is important to note that despite the plummeting rig count and production numbers, crude oil inventories in the US remain 19% over the 5 year average.
Top Oil Price News Headlines
+ Weekly Petroleum Status Report Highlights – EIA
+ US Petroleum Balance Sheet – EIA
+ Oil falls as US posts surprise rise in inventories – Reuters
+ US crude, distillate stockpiles rise unexpectedly: EIA – Reuters
"Despite Mexico's success, no other major oil-producing country has followed suit with a similarly large hedge. "
+ Russia considers oil price hedges modeled on Mexico's system – World Oil
Crude Oil Settlements
Sept 20 (CLU20) 41.90 (-.02)
Dec 20 (CLZ20) 42.28 (+.02)
Dec 21 (CLZ21) 43.43 (+.06)
Crude Oil Price Spreads
CLU20 / CLZ20:  -.38
CLZ20 / CLZ21:  -1.15
---
SPONSOR: Oil 101 – An Introduction to Oil and Gas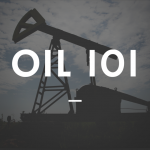 Oil 101, our core oil and gas industry overview, has been used by companies and individuals alike to get a leg up on their competitors.  Learn more about Oil 101 and take a free preview here.
Need Oil 101 for your team?  Get in touch.  We help teams onboard new members quickly and efficiently with a learning experience targeted to their needs.
Oil 101 from EKT Interactive – Effective, affordable oil and gas training for companies and individuals.
---
Daily Crude Oil Price Chart
Intraday Crude Oil Price Chart
---
Oil Price Resources
+ CME
+ EIA Weekly Petroleum Status Report
+ OPEC Monthly Oil Market Report
+ Commodity Research Group Podcast
---
Learning Resources
Want to learn more about concepts related to oil trading, financial contracts, hedging, and commodity price volatility?  Here are some resources that are available to learn more:
+ Hedging and Financial Contracts
+ Oil 101 – Introduction to Supply, Trading, & Transportation (Member-Only Content)
+ What is the difference between Upstream and Downstream?
---
Too Much of a Good Thing?
If daily emails are too much for you right now, you can opt out of Oil Prices Daily anytime by clicking here.
---