Right back where we started
In  a see-saw week for oil prices, we end the week basically where we started.
Oil prices slid mid-week after the EIA weekly report showed another build in crude oil inventories of almost 5 million barrels.  As the report states, "US Crude oil inventories are at the highest level for this time of year in at least the last 80 years".
Prices rallied back at the end of the week as the Baker Hughes rig count showed another massive decline in operational rigs.
So this begs the question…
Does rig count even matter if actual oil production and inventories keep rising?
Well, the disconnect between rig count, production and prices already happened in natural gas, this chart (and article) tell why.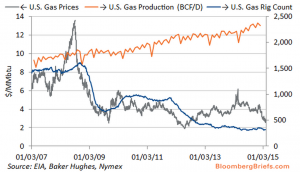 And the world's biggest oil trader might agree.
~ WoodMac: Eagle Ford production tops 1 billion barrels: OGJ
~Beware of Break-even and Marginal-Cost Analysis:  OGJ
~OPEC Producers Cut Prices to Asia:  FuelFix
-"OPEC Reference Basket (ORB) ended January down over 25% m-o-m to its lowest value in six years" OPEC Monthly Oil Report
Heads continue to roll
Global layoffs in oil and gas pass 100,000 people, and more headcount and capital spending reductions hit the news daily.
Our own HR expert argues why this could be a huge mistake, and that Layoffs Aren't Always the Answer (Part 1 in the series) to dealing with oil price declines.
~Always first to the party, Economists See Cheap Oil Weighing on Capital Investment:  WSJ
Keystone XL Moves to the White House
The US House passed the Keystone XL bill and moved it onto President Obamas desk, he is sure to get around to signing it never.
Speaking of Pipelines, Challenges in the Marcellus Shale
The State of Pennsylvania, facing a $2 billion budget deficit, is considering tax hikes that could affect production economics in the state.  Reading the article, you see that the real problem is how these taxes could affect necessary midstream infrastructure investment – namely pipelines and gathering systems.
The lack of pipelines already means local producers accept a 50% price discount to the market for their gas.
Williams Co. CEO agrees, stating that it's politics, not prices, that is hindering midstream investment.
Tango with Contango
Kinder Morgan scooped up some prime storage assets this week.  I wonder if they're also talking to Morgan Stanley?
Contango is a hot topic these days in the trading world.  For those not sure what it is all about, we posted some explanation of contango here.
Strikes Continue
Strike Negotiations Continue, and they aren't the only ones walking out:  Fuelfix
---
Read more about the difference between upstream and downstream segments of the oil and gas industry.
---