Friday, June 12th, 2020
Hello all,
Happy Friday and welcome to Energized, your weekly look into the geopolitics, news, and happenings of energy markets.
Before diving into this week's content, we'd like to remind you to join over 400 members in our Energized LinkedIn Group. We will be releasing frequent news and snippets of Energized newsletters through the group. We hope to see you there. Also, if you haven't already, visit our website to gain access to our free Oil 101 introductory course, our popular series of mobile-ready videos describing "How the industry works." Ready for more? Check out our in-depth Oil 201 course which covers exploration, drilling, production, well completions, and refining. If your company or group is interested in Oil 101, let's talk. We license our courses for use as internal training for sales, IT and operations teams. Think you know someone who would enjoy this newsletter? Pass it on! They can subscribe and access our Energized archives. Finally, be sure to check out the 2019 Energy Recap for a quick refresher on 2019 content.
Now, onto this week's issue.
Energized! 
Curated weekly oil and gas newsletter
Oil and Gas Prices and Markets
Light, sweet crude (dollars per barrel): $39.55
Last week: $37.41
Natural Gas (dollars per million British thermal units): $1.782
Last week: $1.821
Rig count (United States): 284
Last week: 301
Downstream
+ Refiners hit hard by fuel demand destruction – Rigzone
Refiners are being strained from decreased demand for refined products like gasoline and jet fuel as transportation via land, sea, and sky remains low.
"As a result, refiners across the world have been forced to cut production rates despite falling and "attractive" crude prices, GlobalData outlined."
The article notes that data up to May 26 from Rystad estimates a 9.9% drop in global demand for road fuels and a 40.8% drop in global demand for jet fuel for a total demand drop of 7.6 million bpd on average in 2020.
Power Generation
+ A multi-layered reinvention: AES Southland Projects – Power Magazine
A great historical article about the reinvention of AES Corp.'s Alamitos Energy Center and Huntington Beach Energy Project.
Author Sonal Patel had this to say about her article:
"In reporting this story, I waded through interesting documentation related to California's steam generation plant building history. The new units at the 1950s–built Alamitos and Huntington Beach sites will be crucial to the state's transition, which began in 2006, when California in a bold measure rooted in decades of eco-pioneering (starting in the 1970s), set the first economy-wide greenhouse gas (GHG) limit in the Western Hemisphere and effectively kicked off now-codified ambitions of producing 100% of its power with zero-emissions energy sources. Alamitos and Huntington Beach may be the last gas-fired plants built in California. The story of their completion is remarkable."
The article is free to access and worth a read for anyone interested in power generation and the energy transition.
+ Lamprell to build substructures for Scotland's largest offshore wind farm – Offshore Engineer
This article provides an example of oil & gas technology (Subsea7) applied to wind farms.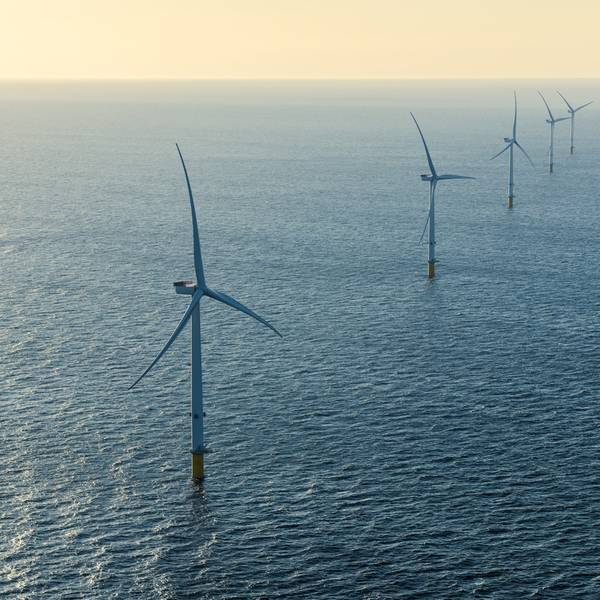 Image Courtesy of MHI Vestas Offshore Wind
The value of the contract is apparently worth over $150 million.
"The project is a 1,075MW project which is located 27km off the Angus Coast in the Firth of Forth, off the coast of Scotland and will be developed and operated by Seagreen Wind Energy Limited. Once constructed, the wind farm will be the largest in Scotland and Phase One is forecast to provide low carbon energy for around one million homes. The project will feature 114 V164-10 MW wind turbines, to be delivered by MHI Vestas."
Offshore
+ Storm forces GoM operators to evacuate 185 platforms – Offshore Engineer
Its hurricane season and that means dangerous storms that can alter life and business as we know it.
The latest is tropical storm Cristobal, which disrupted the offshore industry as it moved up the Mississippi River Valley, past the Great Lakes region, and into Canada, causing widespread flooding in its wake.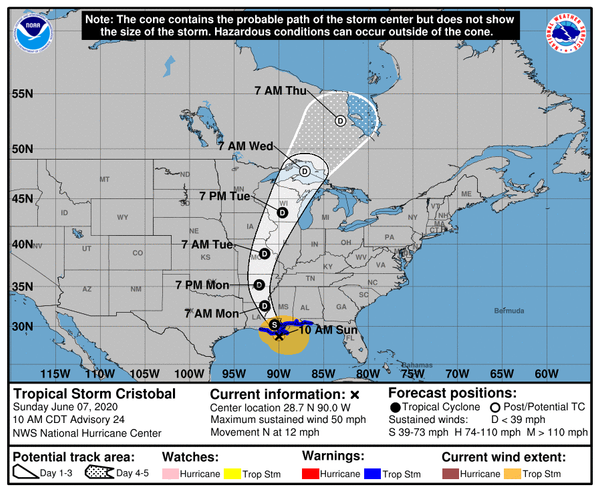 Image Source: Bureau of Safety and Environmental Enforcement (BSEE)
OPEC
+ OPEC and Russia are likely to extend oil production cuts – The New York Times
+ Oil prices rise on OPEC+ cuts – Offshore Engineer
OPEC and Russia have officially agreed to extend their combined production cut of 9.7 million bpd by one month through the end of July. This cut takes about 10% of supply off the market and will offer a crucial reprieve for producers around the world.
OPEC's decision is especially significant given the inherent amount of oversupply paired with lower demand. This was the main topic in Energized #60 where we gave you key takeaways from the New York Energy Forum's latest discussion on "OPEC and the Road Ahead."
Brent crude prices have nearly doubled since OPEC+ initially cut production in April.
Low Brent prices in April and May contributed to rising Chinese imports that apparently reached an all-time high of 11.3 million bpd in May, which is nearly as much as the United States produces.
If the production cuts extend past July there's talk it could lead to a supply deficit, which could hurt consumers at the pump but could help producers desperately in need of cash to satisfy debt obligations and dividends.
North American Crude Oil
+ Americas Crude Market Highlights – Argus Media
Our takeaways from this webinar are as follows:
Topic 1: Supply
U.S. production growth over the years
2010: under 2 million bpd
Nov 2017: over 10 million bpd
Dec 2018: 12 million bpd
Nov 2019: 12.87 million bpd (peak U.S. crude production).
May 2020: 11.6 million bpd (estimated 1.14 million bpd decline since February).

Shale makes up about 70% of total U.S. production.
How low will US crude production go?
Shale production has been pretty flat since peaking in November due to poor investor sentiment and limited access to capital markets.
The Permian and Bakken account for over 60% of the 1.14 million bpd decline since February.
Logistics will continue to play a role seeing as the price to move crude to markets plays a factor in the crude price.
The return of an environment where demand outpaces supply is highly unlikely.
There's been a lot of talk that we have reached peak oil demand because you have most of the world now acclimated to working from home. There's a serious concern that companies will determine they no longer need to renovate or build new office space, working from home will permanently go up, therefore driving down the need to commute.
What is the fate of upstream companies?
Even healthy upstream companies are cutting their capital expenditures by 30-40%.
There's less money for drilling in addition to a mad scramble to cover the high debt burdens commonplace for these companies.
Upstream bankruptcies will probably double or triple in 2020 compared to 2019.
The Last 5 Years
The Permian Basin accounted for a whopping 78% of total U.S. crude production increase between December 2015 and December 2019.
Exports increased by 3.3 million bpd against a crude production increase of 3.5 million bpd during this time.
Topic 2: Crude Inventories
The crude inventory build was inevitable.
Prices will be the thing that rebalances inventories.
This was a very hot topic a few weeks ago but has settled down since shut-ins have increased.
Almost 800 million barrels of U.S. crude storage was available in March 2020.
Typically, refiners operate at 60-70% of their crude storage capacity.
Argus thinks that the rise in well shut-ins will mean that the market won't exceed its last resort of storage options in rails or offshore.
It's very difficult for refineries to operate at such low utilization rates. 2020 throughput reached a low of 12.8 million bpd in mid-April.
Refiners make money from high utilization rates, and 60% utilization is not sustainable over the long-term.
Jet fuel demand is fully dependent on the airlines, which remain weak.
For more information on refining and its importance in the integrated oil and gas value chain, check out EKT Interactive's refining course.
Topic 3: Price Outlook
Argus expects WTI to be in the low $40 range for Q3 before moving up to $45 in Q4.
Argus then expects WTI to push upwards towards the high $40s and then maybe $50 in late 2021.
If prices get back to the $45-$50 range, will that bring back too much production?
Producers at this point are struggling to cover operating costs. At the $40 to $50 range, companies can begin to handle their debt load but would require added capital to drill new wells, meaning it's unlikely you would have a surge in production even at $50 because the investment community is not willing to fund projects going forward.
In sum, inventories would certainly fall with WTI at $45 or $50, but in terms of new investment for shale wells that tend to lose half of their output in less than a year, it's just not a business opportunity capital markets are gravitating towards right now.
This could create lower supply over the next few years.
Summary
"US crude production has decreased 1.1 million bpd since February, primarily in shale crudes (87% of total). More to come, along with some reductions in conventional and offshore crudes.
It is unlikely that US storage will fill to the tank tops. There is over 250 million barrels of available capacity, based on late May inventory levels. Rapid declines in production along with floating storage have managed inventories so far. But there is plenty of crude inventory (in the US and globally) that must eventually find its way to a refiner.
Slowing exports of US gasoline and distillate will dampen the return of crude demand, especially in PADD 3.
Ultimately, price is the mechanism that enables market rebalancing for crude and refined products."
---
Have a great weekend!
-Danny Foelber
EKT Interactive Managing Editor