Friday, January 31st, 2020
Hello all,
Happy Friday and welcome to Energized, your weekly look into the geopolitics, news, and happenings of energy markets.
Before diving into this week's content, we'd like to remind you to join our Energized LinkedIn Group. We will be releasing frequent news and snippets of Energized newsletters through the group. We hope to see you there. Also, if you haven't already, visit our website to gain access to our free Oil 101 introductory course, our popular series of mobile-ready videos describing "How the industry works." Ready for more? Check out our in-depth Oil 201 course which covers exploration, drilling, production, well completions, and refining. If your company or group is interested in Oil 101, let's talk. We license our courses for use as internal training for sales, IT and operations teams. Think you know someone who would enjoy this newsletter? Pass it on! They can subscribe and access our Energized archives here.
Now, onto this week's issue.
Energized! 
Curated weekly oil and gas newsletter
Oil Prices and Markets
+ Fast Facts – Houston Chronicle "Fuel Fix"
Light, sweet crude (dollars per barrel): $ 54.19
Last Week: $58.54
Natural Gas (dollars per million British thermal units): $1.893
Last Week: $2.00
Rig count (United States): 794
Last Week: 775
Oil Prices
+ Oil slides to a 3-month low on virus contagion jitters – Houston Chronicle
"The coronavirus's death toll climbed to at least 80 people and additional cases of infections underscored concerns that China has failed to contain the deadly virus despite its efforts to control the outbreak."
See Energized #41 for some background on the Coronavirus and the effect on the Chinese economy.
Careers
+ 2020 Global Energy Talent Index Report – GETI
The world's largest research report on recruitment and employment trends in the energy industry drawn from almost 21,000 survey responses from professionals across the oil and gas, renewables, power, nuclear and petrochemicals sectors.
"The report also highlights a number of key opportunities for employers to improve their attractiveness to candidates in 2020, from benefits to new opportunities for training and career progression."
Key takeaways from the report:
Pay continues to rise. Almost two-thirds (65%) of energy professionals expect a pay increase in 2020, rising to 72% for the power and renewables sectors.

Workers are willing to relocate. Almost 90% of professionals say they would move to another region for their job, with Europe and the Middle East topping the list of preferred locations.

Sectors are in competition for the top talent. More than three in four respondents (77%) say they would switch sectors, with renewables named the most desirable sector.
Natural Gas
+ America is awash with natural gas and it's about to get worse – Bloomberg Green
"The industry is a victim of its own success," said Devin McDermott, an analyst at Morgan Stanley. "You don't just have oversupply in the U.S. — you have oversupply in Europe, oversupply in Asia, and really oversupply across the globe."
Oversupply, one of the worst words for a commodity-driven market like oil and natural gas. It's difficult to say if in fact there is an oversupply in foreign markets, but the price action of natural gas indicates that the domestic market is oversupplied. "At that level, U.S. producers simply don't make money. It's forcing a wave of multibillion-dollar writedowns, layoffs and spending cuts," said the Bloomberg article.
In terms of solutions, it seems there's little that can be done to stop natural gas from hitting the markets. In earnest, a vicious cycle may be on the way.
The cycle appears to go something like this:
The main reason there is little that can be done to prevent natural gas supply from flooding the markets is due to the quantity of associated gas produced as a byproduct of oil wells.
Because gas is often a byproduct of shale oil production, gas is often flared or burned off in the short term.
Flaring casts a dark shadow on the industry due to its negative environmental effects. To save and sell the gas, retain credibility, and limit environmental damage, natural gas pipelines are needed to transport the associated gas out of the oil-producing region and to available markets.
The construction of pipelines has its own environmental opposition, especially when they threaten to slice through prime treasures of the Texas landscape like the Hill Country. Still, pipelines are the safest way to transport natural gas out of producing regions.
As pipelines are eventually constructed, the natural gas market becomes flooded with even more gas.
This new supply competes with pure-play gas regions such as those in Appalachia, driving prices down.
Image of the Texas Hill Country
"According to McDermott, U.S. producers need gas to be at least $2.50 in order to generate free cash flow. "In the near-term, we don't think it's realistic to see a $2.50 price," he said."
The Bloomberg article notes that natural gas is coming increasing underfire due to these flaring cases. At the end of the day, natural gas is a fossil fuel, and will often get lumped together with other fossil fuels in environmental cases.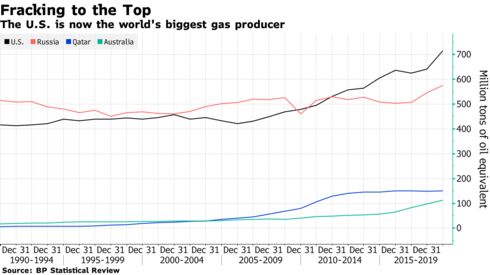 So what about LNG? As the US takes aim at Qatar and Australia to become the world's number one LNG exporter, prices have also dropped significantly across the world.
"The EIA forecasts U.S. dry gas production will drop by 600 million cubic feet next year, the first annual decline since 2016, as low prices finally rein in drilling in the Appalachia."
The bull case is that China and other Asian countries will be long-term buyers for U.S. LNG. Regardless, there's some serious short-term pain for multiple links on the oil and gas value chain when natural gas drops below $2.oo per million BTU.
LNG
+Cheniere Energy's 1,000th LNG cargo headed to France – Houston Chronicle
"The milestone shipment comes less than four years after the company's first cargo was sent out from Sabine Pass LNG in Louisiana in February 2016."
According to Cheniere Energy CEO, Jack Fusco, Cheniere is the first LNG company to hit the 1,000 cargo milestone in less than four years.
So how much power is packed in 1,000 cargoes of LNG? It's "enough natural gas to power all 7.4 million homes in Texas for nearly five years."
Freight Rates
+ Are freight rates a deciding factor? – Argus Media
+ Methodology and specifications guide – Argus Media
We didn't want to cover this entire webinar since it pertains to a small segment of our readership but for those interested in freight rates, this Argus media webinar could be for you.
Source: Argus Freight
"Following a sanctions-driven rally to decade highs last year, oil tanker rates have become a more critical component of the oil complex."
"Whether you're looking for a crude perspective or a deep dive into VLCC freight markets, we have upcoming webinars that will delve into both. What role do freight rates play in the Middle East and Atlantic basin's competition for Asia-Pacific markets?"
The recent Argus Media webinars, "WTI goes global: WTI at the source" and "WTI goes global: Destination Asia" are now available on Argus' website. "WTI goes global: Destination Europe" will be held Tuesday, February 11, 2020, at 09:00 AM CST.
Drilling
 Top Texas drillers of 2019 – Houston Chronicle
A list of the top Texas drillers of 2019 by permits. Notably, ExxonMobil emerged as the number one driller in 2019 despite being heavily concentrated in the Permian Basin. The Permian made up over 90% of Exxon's permits.
The article provides a list of the top ten overall Texas drillers as well as lists permits by basin, including the Permian, Eagle Ford, Haynesville Shale, Barnett Shale, and conventionals.
---
Have a great weekend!
-Danny Foelber
EKT Interactive Managing Editor