Friday, December 6th, 2019
Hello all,
Happy Friday and welcome to Energized, your weekly look into the geopolitics, news, and happenings of energy markets.
Before diving into this week's content, we'd like to remind you to join our Energized LinkedIn Group. We will be releasing frequent news and snippets of Energized newsletters through the group. We hope to see you there. Also, if you haven't already, visit our website to gain access to our free Oil 101 introductory course, our popular series of mobile-ready videos describing "How the industry works." Ready for more? Check out our in-depth Oil 201 course which covers exploration, drilling, production, well completions, and refining. If your company or group is interested in Oil 101, let's talk. We license our courses for use as internal training for sales, IT and operations teams. Think you know someone who would enjoy this newsletter? Pass it on! They can subscribe and access our Energized archives here.
Now, onto this week's issue.
Energized! 
Curated weekly oil and gas newsletter
Oil Prices and Markets
+ Fast Facts – Houston Chronicle "Fuel Fix"
Light, sweet crude (dollars per barrel): $ 55.17
Last Week: $57.77
Natural Gas (dollars per million British thermal units): $2.281
Last Week: $2.665
Rig count (United States): 802
Last Week: 803
Offshore Deep-Dive
2019 Review and 2020 Predictions
Towards the end of a year, it's always interesting to look back on forecasts and predictions and see how accurate they were. Offshore drilling is mainly what this issue of Energized will focus on, as well as looking forward to the Offshore industry in 2020.
2019 was supposed to be the year that offshore turned it around, but 2019 began with some of the "lowest activity levels seen in 20 years," according to a report by McKinsey. New project investments were initially expected to reach a value of $123 billion this year, but they only surpassed $50 billion in July. According to Rystad Energy, 15% of the $123 billion in investment was dependent on a breakeven price of $60 per barrel, meaning investment is highly unlikely as oil has been ping-ponging between $50 and $60 per barrel for the latter half of 2019. Additionally, projects that breakeven, when oil is in the $50s, may see their investments fall flat as that breakeven price is too close to the current price of oil to warrant the massive scale, logistics, and sheer capital needed to successfully hit forecasted targets.
To be fair, Offshore Magazine did feature Rystad's prediction in June, that it would be another record year for offshore production, which we mentioned in Energized #10. But that's production, not investment.
"In 2013, GoM oil production was 1.28 MMb/d, whereas in 2018 production averaged a record high of 1.79 MMb/d. Rystad Energy forecasts that 2019 production will average 1.95 MM/d, with some months potentially reaching 2 MMb/d."
This production growth is mostly due to ahead-of-schedule oil and gas production from Shell's deepwater Appomattox platform.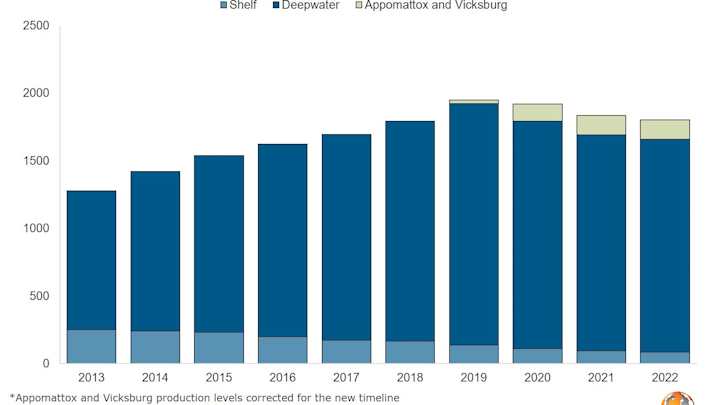 Rystad then updated its forecast in October, starting with the facts from 2018, "Crude oil production in the US federal Gulf of Mexico (GoM) averaged 1.8 MMb/d in 2018, setting a new annual record, according to the Energy Information Administration (EIA)."
Then moving onto 2019's prediction: "Based on EIA's latest Short-Term Energy Outlook's expected production levels at new and existing fields, annual crude oil production in the GoM will increase to an average of 1.9 MMb/d in 2019 and 2.0 MMb/d in 2020."
Then, Rystad trimmed their 2019 and 2020 forecasts in their most recent update…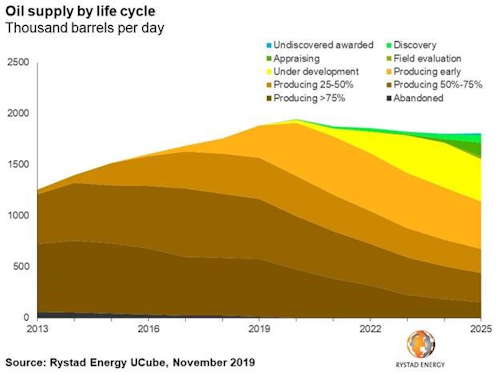 "Joachim Milling Gregersen, an analyst on Rystad Energy's upstream team, said: "2020 is expected to be another record year with average production above 1.9 MMb/d.""
So investment levels didn't live up to the hype, but is that necessarily a bad thing? Maybe not if production levels are at a record.
"The strong production growth comes on the back of successive years of cost cutting in the Gulf. Total investments peaked at $30.2 billion in 2014. According to the consultant, they currently stand at less than half of that amount in 2019 and are projected to grow to $17.7 billion by 2022. Since 2015, development costs have decreased by 60% whereas opex are down 7% in the period."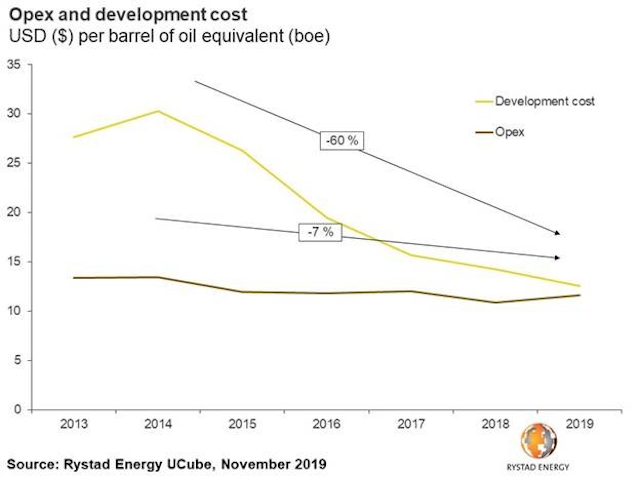 Another interesting point to note is that "the Gulf of Mexico has been the world's second most prospective offshore drilling region, trailing only Guyana. The collective resources discovered in the Gulf of Mexico over the past five years amount to 5.03 Bboe, with an estimated value of $1.9 billion."
That being said, data from IHS Markit and offshore drilling giant, Transocean, tells a contrasting narrative.
According to IHS Markit,  the worldwide offshore drilling marketed supply remains about the same as last year, but market utilization rates are up to 84.9% from 75.5% in 2018. While that sounds like good news for drilling contractors like Transocean who make money by leasing their rigs, crews, and equipment to operators such as ExxonMobil, Chevron, Total, Equinor, BP, and Shell, the company's rig utilization stands at a mere 69%, significantly underperforming the broader offshore market.
Transocean Rig Class and Utilization

Rig Class

Used
Available

Utilization Rate

Ultra-Deepwater
18
28
64%
Harsh Environment
12
14
86%
Midwater Floaters
1
3
33%
Total Fleet
31
45
69%
As you can see from the above chart, Ultra-Deepwater makes up the majority of Transocean's fleet but has a poor utilization rate of just 64%. That's partially because Ultra-Deepwater is built for environments like the U.S. Gulf of Mexico (GOM), which has the lowest marketed supply (42, or 6.5% of the overall market) of any region and one of the lowest overall utilization rates at just 78.6%.  Compare that to the Middle East, which has a marketed supply of 157 rigs and a utilization rate of 87.3%, or Northwest Europe with a marketed supply of 75 and a whopping 89% utilization rate, and it feels like Transocean is in the wrong market.
For reference, the worldwide total supply of offshore rigs is 758, the marketed supply is 647, marketed contracted is 549, so the marketed utilization rate is 84.9%.
Transocean Rig Utilization by Geographical Region

Norway and the UK North Sea
11
U.S. Gulf of Mexico and Canada
10
Australia and Asia
4
South America
3
Africa
3
Total
31
One of the reasons for the lack of major investment in the Gulf of Mexico is competition from less costly alternatives available in mature fields like the North Sea, which is dominated by Norway and the UK. As you can see, Transocean's harsh environment rigs are doing just fine, of which all 12 that are in use are in the North Sea or Canada.
The main problem for Transocean is simple. 28 of their 45 rigs are ultra-deepwater, and that's just not something the offshore market is using as much right now. Comparatively, almost all of their harsh environment rigs are in use, which makes sense given the North Sea's high 89% utilization rate.
In early September 2019, the number of onshore operating drilling rigs in the United States fell below 900 for the first time since 2017. Today, the rig count is barely above 800.  
As we report in every issue of Energized, the Baker Hughes Rig Count acts as a yardstick for onshore drilling contractors, but don't let it affect your analysis of a pure-play offshore driller like Transocean.
Main Takeaways
Offshore production is at a record high in 2019, set to finish the year around 1.9 MMb/d.
Offshore production was originally poised to set another record in 2020, but Rystad trimmed its October forecast from 2.0 MMb/d down to 1.9 MMb/d in November.
Offshore investment, especially in the U.S. Gulf of Mexico, is not doing that well, significantly underperforming other regions.
Mature fields like the North Sea and offshore operations in the Middle East are utilizing the vast majority of offshore rigs, (primarily Harsh Environment rigs in the North Sea).
While the U.S. Gulf of Mexico shows promise for production growth, drilling contractors like Transocean with majority ultra-deepwater fleets are struggling due to increased oil recovery and competition from mature fields that have more rigs and higher utilization rates.
---
+ Water, Water Everywhere…– World Oil
"Every barrel of Texas crude oil produced yields over 6.5 bbl of water with it. As oil production has risen, managing massive volumes of produced water is ever more challenging. A new Texas Alliance of Energy Producers white paper tackles the issue, to ensure that future energy development is not constrained by water issues."
Exxon is one of the most innovative companies. But it still (mostly) shuns renewables – The Wall Street Journal
In late November, Exxon was listed in fifth for innovation in the Management Top 250 ranking by the Drucker Institute at Claremont Graduate University. As the only nontech company in the top five, Exxon got the award largely for its patents and efficiency improvements to its oil and gas operations.  Unlike other supermajors that are divesting away from oil projects and into natural gas, liquefied natural gas (LNG), and renewables such as wind and solar, Exxon is mostly sticking to what it does best by making oil and gas more profitable and less harmful to the environment.
According to Exxon, the company's efforts on carbon capture and storage (CCS) have "accounted for more than 40 percent of cumulative CO2 captured" since 1970.  CCS technological innovation is a way for oil and gas companies to participate in reducing greenhouse gas emissions while still dealing in the business of hydrocarbons.
CCS and other environmental efforts are important for Exxon since it is betting big on the future of oil and gas, and thus will benefit from proving that it is dedicated to a sustainable energy future.
Then article was a real surprise, even to EKTi founder and president, Marty Stetzer, "In my 13 years with Exxon, I saw numerous innovations in project management and process engineering, but I had no idea of the scale of this investment. According to the article, Exxon has invested $ 16 1/2 billion in R&D since 2000, that's astounding," said Marty.
Petrobras starts up fourth FPSO of 2019 – Offshore magazine
"This is the company's fourth start-up this year offshore Brazil following the earlier operations at P-67 (Lula field), and P-76 and P-77, both on the Búzios field."
"The P-68, stationed 230 km (143 mi) offshore Rio de Janeiro State in 2,280 m (7,480 ft) water depth, is engineered to process up to 150,000 b/d of oil and compress up to 6 MMcm of natural gas."
---
Have a great weekend!
-Danny Foelber
EKT Interactive Managing Editor