Friday, November 1st, 2019
Hello all,
Happy Friday and welcome to Energized, your weekly look into the geopolitics, news, and happenings of energy markets.
Before diving into this week's content, we'd like to remind you to join our Energized LinkedIn Group. We will be releasing frequent news and snippets of Energized newsletters through the group. We hope to see you there. Also, if you haven't already, visit our website to gain access to our free Oil 101 introductory course, our popular series of mobile-ready videos describing "How the industry works." Ready for more? Check out our in-depth Oil 201 course which covers exploration, drilling, production, well completions, and refining. If your company or group is interested in Oil 101, let's talk. We license our courses for use as internal training for sales, IT and operations teams. Think you know someone who would enjoy this newsletter? Pass it on! They can subscribe and access our Energized archives here.
Now, onto this week's issue.
Energized! 
Curated weekly oil and gas newsletter
Oil Prices and Markets
+ Fast Facts – Houston Chronicle "Fuel Fix" as of Sunday, October 27th, 2019
Light, sweet crude (dollars per barrel): $56.66
Last Week: $53.64
Natural Gas (dollars per million British thermal units): $2.30
Last Week: $2.32
Rig count (United States): 830
Last Week: 851
Upstream
+New innovations touted to give shale oil a boost – Houston Chronicle
"The U.S. shale boom is at a tipping point as it struggles to profit amid weaker oil prices, but the industry is leaving tens of billions of dollars in the ground each year with wells that aren't nearly efficient enough."
If you're interested in the shale plays, I would give this article a read. It's the result of an analysis of 80,000 drilled wells in the Permian. "Better well designs coupled with a greater understanding of the shale rock and fluid movements underground could boost efficiency levels by about 20 percent, representing almost $25 billion in annual savings for the U.S. shale sector, said Scott Sanderson, a principal in Deloitte's oil and gas strategy and operations practice."
Speaking of Deloitte, here's the report the Houston Chronicle alluded to:
+ How the shale revolution is reshaping the US oil and gas labor landscape – Deloitte Insights
"Not only has the shale revolution transformed production in the US oil and gas industry, it is reshaping the composition of the industry's workforce in ways that will fundamentally redefine tomorrow's oil and gas job opportunities."
"This article delves into the two subsectors—exploration and production (upstream) and oilfield services (OFS)—and analyzes the overall employment trend over the past 15 years. Our analysis, covering the three phases of oil price movements and the progress of the shale revolution, indicates that the structural changes in the sector have had significant implications on employment, demand for different kinds of skilled professionals, and wages across occupations, although to varying degrees. Nonetheless, the past may not be the best prologue to what lies ahead, given the uncertainty around how the labor market will likely shape up in the future as the sector adopts new technologies to increase well productivity and change cost structures."
Excellent analysis by Deloitte and worth the read.
The article is broken into three phases.
Phase 1 (2003–2008): The beginning of the US shale revolution
High oil prices, high employment, high capital expenditures, high demand from developed and developing nations. High oil prices as a result of depleting conventional reserves. The shale revolution was motivated by the need for more reserves.
Phase 2 (2008-2014): Big focal shift in the shale revolution and employment trends
Strong employment, strong investment growth, shift from shale gas to shale oil. US crude oil production soared and grew at the fastest pace between 2012 and 2014.
The great recession caused job loss in 2008-2010 but rebounded in 2010 as oil prices revived and stabilized.
"Wages paid to the highly and mid-skilled professionals grew much faster than the overall US industry average, especially during the global financial crisis. The annualized wage growth for highly skilled professionals increased 4.9 percent in 2008–2010, almost twice the overall US industry annualized wage growth of 2.5 percent."
Phase 3 (2014–2017): The oil downturn and shale's responsiveness to oil prices
layoffs, year-over-year price declines. Both shale drilling and production recovered their losses from late-2016 after the oil price stabilized above US$50/bbl. Loss of oilfield services jobs, growth in downstream jobs.
"The third phase saw the longest and one of the deepest downturns in oil prices. Three consecutive years of decline led to the slashing and deferring of investments in areas deemed expensive to drill and develop."
"Although there was always a need for shale companies to become capex light and production efficient, the oil price downturn compelled them to adopt new technologies and focus on the best resources to strike a new balance in the equation."
"Higher productivity stemming from technology gains and a better understanding of the resource base may cap employment growth. Nonetheless, technology and automation will likely help companies create unimagined, new, and unique work profiles."
+Drilling and production outlook market report – Spears&Associates
"The Drilling and Production Outlook (DPO) is a quarterly forecast of rig activity, wells/footage drilled and spending through 2025 for more than 50 countries. It is used by oilfield equipment and service companies as an important planning tool for future sales, marketing and manufacturing efforts."
"Global oil demand growth has slowed, but the supply outlook remains constructive.
US oil production growth slowing
Saudi Arabia cutting output
US sanctions reducing oil exports from Iran"
"The OPEC+ group is expected to continue to curb output into 2020 in an effort to keep global oil inventories near normal and support oil prices.  Pressured by their investors, US operators are expected to focus on profitability over volume growth and exhibit a high degree of capital discipline going forward, resulting in a 10% decline in US drilling and frac activity in 2020."
"Conversely, exploration and new field development activity in markets outside North America is expected to grow 4% in 2020 as IOCs and national oil companies cautiously step up investment in order to maintain oil production capacity. "
Source: Spears & Associates
Offshore
+ Eni highlights 2019 exploration track record – Offshore Magazine
"Eni delivered six offshore discoveries as operator during the first nine months of the year."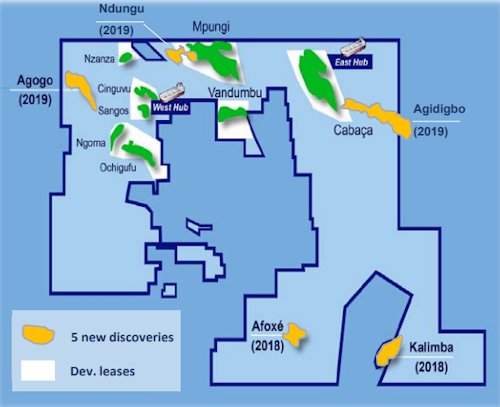 Location of the five recent discoveries in block 15/06 offshore Angola. (Courtesy Eni)
"According to the company's latest results statement, three of the finds were in block 15/06 off Angola, bringing the number of new fields proven since exploration resumed on the block last year to five.
Eni estimates the cumulative resources at 2 Bbbl in place."
+U.S. coast guard responds to three spills – The Maritime Executive
"The U.S. Coast Guard is responding to an oil sheen in Breton Sound, Block 37, Louisiana. It is just one of three spill responses underway on Monday. The three-mile by 10-mile sheen originated from a damaged and inactive wellhead owned by Texas Petroleum Investment Company (TPIC). Currently, the well is intermittently discharging a mixture of oil, water and mud. The cause of the damage to the wellhead is unconfirmed and is currently under investigation."
"5,000 feet of boom has been deployed on the northwest corner and south of Breton Island. So far, there are no reports of impacted wildlife."
The coast guard also investigated a sheen in Virginia, likely a petroleum product, as well as an "oil discharge in Pass A Loutre Wildlife Management Area, Louisiana, where crude oil is leaking from a storage tank owned by Whitney Oil and Gas. The maximum potential for the spill was estimated to be 2,520 gallons, but the discharge was contained before all the contents of the tank entered the water."
+ Somalia says Shell, Exxon agree to pay $1.7 million for oil blocks lease – Reuters
"Royal Dutch Shell and Exxon Mobil have paid $1.7 million to Somalia to lease offshore blocks for 30 years, the country's state news agency reported on Friday."
Visit our Offshore Drilling Learning Resource page.
Climate Change
+ Exxon hid "catastrophic" climate prediction, state suit says – Bloomberg
ExxonMobil "was sued by Massachusetts for allegedly hiding its early knowledge of climate change from the public and misleading investors about the future financial impact of global warming, two days after a trial started on similar claims in New York."
ExxonMobil finds itself in the cross-hairs in response to a "205-page complaint" filed last Thursday. The Massachusets complaint comes on top of a "suit filed a year ago in New York by alleging Exxon misled the general public as well as shareholders by concealing the looming crisis."
So where does the "catastrophic" quote in the headline come from? "Exxon went so far as to disregard the findings of one of its own scientists, who decades ago correctly predicted the amount of CO2 in the atmosphere in 2019 and said that climate change would become "catastrophic."
Massachusets Attorney General, Maura Healey, has been investigating Exxon since 2016 and "claims Exxon's actions violated the Massachusetts Consumer Protection Act."
This suit will be a story to watch. By now you've probably seen ExxonMobil ads on biofuels, promoting #UnexpectedEnergy and Exxon's new motto "Energy Lives Here". The company has been rebranding itself as an energy company, not just an oil and gas company, in an attempt to change negative public perception about Big Oil. For Exxon, the stakes are high. Redefining its brand will help the company recruit top talent and probably bolster the depressed stock price. In the meantime, negative press and lawsuits do Exxon no favors.
In response, Exxon's claimed the state "twisted" reality "by conflating two internal metrics the company uses to account for the financial impact of climate change on its business. Instead, Exxon had evidence proving the two metrics were used for different purposes and were never intended to be public, refuting New York's claims that the differing numbers were kept to give the public a falsely rosy picture of the company's financial health."
---
Have a great weekend!
-Danny Foelber
EKT Interactive Managing Editor
Head Writer | Eau Claire Writing
Eau Claire Writing is a Houston-based freelance writing company that specializes in gas compression, turbomachinery, onshore and offshore drilling, and well service content for the oil and gas industry.
Unsubscribe | Update your profile | 9813 Shadow Wood Dr., Houston, TX 77080