Friday, October 25th, 2019
Hello all,
Happy Friday and welcome to Energized, your weekly look into the geopolitics, news, and happenings of energy markets.
Before diving into this week's content, we'd like to remind you to join our Energized LinkedIn Group. We will be releasing frequent news and snippets of Energized newsletters through the group. We hope to see you there. Also, if you haven't already, visit our website to gain access to our free Oil 101 introductory course, our popular series of mobile-ready videos describing "How the industry works." Ready for more? Check out our in-depth Oil 201 course which covers exploration, drilling, production, well completions, and refining. If your company or group is interested in Oil 101, let's talk. We license our courses for use as internal training for sales, IT and operations teams. Think you know someone who would enjoy this newsletter? Pass it on! They can subscribe and access our Energized archives here.
Now, onto this week's issue.
Energized! 
Curated weekly oil and gas newsletter
Oil Prices and Markets
+ Fast Facts – Houston Chronicle "Fuel Fix" as of Sunday, October 20th, 2019
Light, sweet crude (dollars per barrel): $53.64
Last Week: $54.49
Natural Gas (dollars per million British thermal units): $2.32
Last Week: $2.27
Rig count (United States): 851
Last Week: 856
Offshore
+Record Gulf of Mexico oil production expected to continue – Offshore Magazine
According to the EIA, crude oil production in the Gulf of Mexico averaged 1.8 MMb/d in 2018, setting a new annual record.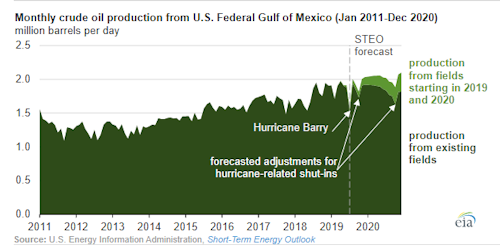 "Based on EIA's latest Short-Term Energy Outlook's expected production levels at new and existing fields, annual crude oil production in the GoM will increase to an average of 1.9 MMb/d in 2019 and 2.0 MMb/d in 2020."
"Eight new projects are expected to come online in 2019 and four more in 2020."
Due to the continual increase in onshore production despite price declines, offshore is expected to account for just 15% of crude oil production in 2019 and 2020 compared to 23% of total US crude oil production in 2011.
The article notes the importance of distinguishing between onshore and offshore patterns. As noted in this newsletter, offshore is a longer-term game reliant on hitting goals and meeting deadlines rather than prices alone. Breakevens tend to be significantly lower to justify the often lofty capital expenditures incurred for offshore projects.
"Crude oil price increases in 2017 and 2018 relative to lows in 2015 and 2016 have not yet had a significant effect on operations in the GoM, but they have the potential to contribute to increasing rig counts and field discoveries in the coming years. Unlike onshore operations, falling rig counts do not affect current production levels, but instead they affect the discovery of future fields and the start-up of new projects."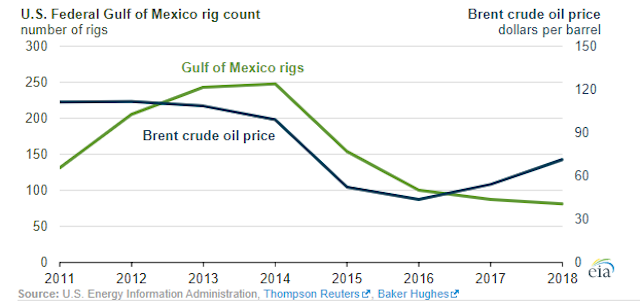 Climate Change
+ Facing climate change, ExxonMobil ramps up energy research – Axios
"The world's biggest publicly traded oil company has been creating new partnerships with American and foreign universities in recent years totaling at least $75 million, and it just inked another, unprecedented $100 million deal with the U.S. Energy Department."
This is a great article for those of you interested in the ways the largest integrated oil and gas company is investing in renewable energy. It's not just about money, it's partnerships too. "In 2014, Exxon began pursuing an internal goal to establish several partnerships with leading universities — roughly one per year — that go far beyond money. Exxon-employed scientists spend significant time at the universities. Many have offices, give guest lectures and co-author peer-reviewed research."
Exxon recognizes the scrutiny it faces in the public eye. This scrutiny is a major headwind for the reputation of Exxon and the ability for the company to hire talented employees.
This is an excellent article for a breakdown of what Exxon is doing to turn itself into an "energy" company not just an "oil and gas" company.
LNG
+Canadian East Coast LNG export plans progress with Pieridae's Shell deal – Reuters
"The Canadian LNG industry has been slower than its U.S. counterpart to take advantage of soaring gas demand around the world and build export plants, in part due to securing feedstock supplies for the terminals. This contrasts to the U.S. Gulf Coast, where there is so much gas being produced thanks to the shale revolution, some producers have had to pay buyers to take it off their hands. This makes it easier for LNG projects there, which tend to buy gas rather than own gas assets. Five large LNG export terminals operate in the United States including the 25 million tonne a year (mtpa) Sabine Pass, operated by Cheniere Energy <LNG.A>. By contrast, there are no operating LNG export facilities in Canada although Shell has begun constructing a massive one on the West Coast."
"Pieridae Energy moved closer to building a liquefied natural gas export terminal on Canada's East Coast after taking ownership of fields from Royal Dutch Shell which will feed gas into the plant, the company said. The Goldboro LNG terminal would be the first on Canada's East Coast and compete with the growing number of plants on the U.S. Gulf Coast, hoping its shorter distance to Europe and further west will help sell its LNG by cutting shipping costs. Pieridae said in a statement late on Thursday it had closed a C$190 million ($145 million) acquisition of Shell's gas assets in Alberta's Foothills region, giving it most of the gas needed to supply the first of two plants at the Goldboro terminal."
+ Big U.S. liquefied natgas players move fast; smaller ones try to keep up – Reuters
"A gap is emerging in the U.S. liquefied natural gas (LNG) industry as big players such as Exxon Mobil Corp and Cheniere Energy Inc race ahead to build export terminals with fewer long-term contracts, while smaller developers struggle to find financing for their first plants."
The article discusses how ExxonMobil and Cheniere are pulling away from smaller players as they invest in infrastructure developments while others try and keep up.
"The industry is moving away from long-term agreements to justify construction of a new facility to a true commodity business," said Charif Souki, co-founder and Chairman of Tellurian Inc."
"Tellurian has been seeking investors for its 27-mtpa Driftwood export terminal in Louisiana. Instead of trying to line up long-term purchase agreements, it offers customers the opportunity to invest in the company's gas production, pipelines and liquefaction. The company has delayed the start of construction to early next year from a previous target of the first half of this year, according to company presentations. It also reduced how much its partners need to invest in the project to receive LNG to $500 per tonne from a previous target of $1,500 per tonne. By contrast, Exxon and Qatar Petroleum decided this year to move ahead with their 15-mtpa Golden Pass project in Texas without substantial long-term agreements, while Cheniere is adding a sixth liquefaction train at its Sabine Pass terminal in Louisiana, initially supported by fewer long-term contracts than in the past."
Larger players are actualizing their goals while smaller players face delays that could cripple them if the market continues to be filled with increased supply. Everyone wants to get into the LNG game, it's truly a race to see who can get the infrastructure built and begin exporting.
Middle East: A Deep Dive
United States-Saudi Arabia-Iran Relations and Opinion
Two weeks ago, I attended a Rice Global Engineering & Construction Forum at Rice University on Saudi Arabia, Iran, and the Middle East. Dr. Richard Stoll, the Albert Thomas Professor of Political Science at Rice University, and a Baker Institute Rice Scholar gave a talk on the current actions of Iran with the drone attack on Saudi Arabian petroleum infrastructure. He discussed the motivation for those actions, and what Iran expects to achieve in the Middle East, and to a greater extent, in Europe and the Western World as a result of these actions. Dr. Stoll also provided some thoughts concerning actions the United States should take with both Iran and Saudi Arabia, and the historical relationship between the United States and Saudi Arabia.
My greatest takeaway from this talk was the extent of deep-rooted conflict Stoll addressed between Iran and Saudi Arabia. Despite admitting Saudi Arabia's low-ranking human rights scores by various reports such as those by Freedom House and World Report, Stoll was adamant about the United States' responsibility to back Saudi Arabia in the oil and gas economy of the Middle East.
To sum up Stoll's talk, there's no stopping Iran's ability to acquire nuclear weapons anyway. The country can dodge sanctions and embargoes by improvising using outdated technology. According to Stoll, the conflict between Iran and Saudi Arabia is cultural, religious, economic, and has no end in sight.
Several newsletters ago, I recommended The Prize by Daniel Yergin, arguably the greatest book on the history of oil and gas ever written. In that book, Yergin pays homage countless times to Ibn Saud and his establishment of Saudi Arabian oil dominance as well as the role Saudi Arabia played as one of the only pro-US players in OPEC during the United States' 1970s energy crisis
"At the age of forty-five, Ibn Saud was the master of Arabia. In the course of a quarter of a century of skillful war making and astute business politics, he had reestablished Saudi ascendancy over nine-tenths of the Arabian Peninsula. The restoration was virtually complete" (268), The Prize. Unlike prior Arabic leaders, Ibn Saud was an adopter of western inventions like cars and the telephone, squashing conservative rebellions wherever they sprang up.
Fast forward a few decades later, and towards the end of World War II, on February 13th, 1945, President Roosevelt talks with Ibn Saud for five hours aboard the USS Quincy on the Great Bitter Lake on the Suez Canal. FDR, Churchill, and Ibn Saud got along marvelously, marking the beginning of Saudi Arabia's geopolitical partnership with the West. Ibn Saud presented Churchill with such amazing gifts that Chrchhill felt bad so he promised to get Ibn a new Rolls Royce which he did.
After the war, Ibn made sure his oil only went to American companies, garnering interest from Standard Jersey and Socal.
Once Britain left the Suez Canal in November 1971, it would mark the beginning of a few very quick years when Western influence fell in the Middle East. Soon after, there was the oil crisis in 1973. The British departure from the Suez was the first domino to fall. With the British military out, it's really the producers who controlled the land, unlike the precedent of "concessions" which was standard before 1971.
"The 1970s also saw a dramatic shift in world oil. Demand was catching up with available supply, and the twenty-year surplus was over. As a result, the world was rapidly becoming more dependent on the Middle East and North Africa for its petroleum" (549).
The 1960s and 70s were flush with cheap oil prices encouraging the production of gas-guzzling cars. This was the time of expensive and inefficient air conditioning units in cars and other energy-consuming accessories that would backfire. Sure enough, the USA ran out of surplus capacity, with 1970 being the year of peak production. The Chairman of the Texas Railroad Commission, which was allowed full production capacity, put it gravely when he said, "Historic occasion, damned historic, and a sad one. Teas oil fields have been like a reliable old warrior that could rise to the task when needed. That old warrior can't rise anymore". The new production from Indonesia and Nigeria and new world demand exceeded the growth that the Middle East and Africa could grow at.
Throughout the energy crisis of the 1970s, Saudi Arabia continued to thwart all-out price gouging from OPEC on energy consumers in North America and Europe, a lever Saudi Arabia could have easily pulled to essentially destroy western economies. This was one thing I couldn't forget when I first read The Prize. Although a political strategy that still pays dividends today, the fact that Saudi Arabia flexed its muscles on its OPEC partners countless times to keep oil prices somewhat affordable is a testament to the partnership between the United States and Saudi Arabia.
Although the two countries don't agree on everything, it's clear why Professor Stoll was so set on the partnership between the US and Saudi Arabia. The power of Iran's weapons arsenal alone is one reason why professor Stoll is confident the drone strikes on Saudi Arabia, as covered in Energized #24, were an attack by Iran on Saudi Arabia.
+ Goodbye to the Middle East – Peter Zeihan, October 15th, 2019
Peter Zeihan provides a starkly contrasting view of Saudi Arabia and the Middle East to Professor Stoll. Zeihan is completely against American involvement in the Middle East, writing with a sobering and solemn tone all the while condemning violent and inhumane actions by many Middle Eastern countries, including Qatar.
Zeihan is considered to be a "seer" of sorts on global topics. His recent commentary is a response to the October 7th news that U.S. President Donald Trump will execute a partial withdrawal of U.S. forces from Syria which escalated to a full-scale withdrawal on October 9th. The withdrawal leaves the Kurdish forces unprotected, America's allies in the Middle East.
"The Kurds – whether in Syria or Iraq – have been America's only reliable regional allies since America's first major confrontation with Iraq back in the early 1990s."
"Without the Kurds' assistance the overthrow of Saddam Hussein would have been far nastier affair, post-Saddam Iraq would have been far less stable, the defanging of ISIS and the destruction of the ISIS caliphate would not have happened. In Syria in specific, the Kurds habitually provided at least five times the forces the Americans did."
Zeihan's tone is bitter but unsurprised. "The United States was always going to leave Syria. If the Americans were unwilling to commit 100,000 troops to the overthrow of Syria's Assad government and its subsequent forcible reconstruction, then there was little reason to become involved in a decades-long, grinding multi-sided civil war."
"Aside from the Iranian vector, American national and strategic interests in Syria are utterly nonexistent. Syria – even backed up by Iran – is a military pigmy that Israel could easily shatter. If Jerusalem really wanted to, it could roll into Damascus in a long weekend."
Zeihan discusses the history of the Kurdish-American relationship and the inevitable withdrawal out of the region. "The far more important fact – comfortable or uncomfortable depending upon your view – is that the evolving American view of Syria is really little more than a microcosm of an evolving American view of the Middle East writ large. American troop deployments throughout the region have been plunging for a decade and are now down to about one-tenth of their peak. America now has more troops in Afghanistan than the rest of the region combined, and that deployment is well on its way to a complete phase out."
Zeihan acknowledges the intensity of the decline of American forces in the region, but he isn't surprised. He goes on to address just how chaotic the region's leadership is, expecting an Iraqi civil war to ensue within the coming years and the current Saudi Arabian de facto leader, Crown Prince Mohammad bin Salman, to go down as "one of the evilest individuals in modern history."
"The sheer volume of public support, money, arms and ideological cover given to religiously-tinted fighters – that's jihadis or terrorists based on your politics – by various Saudi citizens and royals alike has boomed in step with the Kingdom's regional ambitions…Saudi Arabia habitually backs the most extreme, violent interpretation of Islam and regularly exports it far and wide at the end of a gun or leading wave of an explosion."
Zeihan and Professor Stoll agree that Saudi Arabia's human rights atrocities are unacceptable. That being said, Zeihan believes the United States should terminate it's relationships with Saudi Arabia and even Qatar, citing examples of Qatar-backed terrorist threats. "Mohammad bin Salman is not a friend, nor is Saudi Arabia an ally. America used to have to put up with this sort of activity from the Saudis during the Cold War because without Saudi oil, the global trading system would have collapsed and taken the American alliance network with it. Courtesy of America's shale revolution, those days are over."
As discussed in Energized, the shale revolution has brought upon American pricing power that limits the strain the OPEC-lever can inflict on energy importers.
Zeihan adds the melancholy note of the fate of the Kurds and its close resemblance to the Hmonh people, a fractious mountain group allied with America during the Vietnam war. "The Kurdish dream of independence was never going to be more than a dream. Landlocked and partitioned, the only way a real Kurdistan could emerge would be if one of the four countries which house Kurds actively sponsor it. That's just not in the cards. The Kurds are a lost cause; They were never more than an ally of the moment."
"So why all the noise back in the United States? Aren't the Americans exhausted with the Middle East? Shouldn't they be celebrating?"
"In part it is because abandoning an ally is bad form, particularly if you think the U.S. should play a role in preventing genocide, promoting human rights, stymieing traditional rivals, or keeping a hand on the throat of the global economy. Even if you think none of this is the U.S.' business, you've got to admit a lot of stuff happens in the region, and having a finger in the pot does prove useful from time to time. In the grand scheme of things, 2000 troops in Syria isn't that big of a deal."
Zeihan concludes with a breakdown of each region. Most situations are negative.
The article is informative and bleak. Zeihan is taking the American-Middle East relationship much further than Professor Stoll's casual fireside talk at Rice. Buckle down and give it a read, I think it's more worthwhile than the lecture I heard.
---
Have a great weekend!
-Danny Foelber
EKT Interactive Managing Editor
Head Writer | Eau Claire Writing
Eau Claire Writing is a Houston-based freelance writing company that specializes in gas compression, turbomachinery, onshore and offshore drilling, and well service content for the oil and gas industry.
Unsubscribe | Update your profile | 9813 Shadow Wood Dr., Houston, TX 77080