Friday, September 20th, 2019
Hello all,
We'd like to take a moment to sincerely apologize for the mixup this morning. Energized #24 was intended for release at 2:00 PM central time, but instead, an outline of the issue was released at 2:00 AM central time. We apologize for the inconvenience and confusion this prior email containing the outline may have caused. Thank you for subscribing to our weekly newsletter and we hope you enjoy the updated content below which includes recent updates on the Abqaiq and Khurais attacks, a description of what both facilities actually do, upstream, environmental, technology, midstream, offshore, and water treatment and supply news. We apologize, again, for this error and any confusion we may have caused.
Sincerely,
-Danny Foelber
Managing Editor, EKT Interactive
Energized! 
Curated weekly oil and gas newsletter
Oil Prices and Markets
+ Fast Facts – Houston Chronicle "Fuel Fix" as of Sunday, September 15th, 2019
Light, sweet crude (dollars per barrel): $54.85
Last Week:  $56.52
Natural Gas (dollars per million British thermal units): $2.614
Last Week: $2.496
Rig count (United States): 886
Last Week: 898
September Spotlight Issue
The Attack on Saudi Arabian Oil and Gas Processing Facilities (Abqaiq and Khurais)
The Story
On Sunday, Sept. 15, coordinated strikes on Saudi Arabian oil facilities stripped the country of more than 5 million barrels per day of production capability, representing a 50% decrease in the amount of daily Saudi Arabian oil capacity. The following Monday was one of the craziest trading days year to date. Oil was up as much as 15%, the largest one day increase in over a decade before ending the day up 12.9%. All three major stock indexes were negative due to concerns that higher oil prices could encourage a global recession.
Oil proceeded to shed about half its gains the following day when Prince Abdulaziz bin Salman, the energy minister of Saudi Arabia, estimated that oil production would be restored to normal levels by the end of September. The truth is, no one exactly knows who made the attack or when Saudi Arabia will be able to restore production. What we do know is that the attack was sophisticated enough to break Saudi's defense systems. Saudi Arabia blames Iran for the attack, it's petro-rival and one of the more militarily sophisticated countries in the region. For more information on the story and an archive of the attacks, check out the daily-updated "2019 Abqaiq-Khurais Attack" Wikipedia page.
Despite the ups and downs, oil is closer to $60 now than it was when the week started. Rig count declined again last week to 886 in the United States, but that decline was before the news of strikes on Saudi Arabian oil facilities. Drilling companies will likely increase their rig needs in this improved environment. Expect rig count to stabilize or even increase next week.
Abqaiq and Khurais Oil and Gas Processing Facilities 
 – 
While we wait for the story to unfold, let's discuss why the targeted strikes at the oil and gas processing facilities operated by Saudi Aramco at Abqaiq and Khurais were so critical to Saudi's production, and what these facilities actually do.
Abqaiq
+ Bloomberg Journalist at Abqaiq Reveals Damage to Oil Field – Yahoo Finance
The Abqaiq facility converts sour crude into sweet crude by removing sulfur impurities before sending the crude to downstream refineries. The processing facility is responsible for processing 7 million barrels of oil per day, a whopping 7% of global oil production!
Abqaiq is best described as the Midland, Texas of Saudi Arabia. The largest oil and gas processing facility in the world is a gated community owned and operated by Saudi Aramco. Located in the Eastern Province of Saudi Arabia, Abqaiq is directly north of the second largest sand desert in the world, Rub' al-Khali. About 1,500 full-time workers live and operate the plant.
Abqaiq dates its history back to 1940 when the oilfield was discovered and developed by Saudi Aramco. Proven reserves currently stand at 22.50 billion barrels. Current production is 400,000 barrels per day. The East-West Crude Oil Pipeline carries most of the production away from the oilfield.
Khurais Oil Field
+ Saudi Aramco Khurais Mega Project – Hydrocarbons Technology
The Khurais oilfield produces about 1.5 million barrels per day of crude oil and is estimated to hold up to 20 billion barrels of oil.
Located a little over 200 km from Abqaiq is the much younger Khurais oil field. The Khurais megaproject is a term used to describe the development of the Khurais field along with the Abu Jifan and Mazalij oil fields. This oilfield development was the "largest of several Saudi Aramco projects intended to boost the production capacity of Saudi Arabia's oilfields from 11.3 million bpd to 12.5 million bpd by 2009." Saudi Arabia currently produces about 12.3 million bpd.
Megaprojects in oil gas and power are characterized by high value (often defined as greater than $250 million), comparably high benefits, years-long timelines, and correspondingly high risk. Construction and engineering projects have become more complex and ambitious faster than our ability to manage them. Oil/gas/infrastructure projects are now much longer in duration and far more complex than even in the mid 2,000s, with corresponding increased risks and failures. In all cases, governments will have a critical influence in the direction of the future energy system. The ultimate success of a complex program has very little dependency on how the program is managed once the construction phase begins and far greater dependency on what happens before that phase begins. Planning is everything.
The scale of the Khurais project is truly a megaproject. Khurais Spans 2,890km², Mazalij 1,630km², and Abu Jifan covers 520km². The project's total cost is estimated at $10billion. The Khurais project began in 2006 and was led by Halliburton on the drilling side, Snamprogetti on the crude and utilities side, and Hyundai for gas. The drilling was completed in early 2009 and production began on June 10th, 2009. 1.2 million bpd of Arabian light crude was instantly added to Saudi Arabia's export capacity.
Today, there are four existing oil and gas separation plants (GOSPs) in operation in the Khurais field and one GOSP in each of the two other fields. Currently, the combined production capacity is 300,000bpd. The scope of the construction spanned across Saudi Arabia, involved major construction at six locations, and the development of 10,000 km² of land.
The Khurais central processing facility provides crude process and stabilization facilities. The facility is supported by an airstrip, wells, trunklines, seawater supply, and injection lines, residential facilities constructed in 2008 that house 1,000 personnel and an industrial complex, and product lines.
"In addition to the 1.2 million bpd of Arabian light crude blend that is produced and delivered through the east/west pipeline, the program also produces 320 million standard cubic feet a day (scfd) of sour gas for Shedgum Gas Plant and 80,000bpd of natural gas liquids (NGL) for the Yanbu Gas Plant."
As you can see, a coordinated strike on Saudi Arabia's largest oilfields and processing facilities is a huge blow to both Saudi Arabia and global supply. Just to reiterate, the Abqaiq facility converts sour crude into sweet crude by removing sulfur impurities before sending the crude to downstream refineries. The processing facility is responsible for processing 7 million barrels of oil per day, which is 7% of global oil production. The Khurais oilfield produces about 1.5 million barrels per day of crude oil and is estimated to hold up to 20 billion barrels of oil.
---
The rest of this week's issue will cover other news that has surfaced in the past few weeks. After all, the rest of the world doesn't stop during a crisis, and if anything, moves even faster.
Technology
+BP Using Drones to Track Methane Emissions – Offshore Engineer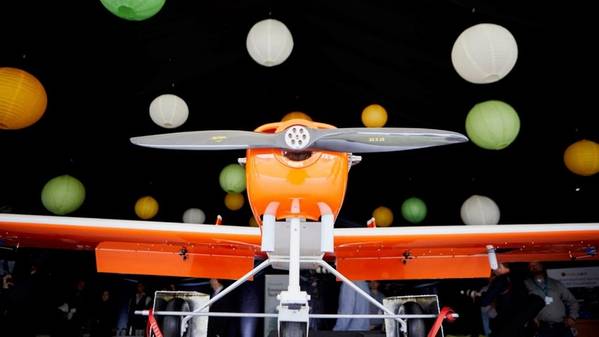 "One of the world's largest oil and gas companies is using advanced technology originally designed for use on Mars to remotely monitor methane emissions from its offshore assets in the North Sea."
Environment
+Jeff Bezos Announces Climate Pledge – CNET
Image Source: Forbes
Jeff Bezos, CEO of Amazon, recently announced The Climate Pledge. The Climate Pledge is an effort by Amazon to reach the terms enacted by the Paris Agreement 10 years ahead of schedule.
Today, Amazon is at 40% renewable energy. They've done that by building 15 utility-scale solar and wind farms, installing rooftop solar on fulfillment centers, and more. By 2024, Amazon plans on being 80% renewable, and by 2030, 100% of operations will be driven by renewable energy.
Natural Gas/ LNG
+ Moving on from LNG myths – LNG Industry 2019
Asia and Europe are seeking to replace coal and nuclear power plants with electricity generated by cleaner-burning natural gas.
" The move to natural gas is particularly evident in China and India, where rapid development and industrialization have contributed to not only rising standards of living but to urban air pollution responsible for killing millions of people in the world's most populous nations every year".
The permits and proceedings required for LNG infrastructure are complicated in the US and Canada. Although these restrictions are less severe in developing nations, these nations are still reliant on the construction of export terminals from (typically) developed nations.
"Most of these permits require public input, often in the form of public meetings or hearings before a board, commissions or agency that will rule on an application. Securing the necessary approvals to advance a project can take years and tens of millions of dollars, if not hundreds of millions."
"Opponents of LNG projects usually can be divided into two categories: those that are ideologically opposed to the continued production and use of fossil fuels; and locals who oppose nearby industrial activity."
The article goes on to refute common LNG myths in an effort to support the continued expansion of LNG infrastructure.
+ Driving outage excellence with digital technologies – LNG Industry July 2019
"On average, operators can lose up to US $11 million of revenue every day that an LNG plant is out of commission."
This article is about BHGE's design for maintainability (DFM) methodology. "This approach considers all the maintenance procedures, from the conceptual design, where maintainability is the measure of how easily and efficiently equipment can be maintained over time."
+No Jetty? No Problem – LNG Industry July 2019
This article outlines an innovative, flexible solution for the jetty-free loading of LNG.
UTS (Universal Transfer System) is the world's first commercial LNG cargo transfer with a jetty-less system.
"An LNG carrier located 100m from shore offloaded a cargo of LNG through the UTS and its cryogenic flexible floating pipeline to the shore receiving facility. The jetty-less transfer of LNG is opening new thinking as to how the importation or exportation of LNG may be possible without the cost burden and inflexibility of traditional fixed jetty infrastructure."
Unites States Oil and Gas
+ Race for the top – Oilfield Technology July 2019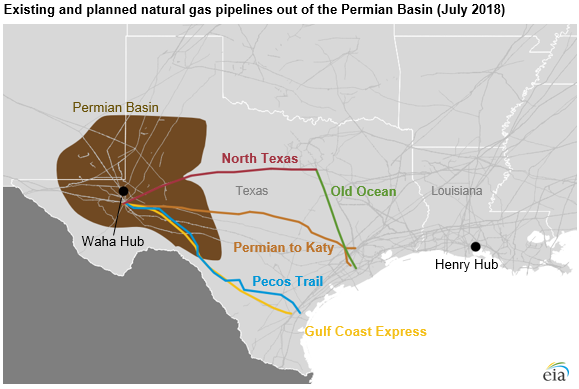 Image Source: EIA
Oilfield Technology correspondent, Gordon Cope, explains how the US has sprinted ahead of its international rivals when it comes to oil and gas production and asks: where does it go from here.
"According to the US Energy Information Administration (EIA), output from the US stood at 12.1 million bpd of crude and 79 billion cubic feet per day of dry gas as of April 2019. In terms of total energy output, it no surpasses Russia and Saudi Arabia as the largest producer."
"By the spring of 2019, production of light crude in the Permian Basin in west Texas and eastern New Mexico had ballooned to over 4.1 million bpd, with the associated output of natural gas approcahing 10 billion cubic feet per day."
The article revisits the Chevron-Occidental-Anadarko story
The article cover's ExxonMobil's foothold in the region with incredible detail
Exxon announced its plans to increase Permian production to 1 million boe/d by 2024. "The US-based company has large, contiguous landholdings in the basin, allowing for enhanced drilling and its use of advanced technologies (including subsurface characterization, subsurface modeling, and data analytics). It currently has 48 rigs working in the basin with 55 planned by the end of the year. Plans are also underway to develop dedicated transportation to deliver 600,000 bpd of oil and 1 billion cubic feet per day of natural gas to its refineries and petrochemical plants on the US Gulf Coast (USGC). Exxon expects to significantly increase recovery and reduce CAPEX per well; in all, the company estimates that it can make a 10% return at a modest US $35/bbl.
Oilfield Technology discusses the Permian's takeaway capacity problem, negative natural gas spot prices at the Waha regional hub in West Texas, and the expected new pipeline construction in the region. We've covered these topics before in this newsletter, but just to reiterate.
Oil Pipelines
Plains All American Sunrise Expansion: 500,000 bpd
Cactus II: 670,000 bpd
EPIC: 900,000 bpd
"In April 2019, EPIC, based in San Antonio, Texas, was given the green light by the US Army Corps of Engineers to build two new pipelines from the Permian basin to export terminals on the USGC capable of carrying up to 590,000 bpd of liquids a distance of 650 miles to the port of Corpus Christi, Texas."
Gas Pipelines
Kinder Morgan's Permian Highway Pipeline: 2 billion cubic feet of natural gas per day
Kinder Morgan's Gulf Coast Express Pipeline: 1.92 billion cubic feet of natural gas per day
As a result of spot prices at the Waha hub reaching a record low negative $4.28 per million Btu in April 2019, Apache suspended 250 million cubic feet per day of its Permian production to avoid excess flaring. Apache will be Kinder Morgan's largest customer and has contracted over 1 billion cubic feet per day on Kinder Morgan's new pipelines which are expected to come into service in late 2019 and early 2020.
"IHS markit predicts that by 2023, Permian production will reach 5.4 million bpd of crude, 1.7 million bpd of natural gas liquids (NGLs), and 15 billion cubic feet per day of gas."
The article goes on to cover other US oil and gas updates, including the Gulf of Mexico, North Dakota, Alaska, Marcellus and Utica Shale, LNG, US Challenges, and predictions for the future.
Oilfield technology hit it out of the park with this article. I highly recommend you subscribe to the magazine and bookmark or print out this article for reference. It will carry value for the rest of 2019 and 2020 as these projects and estimates come to fruition.
+ Drilling down: Encana roars back to life with Permian Basin projects – Houston Chronicle
"Canadian oil company Encana is roaring back to life as the company prepares for a large round of horizontal drilling in the Permian Basin. The exploration and production company filed for 14 drilling permits on its Neal 39 leases in Upton County. Located about 22 miles northwest of Rankin, the wells target the Spraberry formation down to a total depth of 10,300 feet. Encana has filed for 101 drilling permits so far this year. Out of those projects, 89 were in the Permian Basin. The other 12 were in the Eagle Ford Shale of South Texas."
Offshore
+ On the fast track – Oilfield Technology June 2019
A modular approach can be used to standardize and fast track FPSO projects.
+ Exxon considering sale of UK North Sea assets (report) – Energy Voice
"ExxonMobil is considering a sale of its North Sea assets as it focusses on US shale production, according to a news report. The firm, which has been in the UK sector for 50 years, has held sales talks with a number of operators in recent weeks, according to Reuters. Citing industry sources, the news agency said a deal for Exxon's assets could fetch $2billion. The move would follow other US operators ConocoPhillips and Chevron, who have sold off their UK portfolios to Chrysaor and Ithaca respectively this year. Exxon, which is headquartered in Texas, has already put its Norwegian assets up for sale, which analysts have predicted could bring up to $3.1bn. According to its website, ExxonMobil is responsible for around five percent of the UK's oil and gas production."
Water Supply & Treatment
+ Flowing with the times – Oilfield Technology July 2019
" The decision to automate pumps, tanks, and other production operations has created workforce efficiencies on a significant scale by removing the need for field personnel to physically attend every site every day. Real-time monitoring also alerts personnel to changes – and often impending problems – thereby increasing production by reducing downtime. It is no surprise then, that similar economies and efficiencies are to be had by automating water systems that grow in size and complexity every year."
---
Have a great weekend!
-Danny Foelber
EKT Interactive Managing Editor
Head Writer | Eau Claire Writing
Eau Claire Writing is a Houston-based freelance writing company that specializes in gas compression, turbomachinery, onshore and offshore drilling, and well service content for the oil and gas industry.
Unsubscribe | Update your profile | 9813 Shadow Wood Dr., Houston, TX 77080