Friday, September 6th, 2019
Hello all,
Happy Friday and welcome to Energized, your weekly look into the geopolitics, news, and happenings of energy markets.
Before diving into this week's content, we'd like to remind you to join our Energized LinkedIn Group. We will be releasing frequent news and snippets of Energized newsletters through the group. We hope to see you there. Also, if you haven't already, visit our website to gain access to our free Oil 101 introductory course, our popular series of mobile-ready videos describing "How the industry works." Ready for more? Check out our in-depth Oil 201 course which covers exploration, drilling, production, well completions, and refining. If your company or group is interested in Oil 101, let's talk. We license our courses for use as internal training for sales, IT, and operations teams. Think you know someone who would enjoy this newsletter? Pass it on! They can subscribe and access our Energized archives here.
Now, onto this week's issue.
Energized! 
Curated weekly oil and gas newsletter
Oil Prices and Markets
+ Fast Facts – Houston Chronicle "Fuel Fix" as of Sunday, September 1st, 2019
Light, sweet crude (dollars per barrel): $55.10
Last Week:  $54.17
Natural Gas (dollars per million British thermal units): $2.285
Last Week: $2.152
Rig count (United States): 904
Last Week: 916
Oil Services
+ TechnipFMC to split into two companies – Offshore Engineer
"Franco-American oil services firm TechnipFMC Plc said on Monday [August 26th] it would spin off its engineering and construction operations into a separate company, leaving it as a technology-focused equipment supplier to oil and gas companies."
"TechnipFMC received a record volume of orders in the second quarter, supported by new liquefied natural gas (LNG) projects."
Environment
+Energy companies set to get reprieve on methane rules – The Wall Street Journal
This WSJ article plays off of the ongoing Trump administration narrative to erase the Obama administration's legislation on methane emissions. The narrative continued on August 27th when the Trump administration formally introduced a new proposal.
"Methane, which accounts for about 10% of U.S. greenhouse-gas emissions, is about 25 times more potent than carbon dioxide in trapping the earth's heat, according to estimates used by the EPA. Its figures show the oil-and-gas industry has long been the nation's largest emitter of methane, even before discoveries in shale and fracking led to a wave of new drilling."
Probably the most glaring tension from the article is the rift between agencies, most notably the API and EPA, and supermajors such as ExxonMobil and Shell.
Politically speaking, the question is should the industry maintain "Obama-era requirements for the industry to install technologies that monitor and limit leaks from new wells, tanks and pipeline networks and to more frequently inspect for leaks" or move onto voluntary programs where the companies themselves commit to more inspections and agree to replace and update outdated and environmentally harmful systems.
Interestingly enough, ExxonMobil and Shell are proponents of government regulation, arguing that voluntary programs and rollbacks in policy "undermine the argument that natural gas is a cleaner fuel." On the other hand, the API and EPA argue that "the industry has an incentive to limit emissions because it can sell the gas it traps."
This divide is fascinating. ExxonMobil and Shell are essentially saying that they are committed to reducing methane emissions anyway, so it will look even better, and cost less legal fees, to simply keep the current regulations in place.
Oil and gas companies large and small are incredibly concerned with their images and brands in terms of public sentiment and convincing the workforce that they are morally sound companies. Without regulations, even voluntary measures by ExxonMobil and Shell will be discounted in the face of some small E&P company, somewhere in the middle of nowhere, that is running and gunning without any concern for environmental protection. "Without nationwide methane regulation, [the] industry is only as strong as its weakest link," said Ben Ratner, a senior director at the Environmental Defense Fund.
President Trump is in a league of his own. While there's a least a discussion between companies and regulatory bodies, Trump has publicly called climate change a hoax, saying it hurts business.
"The production and transport of methane involves millions of miles of pipelines, and the gas often leaks through the network's innumerable joints and vents. That adds methane to the heat-trapping gases in the atmosphere."
"The industry leaks about 2.3% of all the natural gas it produces, according to a series of studies finished last year and led by the Environmental Defense Fund."
This is a big topic of conversation. We will continue to cover it in this newsletter as the story develops.
U.S. Shale (with 3 articles from Oil & Gas 360)
+ U.S. shale oil output to rise to record 8.77 million bpd in September (EIA) – Oil & Gas 360
+ EPIC announces initial crude delivery into Corpus Christi – Oil & Gas 360
+NuStar receives first shipment of Permian Basin crude oil at Corpus Christi Terminal – Oil & Gas 360
These three articles were mentioned on episode 118 of the Texas Oil and Gas Podcast. We are here to connect the dots for you and tell you a quick summary of what this means for the Permian.
After months of falling rig count and spot prices, September may just be the month where things start turning around in West Texas.
The biggest monthly increase in Permian production since April is expected to occur in September when production should increase 75,000 bpd to a new record, 4.42 million bpd. Helping steady prices and lead to the production increase are the lauch of new pipelines, such as Plains All American Pipeline LP's 670,000-bpd Cactus II pipeline system. On the downstream side, the first shipment of Permian crude arrived at NuStar's Corpus Christi export terminal.
"After being transported more than 500 miles, the Permian Basin crude oil is being stored in storage tanks at NuStar's facility where company officials said it will be loaded onto a tanker for export."
"The pipeline build out comes at a time when the Port of Corpus Christi is widening and deepening the ship channel and the South Texas waterway is expected to become the largest crude oil export hub in the United States within the next five years."
Additionally, EPIC announced that interim crude service on its 24″ Y-Grade Pipeline has begun delivering crude from Crane, TX to various terminals in Corpus Christi and Ingleside, TX. Interim crude service will give EPIC the ability to deliver up to 400,000 barrels of oil per day to refineries around Corpus Christi.
Offshore
+Brazil propelling FPSO market boom – Offshore Magazine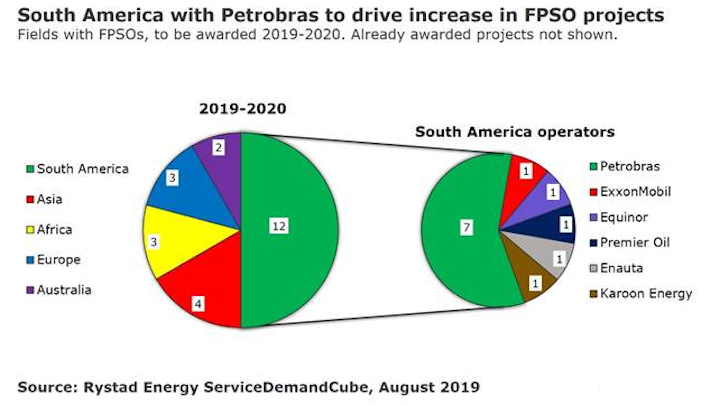 "OSLO, Norway – The global market for FPSOs is headed for a major renaissance with as many as 24 FPSO awards expected by 2020, driven mostly by Brazil, according to analyst Rystad Energy. South America leads the pack with 12 sanctioned FPSO projects planned by the end of next year, followed by Asia with four, Europe and Africa with three each, and two more in Australia. Rystad expects Brazil – currently witnessing an influx of international E&P companies – to contract seven more FPSOs in 2020, thereby bringing the country's tally to more than one-third of the awards anticipated globally this year and next. The seven projects already confirmed this year collectively represent production capacities of more than 700,000 b/d of oil and around 60 MMcm/d of gas."
+ NOV lands contract to build massive offshore wind turbine installation ship – Houston Chronicle
"Shimizu Corporation awarded NOV a contract to design and build a ship that will be used to install turbines for a 9-gigawatt wind farm off the coast of Japan." The ship will include wind turbines that can each produce between 9 to 12 megawatts of electricity.
Natural Gas/ LNG
+ Time to stay strong – LNG Industry July 2019
Support is high for natural gas and LNG in Asian markets, but recent declines in Asian LNG spot prices have weakened the market.
"LNG is facing increased competition from pipeline gas and alternate energy sources, dampening Asia's appetite for LNG."
This is one reason for the collapse in LNG prices. Mid-scale LNG projects, FLNG platforms, and more provide other ways for investors to dip their toes into the LNG market without exhausting CAPEX.
"Projecting forward, pipeline gas from Russia via the landmark "Power of Siberia" deal will likely dampen China's LNG imports. China's gas storage and processing capacity bottlenecks will limit the gas it can absorb in the short-run."
Just like the discount that Permian oil and gas bears to standard market prices, so too are the spot and contract markets of regional LNG supply and demand disconnected. The variance between European markets and Asian markets has left Europe as the marginal "swing" destination for surplus LNG volumes.
"Weak LNG spot prices and uncertainty regarding future pricing undermines the incentive to invest in new capacity."
"The consensus expectation amongst industry experts is the global LNG market will tighten significantly by the early 2020s." The global LNG market could move from surplus to defificit and back to surplus again, post-2025.
"The industry needs to add between 100 million tpy and 250 million tpy of capacity by 2025 in order to meet anticipated demand."
What will fill this demand? As previously stated, mid-scale projects provide a happy medium between meeting demand and not hemorrhaging costs. "The next wave of LNG projects will be very different to the first generation. These projects will be considerably less capital-intensive, responding to industry drive for lower cost onshore and offshore delivery solutions."
Also changing is the once prolific but now dwindling relationship between LNG and oil. "The smart money is for an eventual decoupling of LNG from oil with a gas benchmark like Henry Hub or Waha Hub in West Texas applied instead. The close historical correlation between LNG prices and crude oil is already breaking down."
What if coal replaced oil as the commodity tied to gas? This would certainly have positive and negative effects. On one hand, it's an attractive strategy in Asian markets with high volumes of coal generation. Indeed, coal is much less volatile than oil. On the other hand, global coal benchmakrs would hurt developing nation pricing, as many of these nations are using LNG as a replacement for coal, not an affiliate.
"The long-term demand outlook for gas remains exceptionally strong as the world gravitates towards cleaner energy sources. Shell, for example, expects gas to account for more than 40% of total energy demand growth until 2035, driven by clean air policies and emissions reduction targets."
"In the IEA's latest World Energy Outlook, demand for natural gas is forecast to rise by 45% by 2040. In the IEA's "New Polciies Scenario," gas overtakes coal by 2030 as the second-largest source of energy after oil."
Conclusion: Asia is where the action is. European and Australian headlines are dominating the scene, Europe as a buyer desperate for clean-burning energy and Austalia as a fair weather supplier. A focus on the Asian market is just as important.
Upstream
+ From cloud to clarity – Oilfield Technology July 2019
Hannah Chittenden, Doug Angus, and Katie Jeziorskio, ESG solutions, Canada, explain how increased microseismic resolution helps model and mitigate parent-child interaction and frac hits.
Ah, the continuing discussion of parent-child wells. A parent well is the initial well that is designated for drilling, with the assumption that the general area has the potential for more wells. Subsequent wells that derive from that first well are called child wells and tpyiclaly yield less than the parent well. As more child wells are drilled, it becomes a profit/loss calculation, with a declining profit ratio until the company can't breakeven and they stop drilling child wells altogether.
+ A DUC dynasty? We don't think so – Spears Insider
We have discussed the Drilled but Uncompleted Well (DUC) count several times in this newsletter. The DUC count is a crucial measure of oil and gas supply. A DUC is exactly what it sounds like, a well that has been drilled but has yet to undergo the crucial fracing process that results in hydrocarbons rising to the surface, marking the beginning of production. There have been several sources, including the EIA, confirming the United States DUC count as rising steadily month over month to over 4,000 now. The Spears brothers have a different take, claiming the DUC count isn't just lower than what the EIA is saying, it's practically nonexistent.
Source: Copyright © 2019 Spears & Associates, All rights reserved.
"In this era of "capital discipline", what oil company management team would admit to their shareholders that they took a bunch of capital, drilled holes in the ground at $3M per and then left them without completing them? It looks like in almost every case oil companies decided to sell oil today at a small discount rather than wait 6 months and sell it at a possibly higher price once the pipelines get built.  Who wants to take the risk that oil prices will be higher in 6 months?"
Water Treatment & Supply
+ Shifting Focus – Oilfield Technology July 2019
Here are the trends. Fracing and horizontal drilling are increasing, the costs associated with this drilling is decreasing, but associated water costs are increasing mostly due to deeper wells and longer laterals. This article is a great read for those interested in water usage trends, how much water is produced per well, water treatment, and water recycling,
---
Have a great weekend!
-Danny Foelber
EKT Interactive Managing Editor
Head Writer | Eau Claire Writing
Eau Claire Writing is a Houston-based freelance writing company that specializes in gas compression, turbomachinery, onshore and offshore drilling, and well service content for the oil and gas industry.
Unsubscribe | Update your profile | 9813 Shadow Wood Dr., Houston, TX 77080