Friday, August 30th, 2019
Hello all,
Happy Friday and welcome to Energized, your weekly look into the geopolitics, news, and happenings of energy markets.
Before diving into this week's content, we'd like to remind you to join our Energized LinkedIn Group. We will be releasing frequent news and snippets of Energized newsletters through the group. We hope to see you there. Also, if you haven't already, visit our website to gain access to our free Oil 101 introductory course, our popular series of mobile-ready videos describing "How the industry works." Ready for more? Check out our in-depth Oil 201 course which covers exploration, drilling, production, well completions, and refining. If your company or group is interested in Oil 101, let's talk. We license our courses for use as internal training for sales, IT and operations teams. Think you know someone who would enjoy this newsletter? Pass it on! They can subscribe and access our Energized archives here.
Now, onto this week's issue.
Energized! 
Curated weekly oil and gas newsletter
Oil Prices and Markets
+ Fast Facts – Houston Chronicle "Fuel Fix" as of Sunday, August 25th, 2019
Light, sweet crude (dollars per barrel): $54.17  
Last Week:  $54.87
Natural Gas (dollars per million British thermal units): $2.152
Last Week: $2.220
Rig count (United States): 916
Last Week: 935
Midstream
+ 3 reasons why the Permian Basin needs 1 more crude pipeline – Wood Mackenzie
For those interested in a bit of history on how the Permian outgrew its takeaway capacity as well as an outlook for the basin's growth and infrastructure needs in the coming decades, this article's for you.
"The early 2020s will see a massive build-out in a short period of time – we estimate more than 3.5 million b/d of Permian-to-Gulf Coast crude takeaway capacity by the end of 2022, effectively doubling long-haul capacity from the basin. This burst of buildout will likely lead to overcapacity short term. A key question remains for long-term planning – will additional pipeline capacity ever be called on again, or is the build-out complete?"
Resilient Permian basin oil production continues into the 2030s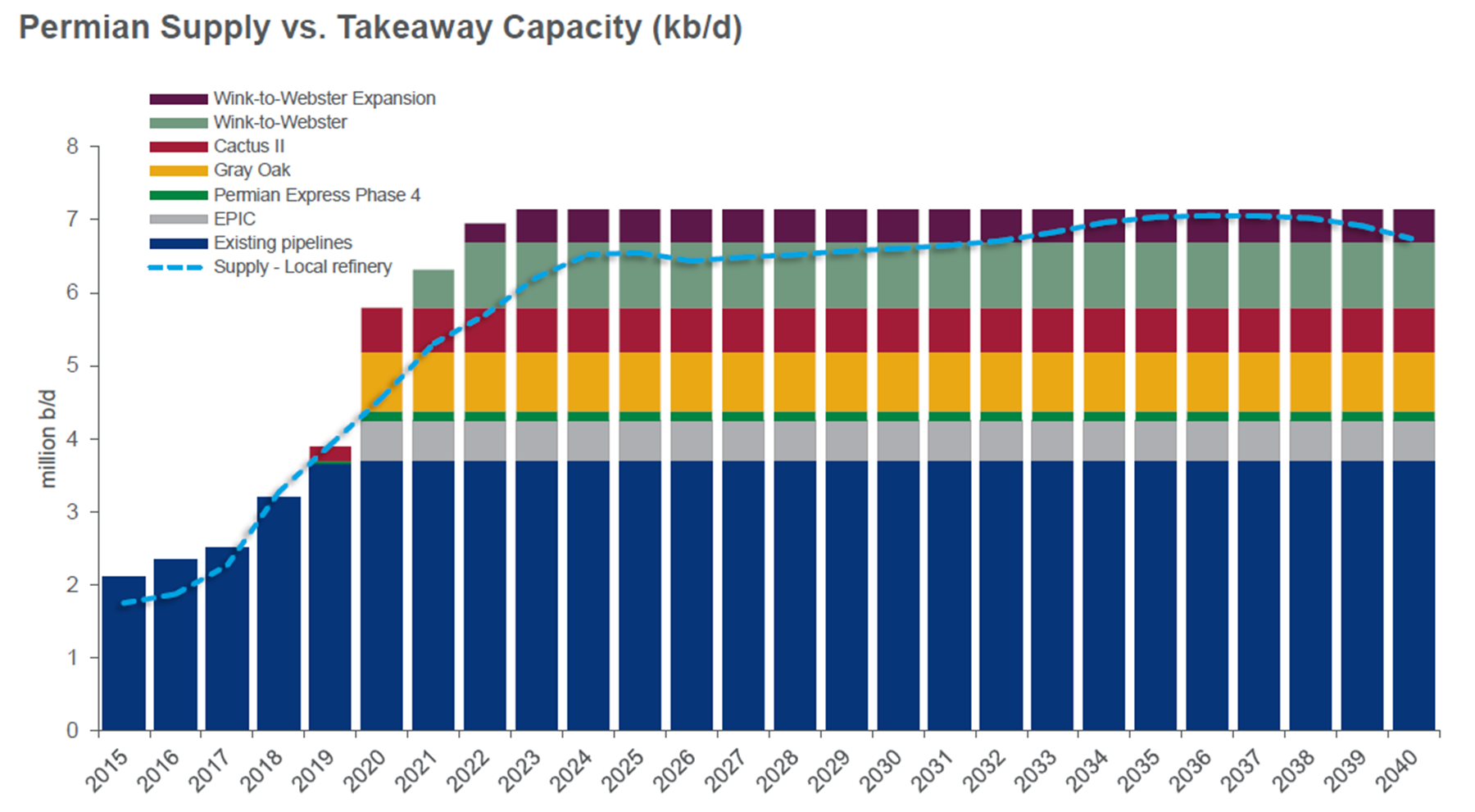 Source: Wood Mackenzie North America Crude Markets Service
+ TechnipFMC wins $7.6 billion contract for Arctic LNG-2 Project – Reuters
"Oil services company TechnipFMC won a $7.6 billion contract with Russia's Novatek and its partners for the Arctic 2 liquefied natural gas project in western Siberia, pushing TechnipFMC's shares higher."
Environmental News
+ How climate change could impact the economy – Yahoo Finance
According to JP Morgan Chase, climate change will only reduce the global GDP by 7% over a time period when it will, at forecasted rates, compound to grow over 450%.
Aside from arguing the economic side of climate change, the environmental side is still a fresh topic. Displaced species relocating to alien environments, harmed land and marine ecology, land loss leading to inhabitance in places like the Southern Parishes of Louisiana (The New Yorker published a piece on this topic in April). The effects are serious.
The Yahoo Finance panel provides valuable insight on the topic of climate change. I found Kristin Myers' point that developing countries shoulder the brunt of climate change poignant and accurate. She cited the Somalian famine as a prime example, which occurred in 2018 and caused emigration out of Somalia and into neighboring African and even European countries.
Massive emigrations out of developing countries create a strain on the infrastructure and health care of developed countries accepting immigrants. A case like the Somalian famine shows that the consequences of climate change can begin with developing countries and then trickle down into developed countries. It's a global problem that may not affect the economy, but it certainly impacts the well-being of humans and other life on this planet.
Fear not, the energy industry is mindful of climate change. In case you missed it, check out the July Spotlight Issue in Energized #15 to learn how artificial and natural means of carbon capture and storage can stunt or even reverse climate change.
Safety & Security
+ Hormuz: Iran spoofing bridge to bridge communications? – Marine Log
"MARAD has issued a revised advisory for vessels operating in the Persian Gulf, Strait of Hormuz, and Gulf of Oman. It warns that heightened military activity and increased political tensions in this region continue to pose serious threats to commercial vessels."
Energy Job Market
+ Oil has a millennial problem – Bloomberg
"The industry is facing recruitment challenges all over the world. In a survey of more than 33,000 people working in oil and gas conducted by oilandgasjobsearch.com and NES Global Talent, almost 90% said skills shortages were damaging productivity, with gaps widening in every sector of the industry."
The article tells the oil and gas talent shortage story through the eyes of a recent Oxford graduate named Robert Paver. Recent college graduates and millennials are disenchanted by the oil and gas industry due to scars from the 2015 oil downturn, negative sentiment towards fossil fuels, polarizing policy surrounding renewables, and lack of confidence in energy industry job security. These pressures are even greater in many European countries, where environmental policy is one of the most heavily debated topics. According to Mads Huuse, professor of geophysics at the University of Manchester. "A lot of geoscience students in the U.K. don't work in the industry, they work in insurance companies and banks." It's safe to say public perception is at or near an all-time low.
Permian Basin: All segments (Upstream, Midstream, & Downstream)
+ UH Study: Increased production raises questions about USGC port capacity – Oil & Gas Journal
West Texas production is largely slated for export now that the United States is shifting its focus towards an energy-exporting nation for oil, natural gas, and liquefied natural gas. As many of you know from this newsletter and other sources, Permian production has been dampened due to a lack of pipelines. We have recently discussed problems emerging in the upstream segment as well, with Permian producers, especially independents, struggling to maintain strong free cash flow in the midst of falling oil prices and logistical issues.
What we haven't talked as much about is how the downstream segment ties into the Permian.
This recent study by my Alma Mater, the University of Houston, ties it all together.
A few quotes from the article:
"As US refiners and other customers will be unable to absorb rising production from the Permian basin, several potential obstacles could stand in the way of successfully exporting the excess production."
"The independents are relatively inexperienced with exports, and if they can't build that expertise, they could become targets for acquisition," Krishnamoorti said. "They also face additional stress because of the flight of capital from the Permian."
"Construction of additional pipelines under way or planned to carry oil from the Permian to export terminals along the Gulf Coast should relieve current bottlenecks by mid-2020, but new bottlenecks will emerge downstream. Export terminals in Corpus Christi, in particular, are unlikely to be ready to handle the volume, even though the port is designed to handle VLCCs."
"The lack of a solution for the flaring of gas in the Permian poses a risk to the continued viability of the Permian."
Upstream
+ Whiting Petroleum slashes workforce by a third – Journal of Petroleum Technology
+ E&P growth shifts offshore and globally but more cost and job cuts on the way – Journal of Petroleum Technology
NOV's recent Q2 earnings report could curb anyone's enthusiasm for working in the oil and gas industry. The CEO was quoted as calling the current business climate a "generational oilfield downturn." Layoffs are mounting in the oilfield services industry. NOV is desperate to reduce general and administrative costs so much so that they are offering voluntary early retirement with severance packages.
Herein lies the dichotomy. On the one hand, there is a talent shortage. On the other, there are job cuts due to the number of redundancies and inefficient segments of several large oil and gas firms. So what does it mean? Companies want to hire talented individuals that think differently and can help the organization prosper in this changing business environment. If you're new to the industry, don't let the layoffs scare you. Many times, it's not the individual's fault but the division they were under. Marketable skills are timeless, and possessing them paves the way for an energy career teeming with opportunity.
There is some good news from the two JPT articles. Oilfield services companies are shifting their focus, once again, offshore. Offshore is really the bread and butter of oilfield services companies. Onshore, especially the shale plays, is less predictable than offshore. Operators are focusing more on cash flow so offshore is more attractive.
"The rig count for shale plays has been sinking while offshore spending has jumped from depressed levels."
"We expect offshore commitments to nearly double from 2018 to 2020, and sustain high levels of spending over the next five years," said Matthew Fitzsimmons, vice president on Rystad Energy's oilfield services team.
+ Shale drilling's worst yet to come, biggest rig owner says – World Oil
Helmerich & Payne made the same mistake during the second quarter of 2019 that many of its peers made: it underestimated the slowdown in North American spending.
"The full effect of the industry's emphasis on disciplined capital spending continues to reverberate through the oil field services sector," he [CEO John Lindsay] said in a Wednesday statement. "We are reluctant to predict another bottom and see further softening during our fourth fiscal quarter as our guidance would indicate."
The U.S. oil rig count has fallen 11% this year, according to Baker Hughes.
+ No quick exit from Permian oil from private equity – Bloomberg
"Publicly traded oil and gas producers used to be the natural acquirers, but a drop in crude prices, combined with investor demands for them to conserve cash, has diminished their appetite for deals."
Oil and Gas Supply
+ How we think about inventories – The Drilldown: In-depth answers to oilfield questions episode 124
When we think about oil inventories we're typically not talking about reserve supply. Instead, the focus is on commercial oil inventories held up by industrial nations that are part of the Organization for Economic Cooperation and Development (OECD).
Currently, inventories sit at 1.6B for non-USA, 1.3B for USA, bringing the total to ~2.9B.
2.9B is the 3rd highest ever recorded inventory number which would garner the assumption that oil prices would be low, which they are. In fact, the only time they were higher was in 2015 and 2016, when oil prices were tanking.
As John Spears points out, the key metric here isn't this total OECD inventory number, it's the days of consumption, which is simply OECD inventories divided by global consumption. That number is about 100 million per day or a total of 28.4 days. At less than a month, the days of consumption number is the 2nd lowest figure ever recorded, the lowest being in 2013 when oil was over $100 per barrel.
In reality, the OECD inventory number is relatively small right now, which would lead you to believe oil prices should be higher. Well, why aren't they? A common assumption is that, due to the versatility of unconventional production, the shale plays can quickly bring oil to market so there is less need for oil inventories. Not so true, as we have found with the takeaway capacity problem in the Permian. This assumption is dampening oil prices. Oil prices are lower than they really "should" be or where, given past data, we would think they would be given the current business climate.
Conclusions…
Although oil inventories are at the 3rd highest ever at 2.9 billion globally, relative inventories are the second-lowest ever due to the linear uptrend growth in global consumption, which is at an all-time high.
The market is assuming that drillers can flip a switch and bring hydrocarbons to market. Even if they wanted to, they can't because of the exceedance in takeaway capacity. Even if they could, they probably wouldn't due to Wall Street's short leash with E&P companies and emphasis on reducing capital expenditures. There's a lot more resistance than is commonly believed.
Misinformation and Misrepresentation of inventory supply:

+ Analytics Firm: Permian fracturing work underreported by 21% in 2018 – Journal of Petroleum Technology
"Findings from analytics firm Kayrros suggest the average well in the Permian Basin of West Texas and southeastern New Mexico is both less productive and more expensive than reflected in public data."
"The underreported activity also means the backlog of Permian drilled-but-uncompleted (DUC) wells is much smaller than commonly thought, Kayrros said. "The prevalent view that shale operators sit on a large backlog of DUCs that could be quickly brought to production even without further drilling is thus deeply misleading," it said. "There is just no such inventory.""
Sites like FracFocus, which is a voluntary repository of self-reported completions data, is useful but cannot be relied on for 100% accuracy.
Final Conclusion: Oil inventories are relatively low but oil prices don't reflect this supply strain due to the common perception that unconventional drilled but uncompleted well supply is high and there are drillers chomping at the bit to bring products to market. In reality, these drillers have their hands tied with investor obligations to operate within free cash flow.
---
Have a great weekend!
-Danny Foelber
EKT Interactive Managing Editor
Head Writer | Eau Claire Writing
Eau Claire Writing is a Houston-based freelance writing company that specializes in gas compression, turbomachinery, onshore and offshore drilling, and well service content for the oil and gas industry.
Unsubscribe | Update your profile | 9813 Shadow Wood Dr., Houston, TX 77080