Friday, August 9th, 2019
Hello all,
Happy Friday and welcome to Energized, your weekly look into the geopolitics, news, and happenings of energy markets.
Before diving into this week's content, we'd like to remind you to join our Energized LinkedIn Group. We will be releasing frequent news and snippets of Energized newsletters through the group. We hope to see you there.
Now, onto this week's issue.
Energized! 
Curated weekly oil and gas newsletter
Oil Prices and Markets
It never got below $50, but it was close.
WTI plummeted to a low of $50.60 on Wednesday.
The broader market started falling heavily last Thursday after worries of slowing global growth, fed rate cute hesitancy, and finally, the nail in the coffin, additional 10% tariffs on the remaining $300 billion of imported Chinese goods starting September 1st.
On Monday, the NASDAQ was down over 4% at one point but regained most of that loss throughout the course of the rest of the week.
WTI closed Thursday at just under $53. This is still a brutal weekly loss and puts the oil market average farther and farther from the coveted $60 threshold.
The energy sector was punished much more than other sectors this week.
+ Saudi Aramco cuts all oil pricing for September sales to Asia – Houston Chronicle
Saudi Aramco cut oil prices for September sales to Asia but raised them to buyers along the Mediterranean and Northwest Europe.
Petrochemical
+Defying Convention – Hydrocarbon Engineering
 "Technological advancements have the potential to offer gas processors faster execution, more reliable operation, and improved profitability. Eric Sallee, Honeywell UOP Russell, USA, outlines the benefits of pre-engineered and digitally connected plants."
You'll have to subscribe to Hydrocarbon Engineering (for free) to access the article. I recommend following Hydrocarbon Engineering for a global take on industry advancements.
If you aren't interested in subscribing at the moment, here are some key takeaways:
Pre-engineered gas plants can save gas processors time and money.
"Modular plants could be in operation 6-12 months faster than a conventional plant, payback for clients is more immediate, and there is the potential for quick profitability."
"The entire plant can be transported on truck beds and assembled quickly onsite."
"Cryogenic gas processing plants cool natural gas until valuable NGLs, such as ethane and propane, can be drawn out in liquid form."
"In August 2018, Honeywell UOP acquired Ortloff Engineers – a leader in cryogenic gas liquids recovery…the company's Sc30 RSV plant employs Honeywell UOP Ortloff Recycle Split Vapor (RSV) technology, which can recover more than 99% of ethane and propane from natural gas."
The plant can process 50% more natural gas than previous designs. That makes it 20% more energy efficient on a per-cubic foot basis.
"According to a recent study by IHS Markit, US production of ethane is forecast to increase from an average of 1.4 million bpd in 2017 to 2.5 million bpd in 2023. The US Energy Information Administration (EIA) predicted that increased ethane production will be consumed in the petrochemical industry domestically, in addition to exports to other countries, particularly in Europe and Asia."
Texas is currently responsible for 48% of ethane production and is expected to increase to 54% by 2023. Other leaders include New Mexico and Louisiana.
Offshore
+Composite tape is the new metal – World Pipelines
As someone unfamiliar with offshore pipelines, I found this article fascinating. For offshore production, there are basically rigid, all-metal pipelines and flexible pipelines that use polymers. This article focuses on composite tape structures. Some or all of the metal components can be removed from the pipeline construction and replaced with thermoplastic composite tapes. Traditional flexible pipeline systems are heavy since hybrid construction includes heavy metal layers. Replacing metal components with unidirectional thermoplastic composite tapes makes the pipe lighter.
Using composite tape results in at least a 30% reduction in overall composite structure weight, leading to reduced pipeline transportation and installation costs. Most importantly, as deep-sea offshore drilling increases, the pressure demands of offshore pipelines intensify. Lighter pipelines can withstand these high pressures better than heavier pipelines, meaning this technology is less about reducing costs and more about performance.
Takeaway: "Although thermoplastic composite pipelines are still in the beginning of their history in the offshore oil and gas market, there are very good opportunities for them in future pipeline production. The correct combination of polymer, fibre, and composite manufacturing is needed to produce a safe and reliable product for the existing oil and gas industry, particularly offshore."
This is a great read. If you want to learn more about the various polymers that are used, how these composites are evaluated, and more, I encourage you to check out the article.
+ Deepwater leading the way is discovered resources – Offshore Magazine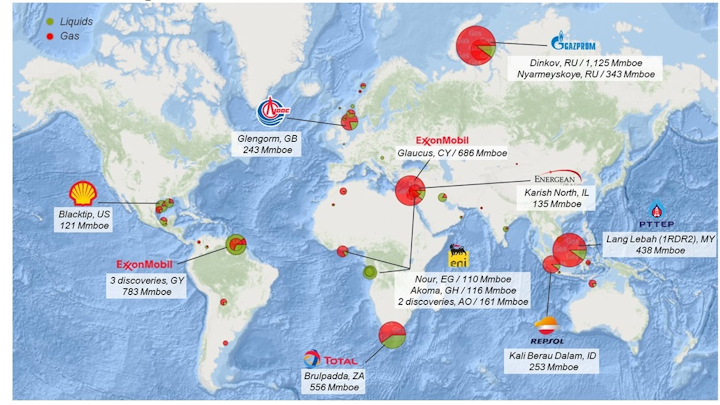 Map of global conventional discoveries in first half of 2019
(Discoveries larger than 100 MMboe)
Rystad Energy ECube, July 2019
"Global discoveries of conventional oil and gas totaled 6.7 Bboe in the first half of 2019, according to analyst Rystad Energy. Average monthly discovered volumes were 1,123 MMboe, about 35% higher than the comparable figure of 827 MMboe in 2018. So far, 2019 has been a year of gas discoveries, which hold a majority (63%) share compared to liquids, a phenomenon not seen since 2016, the analyst said."
While shale charts a course for maturation, offshore is setting sail for discovery. Maybe the reason why 80% of 2019's discovered volumes have come from NOCs and majors is due to the increased competition onshore. Looking at the map by Rystad energy, the discoveries are occurring in varied geographies and by varied companies such as Gazprom, ExxonMobil, and Malaysia's PPTEP. Many discoveries are gas plays, signaling bullish sentiment on the future of LNG and global gas trade.
+Shell completes Caesar-Tonga divestment – Offshore Magazine
"Shell Offshore Inc. has completed the sale of 22.45% non-operated interest in the Caesar-Tonga asset in the US Gulf of Mexico to Equinor Gulf of Mexico LLC, subject to approval of the lease assignments by the regulator. The total cash consideration was $965 million."
Oil Recovery
+An organic approach to oil recovery – Oilfield Technology
Kenneth J. Gerbino and Dr. Colin Hill, Titan Oil Recovery, USA, explain how a new organic approach to oil recovery is providing benefits for operators.
This article is well done, but be warned, it's very in-depth. It takes a look at the use of microbes for organic oil recovery.
Oil recovery is a major issue in the industry due to declining production rates. Onshore shale wells are especially susceptible to declining production rates. They typically lose more than 50% of their bpd production in one year or less.
It's free to subscribe to UK-based Oilfield Technology. You'll have to if you want to read the full article. In case you don't want to, here's one main takeaway:
"Creating micro-oil droplets allows trapped oil to flow more easily through the tight reservoir pore spaces. The interfacial tension between oil and water and the oil and rock surface is also reduced by the action of the microbes surrounding the micro-oil droplets."
Energy Security
+ Australia looks to Siphon U.S. oil stockpile to avoid running out of gas – Wall Street Journal
"The ally, which America hopes will play a more assertive regional role, is a weak link when it comes to oil security."
Australia is a dominant player in the LNG space, but it's ironically struggling to maintain its own energy supply due to expensive construction of LNG liquefaction plants and export terminals.
Next week, we'll be diving headfirst into the Australia energy market for our August spotlight issue on LNG. For now, we'll narrow our scope to just this article.
Essentially, the US wants Australia to be its primary energy ally in the Asia-Pacific region. But… Australia has exhibited negligence when managing its own energy reserves. "Australia has long been the weakest link in the world's last line of defense against a disruption to the trade in crude oil. It is the only buyer of crude among the 30 members of the International Energy Agency without enough oil in storage to cover net imports for three months. It has failed to meet that IEA requirement since at least 2012. It has 57 days of net coverage in backup supplies, according to most recent IEA data."
The article goes on to explain the geopolitical significance that Australia plays as an ally to the US, especially with heightening tensions between the US/UK and Iran, as well as the escalating trade tensions between the US and China.
It remains to be seen if Australia can, indeed, be a dominant player in the energy industry. For now, a steep fall in Australia's production and the closure of several refineries have weakened their position. For the past 40 years, in times of crisis, Australia has relied on individual companies, not countries, to buoy its energy supply. It would cost billions of dollars to build fuel stocks and storage infrastructure, a price Australia is simply not ready to pay since they are already spending a fortune on LNG liquefaction plants and export terminals, as well as LNG gasification plants and import terminals.
Stay tuned for our LNG spotlight issue next week, where we'll be covering the global balance between LNG exporters and importers as it exists today, as well as discussing the role LNG could play in the years to come.
Business
+ Oil sector cutting spending as Wall Street turns its back – Houston Chronicle
In Energized #14, we discussed a change in sentiment between investors and E&P companies.
There's been a shifting paradigm, and many once accepted capital-intensive business practices pitched on the basis of growth are now being pitched into the trash for their lack of positive cash flow generation.
Jordan Blum seems likewise pessimistic about investor sentiment, citing that "the S&P Energy index is down more than 16 percent in the past 12 months even as the broader S&P 500 index has gained 9 percent."
It's always a bad sign when a sector is lagging the market (ahem, retail), especially when so many oil and gas stocks pay attractive 3+% dividends.
Blum argues that oil has failed to break out from $60, somehow finding a way to drip back down to the mid $50s time and time again.
In this newsletter, we've cited several examples of companies whose operations have breakeven prices in the low $40s or even the $30s. Some offshore projects, due to their massive scale and years of planning, can even have breakeven prices in the $20s or lower. Still, breakeven prices comfortably below current oil prices are a privilege that comes with size and diversified assets. There are many plays both domestically and abroad that are unprofitable or marginally profitable at current prices, dissuading investment.
"Some companies can still make money at those levels, but not enough to fuel significant expansions or satisfy increasingly impatient investors," writes Blum.
The article goes on to discuss several points mentioned in this newsletter, such as slowing global oil production versus rising U.S production as well as the relationship between shale drilling efficiency but also rig count declines.
+ Lessons from the downturn: adjusting to the new reality – Offshore Magazine
If you're looking for a comprehensive progress report of the post-2014-downturn energy industry, this is it.
"Deloitte analyzed 843 listed O&G companies worldwide across the four O&G segments (upstream, oilfield services, midstream, and refining, and marketing) in an effort to gain a deeper and broader understanding of the industry. The ensuing research yielded a six-part series, "Decoding the O&G downturn," which sets out to provide a big-picture reflection of the downturn and share our perspectives for consideration on the future."
 The article answers questions vital to gaining a complete perspective of the health and prospects of the O&G value chain.
How have O&G companies navigated the past five years of the downturn?
Did the operational and capital adjustments of O&G companies translate into returns for investors?
How have margins and value migrated between O&G segments?
Which segment saw the highest fundamental-market divergence?
"After a difficult 2015 and 2016, the industry began showing signs of coming out of the woods by mid-2018, with oil prices recovering to $85/bbl (Brent). Many industry executives appeared to regain confidence as their companies' financials improved, resulting in growing optimism about 2019."
"But then, oil prices surprised everyone by sliding more than 35% (Brent) to $50/bbl in the last quarter of 2018. If fears of oversupply and the three largest oil producers (Russia, Saudi Arabia, and the United States) competing for market share were not enough, the rise in geopolitical tensions and concerns of a global economic slowdown seemed to have dented the positive momentum built over the past 12-18 months in the oil market."
"A fit-for-future O&G industry needs a healthy ecosystem of producers, service providers, shippers, and processors and marketers. Without it, the gains of a recovery would likely go to a select few, while losses from a downturn could affect many, potentially impairing the ability of certain segments to attract capital and grow sustainably.
…Although producers are recovering, and in some cases growing again, many in the oilfield services (OFS) segment continue to struggle for survival. For example, market capitalization of the OFS segment, which is the backbone for both shale growth and offshore revival, has fallen by half to $262 billion and the entire segment is now less than the size of the biggest supermajor."
For more observations, takeaways, and lessons, I highly suggest you subscribe to Offshore Magazine and read the full article.
Midstream
+ Plains' Cactus II oil pipeline to begin line fill in a week – Reuters
Huge news for followers for the Permian Basin. Plains All American's Cactus II pipeline was set to commence line fill before the end of June. There's been no further news on the subject, but assuming a line fill is either underway or incredibly soon to being underway bodes well for the Permian.
Plains All American announced in early June that they have over 90% of the pipe in the ground.
The pipeline's capacity is estimated at 670,000 bpd.
"With the impending start-ups of Cactus II, EPIC, and Gray Oak, there will be about 2 million bpd of crude capacity delivering into Corpus Christi from the Permian, with the majority, if not all, of the incremental supply destined for international markets via the docks," Barclays analysts said in a note.
Sponsor
Oil 101 – An Introduction to the Oil and Gas Industry
Most of you are already familiar with our Oil 101 course, at least the free version. Did you know that we have companies that license the course to use as internal training for sales, IT and operations teams? If your group needs this, let's talk.
Have a great weekend!
-Danny Foelber
EKT Interactive Contributing Editor
Head Writer | Eau Claire Writing
Eau Claire Writing is a Houston-based freelance writing company that specializes in gas compression, turbomachinery, onshore and offshore drilling, and well service content for the oil and gas industry.
Think you know someone who would enjoy this newsletter? Pass it on! They can subscribe here.
Unsubscribe | Update your profile | 9813 Shadow Wood Dr., Houston, TX 77080