Friday, July 19th, 2019
Hello all,
Happy Friday and welcome to the July spotlight issue of Energized, your weekly look into the geopolitics, news, and happenings of energy markets.
This month's spotlight issue will be covering a topic of global energy and environmental interest: Carbon Capture and Storage (CCS).
Energized! 
Curated weekly oil and gas newsletter
Fast Facts – Houston Chronicle "Fuel Fix" as of Sunday, July 14th, 2019
Light, sweet crude (dollars per barrel): $60.21
Natural Gas (dollars per million British thermal units): $2.453
Rig count (United States):958
Preview: What is CCS?
+What is CCS? – Carbon Capture & Storage Association
+What is CCS? – British Geological Survey
Carbon Capture and Storage involves capturing the CO2 produced from fossil fuels, compressing it under high pressure, and then transporting it via pipelines or ships for storage in the deep ocean or underground geological reservoirs. By keeping the CO2 out of the atmosphere, CCS has the potential to reverse climate change.
CCS can be done artificially by capturing, transporting, and securely storing CO2 emissions underground in depleted oil and gas fields or in deep saline aquifer formations. CCS also occurs naturally in the environment but can be enhanced by planting trees that absorb CO2 during photosynthesis.
Artificial CCS
+CCS in oil and gas – PCOR
Artificial CCS starts with capture technologies such as pre-combustion capture, post-combustion capture, and oxy-fuel combustion. The objective is to separate CO2 from gases used in power generation and industrial processes. Then, the CO2 is transported ideally via pipeline and then stored carefully in geological rock formations. The potential for storage depends on the rock formation. The rocks under the North Sea (mostly sandstone) can absorb around 22 tonnes of CO2.
Oil is extracted in three distinct phases: primary, secondary, and tertiary (or enhanced) recovery. Primary and secondary recovery often leaves more than two-thirds of the oil in the reservoir. Injecting CO2 into the reservoirs can recover some of that remaining oil. This practice is called CO2 enhanced oil recovery (EOR).
+OXY and CCS – Houston Chronicle
In Energized #007, we discussed Occidental Petroleum's plans to move forward on its Permian "Direct Air Capture" Plant which is estimated to be able to capture 500,000 metric tons of carbon dioxide per year.
It's well known that Oxy is a top producer in the Permian, but did you know that Oxy is also the industry leader in vast quantities of carbon dioxide for a production process called enhanced oil recovery? As the industry leader in the process, Oxy injects carbon dioxide into aging reservoirs to force more oil from wells. The company uses 50 million tons of carbon dioxide annually for enhanced recovery. Its ultimate goal: put more carbon dioxide into the ground than it takes out in the form of fossil fuels.
+ ExxonMobil and CCS – Houston Chronicle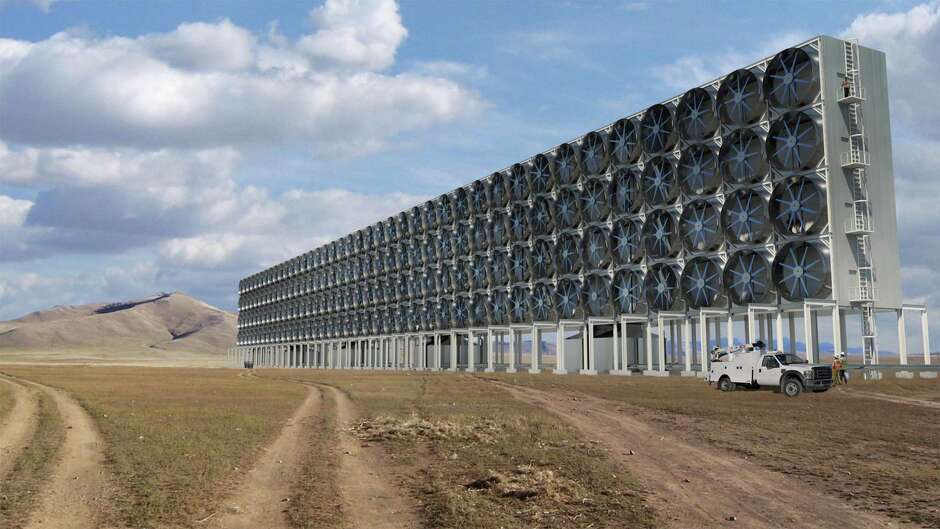 A rendering of the fans used to suck in air and carbon dioxide for one of Carbon Engineering's commercial direct air capture plants.
In late June, ExxonMobil announced investments in Global Thermostat carbon capture technology. As you can see in the picture, it's essentially a chain of giant CO2- absorbing fans. Whatever works, right?
The biggest CO2 challenge is global power plants especially coal …The US only has 15% of global emissions and natural gas has only 30% of the carbon dioxide emissions of coal.
+ What if we could stop carbon dioxide emissions from power plants? – ExxonMobil
Natural CCS
A quick throwback to 9th-grade biology reminds us of the photosynthesis equation. Planting trees that absorb rich rays and equal parts carbon dioxide and water molecules creates sugar in the form of glucose for the plants, which in turn, produce oxygen during cellular respiration.
+Natural CCS – National Geographic
Natural CCS is very effective, considering its low cost when done at scale. The above NatGeo article that came out on July 4th touts that an impressive 25% of the Earth's atmospheric content would be cut by increasing Earth's forests by an area the size of the United States. That scale of forest growth wouldn't occur in one geographical region per se, but when done gradually across the world, would erase nearly 100 years of carbon emissions. To quote the article…
"Published today in Science, "The global tree restoration potential" report found that there is enough suitable land to increase the world's forest cover by one-third without affecting existing cities or agriculture. However, the amount of suitable land area diminishes as global temperatures rise. Even if global warming is limited to 1.5 degrees Celsius, the area available for forest restoration could be reduced by a fifth by 2050 because it would be too warm for some tropical forests."
+Best way to fight climate change? Plant a trillion trees – AP
+Pop Culture CCS – Decider.com
CCS has gained attention in popular culture as well. Several direct air capture methods are highlighted in the 2019 Netflix movie "Ice on Fire" directed by Leila Conners and narrated by Leonardo DiCaprio. The movie discusses a company named Climeworks, which opened a small-scale CO2 air-capture commercial plant in Zurich, Switzerland, as well as one in Hellisheidi, Iceland.
+CCS in cities – dwell.com
You've probably heard of green roofs on skyscrapers in major cities. Well, New York is taking green roofs to the next level by requiring them on new buildings. Similar to California's requirement for solar panel installation on new homes, New York's new green building legislation "will result in the equivalent of taking more than one million cars off the road by 2030".
"Today, we are passing a bill that won't just make our skyline prettier—it will also improve the quality of life for New Yorkers for generations to come," said Rafael Espinal, the NYC Council member who sponsored the bill.
Green roofs have a lot of benefits aside from carbon capture such as reducing energy costs, air pollution, stormwater runoff, and providing soundproofing.
The NYC bill was passed on April 22nd and applies to all new buildings as well as those undergoing major renovations.
Global Perspective and Success Stories
+IEA global perspective – IEA
Coal-fired power: tracking clean energy progress
+Canadian Power CCS Success Story – Power Magazine
About 10 miles north of the U.S.-Canadian border, in the city of Estevan, the eighth-largest city in Saskatchewan, Canada, is the Boundary Dam Carbon Capture and Storage (CCS) project, referred to as BD3. Located within a cluster of other facilities that include a coal-fired power plant, BD3, since 2015, is the world's first fully integrated and full-chain CCS facility.
+US Power CCS Success Story – Energy.gov
Funded in part by the U.S. Department of Energy (DOE) and originally conceived as a 60-megawatt electric (MWe) capture project, the project sponsors expanded the design to capture emissions from 240 MWe of generation at the Houston-area power plant, quadrupling the size of the capture project without additional federal investment. During performance testing, the system demonstrated a carbon capture rate of more than 90 percent.
Concluding Remarks 
Carbon Capture and Storage is truly phenomenal for the energy industry. The unparalleled efficiencies of natural gas and oil compared to renewables along with widespread efforts to reduce emissions by oil and gas companies is helping to redefine the image of the oil and gas industry. Carbon capture efforts, coupled with emissions-conscious and more efficient oil and gas operations, would be a game changer. Carbon capture is in its infancy along with many of the recent IoT innovations discussed in this newsletter. That being said, if history means anything, initiatives tend to move fast when all parties win. CCS and clean burning fossil fuels just might be the friendly duo that everyone can get behind.
Past CCS News
We've mentioned CCS several times in past issues. Here's a recap of our discussion so far, along with this content previously mentioned in this issue.
In Energized #009, we pointed to the IEA's Energy Mix newsletter, which notes that CCS needs a lot of work. Lagging progress in these innovative sectors is one reason why 38 of the 45 sectors and technologies assessed by the IEA's tracking clean energy progress update are far from meeting global climate and sustainability goals.
In Energized #007, we discussed Occidental Petroleum's plans to move forward on its Permian "Direct Air Capture" Plant which is estimated to be able to capture 500,000 metric tons of carbon dioxide per year.
In Energized #005 we linked a MotorTrend article that discussed Canadian-based Carbon Engineering's Direct Air Capture (DAC) technology that essentially scrubs the atmosphere for CO2.
Sponsor
Oil 101 – An Introduction to the Oil and Gas Industry
Most of you are already familiar with our Oil 101 course, at least the free version. Did you know that we have companies that license the course to use as internal training for sales, IT and operations teams? If your group needs this, let's talk.
Have a great weekend!
-Danny Foelber
EKT Interactive Contributing Editor
Head Writer | Eau Claire Writing
Eau Claire Writing is a Houston-based freelance writing company that specializes in gas compression, turbomachinery, onshore and offshore drilling, and well service content for the oil and gas industry.
Think you know someone who would enjoy this newsletter? Pass it on! They can subscribe here.
Unsubscribe | Update your profile | 9813 Shadow Wood Dr., Houston, TX 77080