Friday, July 5th, 2019
Hello all,
Happy Friday and welcome to Energized, your weekly look into the geopolitics, news, and happenings of energy markets.
This issue continues our coverage of the 2019 Upstream Intelligence Data Driven Drilling and Production Conference. DDDP was so chock-full of rich content that we spread our coverage over three issues of Energized. You can find the prior issues here.
EKTinteractive is proud to be the podcast sponsor for Upstream Intelligence.
At the conference, we couldn't help but notice that most of the crowd seemed to be IT professionals and data scientists.  If you are new to oil and gas and would like to learn "How the industry works." You can find our popular 10-part mobile ready Oil-101 series at https://ektinteractive.com/oil-101/
Join our 10,000-member community to keep current on industry events.
Let's get started
 Energized! 
Curated weekly oil and gas newsletter
Part 3/3: Cutting Edge
Crowning Achievements in Data-Driven Solutions
June Spotlight Issue: Data-Driven Drilling and Production Conference (DDDP)
June 11th and 12th, 2019
Houston, TX
Welcome to part 3/3 of our DDDP Energized newsletter series. Part 1 provided an introduction to the conference, what it is, why it's important, and how the current operating model of most companies is causing resistance to digital change.
Part 2 discussed the widespread implementation of digital tools across many upstream companies. These tools lay the foundation for digitization, acting as a small step for cost savings and efficiency but a giant step for changing the way traditional upstream operations work.
Here in part 3, we discuss the crowning achievements of upstream digitalization, new projects, and some success stories from the conference.
Let's begin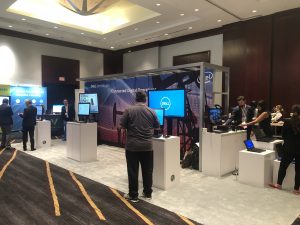 An attendee engages in one of the many interactive tools displayed at the conference
Data is The New Gold
As we reach the final part of our 3-part series we'd like to readdress the importance of data.
The IEA's 2017 report on Digitalization and Energy is an excellent reference for understanding the importance of data across the energy industry.
To quote the report, "Digitalization trends are truly astounding. Data are growing at an exponential rate – internet traffic has tripled in only the past five years and around 90% of the data in the world today were created over the past two years. This exponential growth has led to the use of increasingly large units of measurement. For example, global annual internet traffic surpassed the Exabyte (1 billion gigabytes) threshold in 2001 and is expected to pass the zettabyte (1 trillion gigabytes) threshold by 2017."
That report was two years ago. Just imagine what percentage of the data in the world has been created since the report.
The takeaway: whoever is best at gathering data, refining data into clean data, managing data, and leveraging data across all operations, will win. It's modern-day mercantilism, only with data instead of gold.
…
Gartner, a respected technology consulting firm, uses what they call a hype cycle to try to position all of the new technologies.
Their 2018 study 5 Trends Emerge in the Gartner Hype Cycle for Emerging Technologies notes many technologies discussed in our DDDP series.
Notice that digital twins and deep learning form the apex of the "peak of inflated expectations". Right after is "IoT" platform, with an expected plateau in 5-10 years.
Referring to the above figure from Gartner, note that upstream is focused on the "digitalized ecosystems" section. A later drilling example is this post will discuss "democratized AI".
Crowing Achievements
This is the section of the newsletter where we drill-down into two drilling and one production example from the conference. Feel free to skip around to the example that is most relevant to your business.
We discuss these examples of crowning achievements in the digitalization of the oil and gas industry. However, due to privacy considerations, company or speaker names are not mentioned.
Drilling Example 1: Remote Decision Support for Drilling Operations
Remote decision support for drilling operations changes the way people work and makes that user experience more effective.
Remote decision support starts with data quality. This company had already seen several errors in their data in just a two-week time period, realizing that they had put garbage in and received garbage out. Today we can move garbage at the speed of light!
The company created a drilling operations dashboard to monitor activity and performance over 200 commercial rigs and 50 projects.
In a partnership with two cloud titans, the company deployed the technology through a cloud-hosted tool that allows drilling floor operators to not only optimize their real-time drilling monitoring and analysis and but also enable real-time collaboration with remote experts.
To achieve operational efficiency, the company started by analyzing the data before setting their benchmarks. This allowed them to more consistently monitor performance across a wide variety of rig designs.
Drilling Example 2: Machine Learning Models
This company developed machine learning modules operated via data labeling by the drilling engineer.
The process starts with historical data, using the assumption that new data will have the same distribution.
Using semantic segmentation where different colors are assigned to different categories, such as blue for a car and red for a building, the company was able to then apply AI to create digital transformation apps. They also created new, supplementary workflows for end-users to streamline and optimize the processes.
The company's Well Path App inputs data from several physical-based models into a 3D plot visualization.
Their automated drilling tool is able to aggregate data from multiple resources to provide meaningful analysis, which replaces complex queues and time-consuming data manipulation. This allows engineers to focus on content rather than the data collection process. Most importantly, it eliminates bulk manual data entry, so engineers don't have to retype excel sheets or massive files.
Takeaways
If new data goes against the grain of old data then you have to change the model
Have the model learn so there's automated anomaly detection for production ML model
Currently, the offline model is more accurate than real-time models
Training and retraining is the only way to improve the real-time model
It's important that drilling engineers have access to a database so they can validate the accuracy of the data and see how it applies to the company's operations.
Although the apps increased efficiency, there were challenges in identifying the rig state in real time. Since there are limitations to rule-based models, such as thresholds not working well for some rig states, the company found that a rule-based model only yields 70% accuracy for the Delaware basin operating rigs.
Production Example: Widespread Automation of Valves and Chokes
One company developed a way to work within their current operating model. In 2016 and 2017, they started to improve production by installing automated chokes and valves on wells across their Eagle Ford assets before extending to Oklahoma and the Permian in 2018 and 2019. They found that safety and staff efficiency improved due to lower site visits. Deferred production was reduced by eliminating unanticipated shut-in events. In multiple central facilities, the valves enabled a shut-in of flaring while reducing deferred production, even during a compressor shutdown.
In three years, they had:
Added over $75 million in revenue by reducing deferred production
Increased Eagle Ford well count by 25% while reducing pumper headcount by 30%
Decreased Bakken planned well visits by 50%
Decreased Oklahoma alarms that required operator response by 85%
Reduced well pad visits by 78% with their Oklahoma retrofit automation project (44 locations)
Trained over 300 new users in the digital oil field tools across four assets.
In summary, by installing automated chokes and valves across such a large swath of assets, the operator was able to improve safety and efficiency. Their risk-based location evaluation tool reduced wellsite visits by reevaluating all locations each quarter, setting "days-between-visits", translating this information to visiting schedules, and making the schedule visible to all users.
Production benefits were clear. An average of 2.75 hours was saved per down compressor. A compressor going down for hours is like leaving millions on the table.
As stated, this resulted in an astonishing 50% reduction in Bakken planned well visits while also increasing wells per operator from 30 to 50 wells. Visibility of route logs across hitches and/or shifts increased the maximum time between visits beyond 7 days.
Going forward, the company hopes to develop:
Bulk and test oil surveillance, using virtual oil meters, combined alarms, and tank calculations
Automated chemical management based on well conditions
Single well facility management
Optimization of facility back pressure
Reduced offset frac shut-in while using well pad automation valves
A digital production supervisor.
The company recognized that hindsight is 20-20 so they offered some of their "lessons learned" from the past four years to the DDDP audience:
A field-centric team that lives with the end-users was a game-changing approach to IT implementation at this scale
When you give the field a tool, take the old one away
Measuring success with field metrics (production increases, reduced field costs) eliminated the usual tension about real versus imagined IT-driven benefits
The project was long, so converting pieces of the project to run the business as quickly as possible limited project fatigue
The majority of the company's tools are developed in-house which gave the company great flexibility and responsiveness to their end-user agreements
As they get to more optimal solutions, to refine all the field information, they are looking more towards third-party solutions that can be more "throw-away"
Getting data from the field instrument to actionable information is hard and a persistent challenge
Literally dozens of potential points of failure
Need a sustainability model that is actually managed.
Our conclusion and next steps: prevailing themes from the conference, illustrated across the three parts of this series
The big decision is to build in house tools or acquire them from third parties
How to incentivize cross-functional teamwork to achieve widespread adoption of tools which is needed for…
A system of systems approach
Digital twins and the multiplier effect of using them in a system of systems
AI and its usefulness for predictive reliability
Balancing cost and benefits. The new tech must be cost-effective enough to justify ongoing capital expenditures. It's unlikely the benefits will justify the initial cost. Therefore, projects need to move quickly so money isn't thrown down the drain.
Focusing on the "stickiness" of new tech. Will people use it and will it ever cause a paradigm shift?
Change the organizational model so that company-wide software integrations and technological advancements aren't initiated by small, disparate IT teams. Rather, use a C-suite position and several mid-level managers tasked with the rollout.
Related Reading
+ A new operating model for well organizations – McKinsey
+ Digital Transformation: Powering the Oil and Gas Industry – Oil & Gas Journal
Thanks for reading!
You can view past issues of Energized on our website and subscribe to Energized here.
Be sure to check out the latest episodes from our digital oilfield podcast series which are listed in the Energized IoT in oil and gas podcast supplement. Here's the link again so you don't have to scroll up.
Have a great weekend!
-Danny Foelber
EKT Interactive Contributing Editor
Head Writer | Eau Claire Writing
Eau Claire Writing is a Houston-based freelance writing company that specializes in gas compression, turbomachinery, onshore and offshore drilling, and well service content for the oil and gas industry.
Think you know someone who would enjoy this newsletter? Pass it on! They can subscribe here.
Unsubscribe | Update your profile | 9813 Shadow Wood Dr., Houston, TX 77080