Friday, June 14th, 2019
Hello all,
Happy Friday and welcome to Energized, your weekly look into the geopolitics, news, and happenings of energy markets. Yesterday, tensions escalated between Iran and the United States. We are covering that story, and more, in this week's issue of Energized!
Energized! 
Curated weekly oil and gas newsletter
Fast Facts – Houston Chronicle "Fuel Fix" as of Sunday, June 9th, 2019
Light, sweet crude (dollars per barrel): $53.99
Natural Gas (dollars per million British thermal units): $2.337
Rig count (United States): 975
Geopolitics and Business
No story captures the spotlight more than the rising tensions between the United States and the Middle East, specifically Iran.
The dispute affects oil prices, trade, and America's standing with OPEC.
To recap, both the EU and the US are heavily straining Syria in response to the Assad regime.
The EU extended its sanctions on the Assad regime in stride with US-led forces blowing up three oil tankers in Syria in late May.
The area controlled by Assad consumes 136,000 bpd, but only imports 24,000 bpd. The 112,000-bpd deficit is one lever for the US and EU to pull to cripple Assad and eliminate trade between the PKK/YPG and Assad.
How does Syria relate to Iran? Syria is now experiencing fuel and electricity shortages, causing previous Assad supports to lose confidence.
Iran has backed Assad with billions of dollars but is now fighting a two-front war.
Iran's commitment to pierce the EU/US iron grip to satisfy Syria's energy-deprived shores, all the while stomaching intense US sanctions, is chocking the Iranian economy.
+ War with Iran could send oil to $250 – Oilprice
Ignore the click-bait headline, this article provides historical context to help you better understand the deep-seated tensions between the US and Iran.
+ Explosions on two oil tankers near Iran send oil prices 2% higher – CNBC
This headline was released Thursday, escalating the feud between Iran and the US that already resulted in the sinking of four tanker ships last month.
Thursday afternoon, the Trump administration blamed Iran for the attacks, sending oil prices higher.
I suggest reading the above story to gain further insight into the details and possible fallout from these attacks.
In sum, Iran and the US are fighting fire with fire. Sailors are dying, oil is spilling into the Gulf of Oman, and there's no sign of solutions.
Iran, one of the larger OPEC countries, was producing close to 4 million bpd last summer. Now, as a result of US-Iranian tensions and export bans, Iran produced a mere 2.5 million bpd as of April. Backed by a rich supply of production growth from shale, The US is showing no quarter as it flexes its economic muscles in an effort to take a stand against Syria and Iran.
Offshore
+ Gulf of Mexico oil production forecast for record year – Offshore Magazine
"In 2013, GoM oil production was a 1.28 MMb/d, whereas in 2018 production averaged a record high of 1.79 MMb/d. Rystad Energy forecasts that 2019 production will average 1.95 MM/d, with some months potentially reaching 2 MMb/d."
This growth is mostly due to ahead-of-schedule oil and gas production from Shell's deepwater Appomattox platform.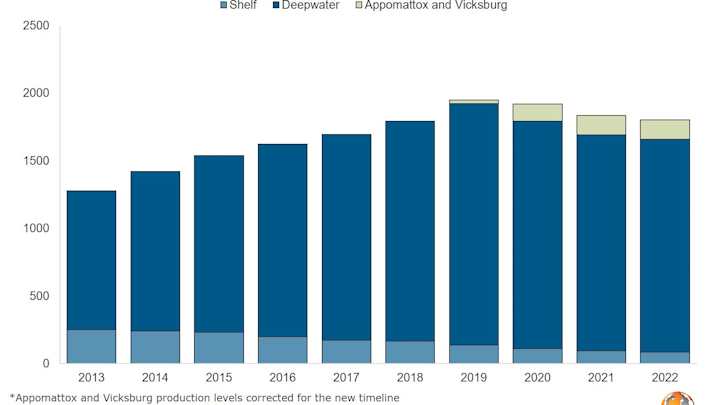 For comparison, note that the Permian Basin alone produces more than double the entire Gulf of Mexico.
Last month, the Permian clocked in at over 4 MMb/d.
Upstream
+ Drilling Down: Spraberry play heats up in West Texas – Houston Chronicle
Great update from Houston Chronicle energy writer, Sergio Chapa.
Drilling permit applications for the Permian's Spraberry field shot up last week. Chapa covers the top ten Texas drillers and how they stack up across the Permian, Eagle Ford, Haynesville, Barnett, and conventionals.
Worth a read if you're curious about Texas drilling.
Technology
+ Why is Digital Transformation so Hard to Sell – with Jim Crompton and Joe Perino – Upstream Intelligence Podcast
In anticipation of our digital transformation spotlight issue that will be released next Friday, here are some key takeaways from one of our podcasts with Upstream Intelligence. This quick summary of the podcast will provide you with a foundation, as well as present prevailing questions, about digital transformation.
We know that digital transformation is changing the industry, but there are operational challenges to implementing technology. Each organization is different.
It's not a good time to introduce new technology when the price of oil is down, but when it's up people are too busy doing their jobs.
Commodity price and cyclical nature of the business makes it hard to implement anything more than incremental changes to technology, especially hard to do a full-blown digital transformation because it requires you to rethink everything you're doing. Digital transformation cannot be simply incremental, it has to be more groundbreaking.
Challenging culture and traditional operations is difficult, especially when companies have record quarters… why should they change when there's no incentive?
The oil and gas industry looks at IT as a service, there is a lack of digital influencers at the top of the corporate hierarchy.
Digital transformation is not a priority for the CIO or CTO.
The organizational model isn't structured so that there are enough influencers that can independently drive digital implementation.
Small projects are completed, but until someone higher up is convinced of, or becomes familiar with digital change than full-on transformation is unlikely.
Sponsor
Oil 101 – An Introduction to the Oil and Gas Industry
Most of you are already familiar with our Oil 101 course, at least the free version. Did you know that we have companies that license the course to use as internal training for sales, IT and operations teams? If your group needs this, let's talk.
Have a great weekend!
-Danny Foelber
EKT Interactive Contributing Editor
Head Writer | Eau Claire Writing
Eau Claire Writing is a Houston-based freelance writing company that specializes in gas compression, turbomachinery, onshore and offshore drilling, and well service content for the oil and gas industry.
Think you know someone who would enjoy this newsletter? Pass it on! They can subscribe here.
Unsubscribe | Update your profile | 9813 Shadow Wood Dr., Houston, TX 77080