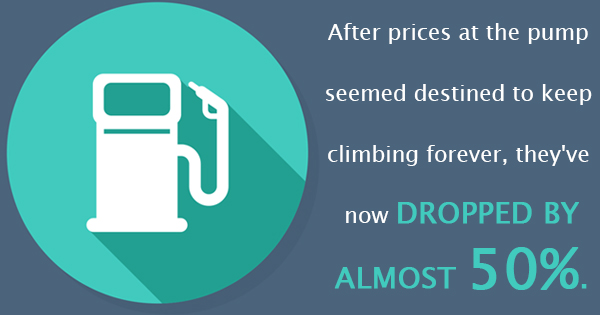 As far as the average American consumer is concerned, the past 18 months have been a fantastic time for the oil and gas industry. After prices at the pump seemed destined to keep climbing forever, they've now dropped by almost 50%. Although the market still experiences normal fluctuations, large increases in supply have kept prices at a convenient floor for most drivers.
Of course, that hasn't been great news for the oil and gas industry itself. A few years ago, while prices were closer to $100 a barrel than $50, many exploration and production operations began investing in expensive extraction techniques like fracking. Now that prices have dropped, that's made it harder for many companies to make money. Last year, U.S. companies produced about 8.7 million barrels of crude oil every day, which contributed to the oversupply problem. Experts say they expect crude oil supply to remain high, and don't anticipate prices to rise until 2017 at the earliest.
The media, which never misses a chance to report grim headlines, has churned out a steady stream of articles bemoaning the state of petroleum. But you don't have to look further than the downstream industry for success stories. This October, U.S. oil and gas giant Exxon Mobil reported third quarter earnings of about $4.2 billion. That's down from the same period last year, but a strong quarter considering the volatility in the financial markets this year.
"Quarterly results reflect the continued strength of our downstream and chemical businesses and underscore the benefits of our integrated business model," Chairman and Chief Executive Officer Rex Tillerson said.
Other oil companies have experienced similar gains in the downstream industry. The refining sector of the oil and gas industry saw earnings double compared to 2014, in part because of stronger consumer demand. So while many foreign upstream oil and gas companies are struggling, U.S. companies are still going strong.
The U.S. is the world's third largest oil producer (behind Saudi Arabia and Russia), with nearly 200,000 miles of pipelines stretching across the country. For now, the success of downstream oil and gas operations is bolstering losses upstream.