Energized! is EKT Interactive's weekly look into the geopolitics, news, and happenings of energy markets. Every third Friday of the month we release a special spotlight issue. Each spotlight dives deep into a prevalent topic in the industry. This 2019 Energy Recap is meant to continue the conversation from our spotlight issues throughout the year, provide updates on the happenings that have transpired since then, and offer a recap of other important topics. To participate in an ongoing discussion about the energy industry, visit our Energized LinkedIn Group.
Past spotlight issues include the following:
---
8 Key Energy Topics From 2019 That Will Drive Decisions in 2020:
Digital Oilfield: IoT in Oil and Gas
Carbon Capture and Storage
LNG
IMO 2020
Upstream Remarks
Midstream Remarks
Downstream Remarks
---
Offshore
Our offshore conversation began in the Offshore Technology Conference Spotlight Issue, where we brought you a first-hand account of the conference.
Key takeaways included:
Lowering breakeven levels for offshore investment and decreasing emissions.
The industry is desperately trying to catch up to the digital age. In many cases, they are succeeding.
Concern for recruiting the next generation of the oil and gas workforce.
Lower emissions and less environmental impact.
Changing the landscape of power generation.
Increased compression needs.
More video, less iron.
Lower attendance.
Focus on safety.
+ Offshore Rising – Gas Compression Magazine
"2019 will mark the first year since the oil downturn of 2014 that offshore investment levels are set to rise. This is also the first time in which shale investments will not overtake investments in offshore. 2018 saw 100+ offshoe projects sanctioned, compared to 60 projects in 2017 and less than 40 in 2016. Over the next few years the industry is committed to spending more than US$100 billion on offshore projects. A combination of cheap assets in mature plays, as well as saturation in shale plays, makes offshore more attracitve than ever. Enhanced oil recovery (EOR) technology increasinly benefits offshore plays. Companies invested in offshore can focus on improving exisitng investments instead of chasing the next big thing."
Towards the end of a year, it's always interesting to look back on forecasts and predictions and see how accurate they were.
2019 was supposed to be the year that offshore turned it around, but 2019 began with some of the "lowest activity levels seen in 20 years," according to a report by McKinsey. New project investments were initially expected to reach a value of $123 billion this year, but they only surpassed $50 billion in July. According to Rystad Energy, 15% of the $123 billion in investment was dependent on a breakeven price of $60 per barrel, meaning investment is highly unlikely as oil has been ping-ponging between $50 and $60 per barrel for the latter half of 2019. Additionally, projects that breakeven, when oil is in the $50s, may see their investments fall flat as that breakeven price is too close to the current price of oil to warrant the massive scale, logistics, and sheer capital needed to successfully hit forecasted targets.
To be fair, Offshore Magazine did feature Rystad's prediction in June, that it would be another record year for offshore production, which we mentioned in Energized #10. But that's production, not investment.
"In 2013, GoM oil production was 1.28 MMb/d, whereas in 2018 production averaged a record high of 1.79 MMb/d. Rystad Energy forecasts that 2019 production will average 1.95 MM/d, with some months potentially reaching 2 MMb/d."
This production growth is mostly due to ahead-of-schedule oil and gas production from Shell's deepwater Appomattox platform.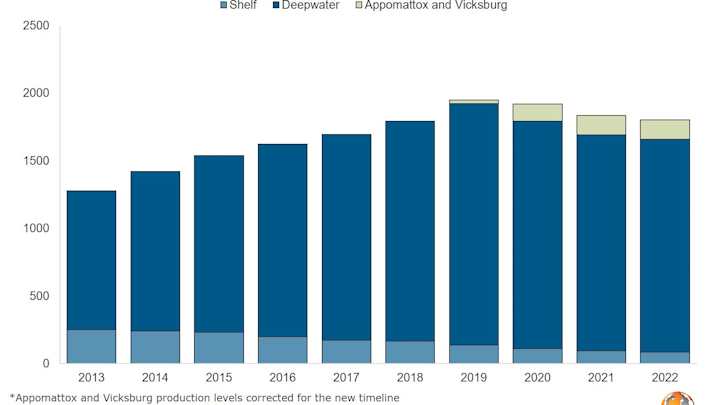 Rystad then updated its forecast in October, starting with the facts from 2018, "Crude oil production in the US federal Gulf of Mexico (GoM) averaged 1.8 MMb/d in 2018, setting a new annual record, according to the Energy Information Administration (EIA)."
Then moving onto 2019's prediction: "Based on EIA's latest Short-Term Energy Outlook's expected production levels at new and existing fields, annual crude oil production in the GoM will increase to an average of 1.9 MMb/d in 2019 and 2.0 MMb/d in 2020."
Then, Rystad trimmed their 2019 and 2020 forecasts in their most recent update…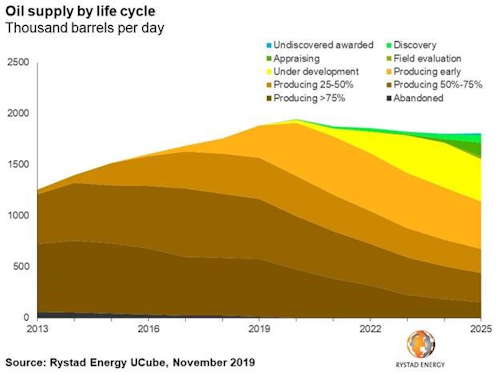 "Joachim Milling Gregersen, an analyst on Rystad Energy's upstream team, said: "2020 is expected to be another record year with average production above 1.9 MMb/d.""
So investment levels didn't live up to the hype, but is that necessarily a bad thing? Maybe not if production levels are at a record.
"The strong production growth comes on the back of successive years of cost cutting in the Gulf. Total investments peaked at $30.2 billion in 2014. According to the consultant, they currently stand at less than half of that amount in 2019 and are projected to grow to $17.7 billion by 2022. Since 2015, development costs have decreased by 60% whereas opex are down 7% in the period."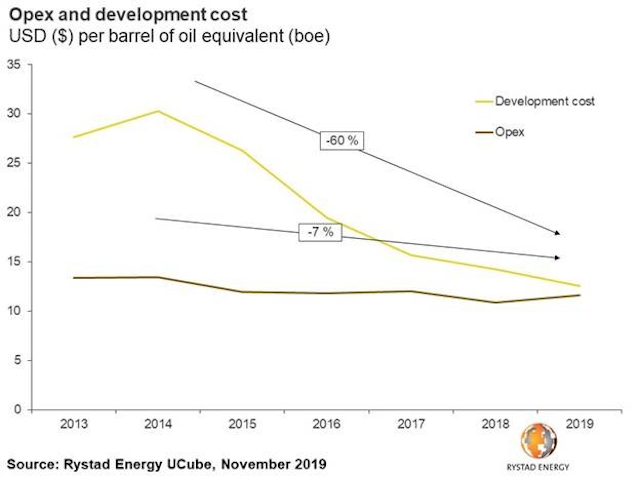 Another interesting point to note is that "the Gulf of Mexico has been the world's second most prospective offshore region, trailing only Guyana. The collective resources discovered in the Gulf of Mexico over the past five years amount to 5.03 Bboe, with an estimated value of $1.9 billion."
That being said, data from IHS Markit and offshore drilling giant, Transocean, tells a contrasting narrative.
According to IHS Markit,  the worldwide offshore drilling marketed supply remains about the same as last year, but market utilization rates are up to 84.9% from 75.5% in 2018. While that sounds like good news for drilling contractors like Transocean who make money by leasing their rigs, crews, and equipment to operators such as ExxonMobil, Chevron, Total, Equinor, BP, and Shell, the company's rig utilization stands at a mere 69%, significantly underperforming the broader offshore market.
Transocean Rig Class and Utilization

Rig Class
Used
Available
Utilization Rate
Ultra-Deepwater
18
28
64%
Harsh Environment
12
14
86%
Midwater Floaters
1
3
33%
Total Fleet
31
45
69%
As you can see from the above chart, Ultra-Deepwater makes up the majority of Transocean's fleet but has a poor utilization rate of just 64%. That's partially because Ultra-Deepwater is built for environments like the U.S. Gulf of Mexico (GOM), which has the lowest marketed supply (42, or 6.5% of the overall market) of any region and one of the lowest overall utilization rates at just 78.6%.  Compare that to the Middle East, which has a marketed supply of 157 rigs and a utilization rate of 87.3%, or Northwest Europe with a marketed supply of 75 and a whopping 89% utilization rate, and it feels like Transocean is in the wrong market.
For reference, the worldwide total supply of offshore rigs is 758, the marketed supply is 647, marketed contracted is 549, so the marketed utilization rate is 84.9%.
Transocean Rig Utilization by Geographical Region

Norway and the UK North Sea
11
U.S. Gulf of Mexico and Canada
10
Australia and Asia
4
South America
3
Africa
3
Total
31
One of the reasons for the lack of major investment in the Gulf of Mexico is competition from less costly alternatives available in mature fields like the North Sea, which is dominated by Norway and the UK. As you can see, Transocean's harsh environment rigs are doing just fine, of which all 12 that are in use are in the North Sea or Canada.
The main problem for Transocean is simple. 28 of their 45 rigs are ultra-deepwater, and that's just not something the offshore market is using as much right now. Comparatively, almost all of their harsh environment rigs are in use, which makes sense given the North Sea's high 89% utilization rate.
In early September 2019, the number of onshore operating drilling rigs in the United States fell below 900 for the first time since 2017. Today, the rig count is barely above 800.  
Main Takeaways
Offshore production is at a record high in 2019, set to finish the year around 1.9 MMb/d.
Offshore production was originally poised to set another record in 2020, but Rystad trimmed its October forecast from 2.0 MMb/d down to 1.9 MMb/d in November.
Offshore investment, especially in the U.S. Gulf of Mexico, is not doing that well, significantly underperforming other regions.
Mature fields like the North Sea and offshore operations in the Middle East are utilizing the vast majority of offshore rigs, (primarily Harsh Environment rigs in the North Sea).
While the U.S. Gulf of Mexico shows promise for production growth, drilling contractors like Transocean with majority ultra-deepwater fleets are struggling due to increased oil recovery and competition from mature fields that have more rigs and higher utilization rates.
---
Digital Oilfield: IoT in Oil and Gas
+ Digital in Action: A Deep-Dive into Data-Driven Upstream Oil & Gas – Upstream Intelligence (now Reuters Events)
Energized #11, Energized #12, and Energized #13 represented a three-part series on the Data-Driven Drilling and Production (DDDP) Conference which was hosted in June by Upstream Intelligence. DDDP is the premier event for folks interest in upstream IoT. Hosted in Houston this past year, EKTi president, Marty Stetzer, and I attended talks and discussions on both the drilling and production side.
Upstream Intelligence just released another report by Georgina Hayden from North Shore Analysis. The report dives deep into more emerging trends and happenings in the industry since June. It's a great follow up to DDDP and provides a nice baseline of knowledge on the subject. The report has four sections:
Industry Overview and Key Trends
Digital O&G-Technology Deep-Dive
Resistance to Adoption
Digital in Action – Company Case Studies
One note from the executive summary:
"While the benefits of adopting digital technology into upstream operations are widespread, spanning across the supply chain and impacting financial, social and environmental performance, the challenges associated with digital integration remain high. These barriers range from supply chain fragmentation, data reliability concerns, skills shortage, cost constraints and digital vulnerabilities, amongst others. Perhaps the most pertinent challenge centers around company culture and mindset. Digital technology integration will only be successful if the business processes are in place to enable the adoption and the company mindset allows for transformation to occur. The full potential of digitalization will not be realized until all these challenges are mitigated.

Collaboration and communication between all industry stakeholders, across the supply chain, between policymakers, industry leaders and communities, is a fundamental step towards successful digitalization. Furthermore, adopting a business-led transformation, often in the form of a 'digital transformation roadmap', led by executives, and encompassing all areas of the business and its operations will help promote a culture of technology and innovation. Investment into human capital and equipping the workforce with digital capabilities will also help facilitate the digital transformation.

Many of these solutions are already being adopted in the industry. That said, it is important to note that the industry by nature is conservative with a general reluctance to take a 'fail early, learn fast' approach, given the volatile nature of the market and the long timeframes and high costs associated with projects. As such, a full enterprise-wide transformation will take some time."
I encourage those of you who are interested in this topic to download and read the report for free. For now, here are some key takeaways from the report:
"Producers have cut costs aggressively in recent years: lowering overall operating expenses by US$2 to US$3 per barrel, trimming global headcount by 20% to 30%, and curtailing capital expenditures by about 60% from 2014's peak levels."
The report claims that the continued pressure on oil and gas company profit margins and increasing operational costs and production decline, especially for US shale, will actually accelerate digital transformation despite capital constraints being a key part of corporate strategy for oil and gas firms and volatile market conditions.
As stated in Energized throughout 2019, oil production is forecasted to grow while consumption in developed countries is expected to slow. For that reason, developing nations offer the best opportunities for growth.
"A report published by McKinsey in January 2019 estimates that global oil demand will peak in 2033, and see a compound annual growth rate of -0.6% between 2040 and 2050. Changing demand dynamics in the transport sector will be a major factor driving this, as the growing electrification of the transport sector, the emergence of autonomous vehicles and the implementation of clean air initiatives targeting inefficient vehicles and internal combustion engines erode oil demand."
As of 2017, coal made up 38% of world gross electricity producti0n. Natural gas was second at 23%. The report notes that gas demand is buoyant over the near-term. "The demand picture for gas is more nuanced, and arguably more attractive over the near term, particularly in relation to the utilization of gas in the global power sector. Electricity is the fastest-growing source of final energy demand, and over the next 25 years, the International Energy Agency (IEA) expects electricity consumption growth to continue to outpace growth in energy consumption as a whole."
"The global deployment of renewable energy capacity, notably wind and solar, has surged over the last decade, underpinned by falling technology costs and supportive government policy…In McKinsey's 'Global Energy Perspective 2019: Reference Case' report, it estimates renewable generation to account for more than 50% of total power generation post-2035, while gas demand will plateau after 2035 given the 'increasing competition from renewables'."
"[Battery] cost reductions between 2016 and 2030 will be between 50%-66%."
Digitalization in upstream is one solution for the impending crew change that's been talked about for decades. Since Millenials and Gen Z are somewhat disenchanted with the oil and gas sector, one response is to further automate tasks so that there isn't as big of a workforce need. Additionally, digital technologies generally "lessen the upstream sector's exposure to health, safety, and environmental risks by helping prevent incidents."
"Looking beyond the push factors, technology advances are a major facilitator of digitalization, amid a wider shift across the heavy industries towards Industry 4.0. Industry 4.0 represents the fourth phase of the Industrial Revolution, which is centered around interconnectivity, automation, machine learning, and real-time data."
EKT Interactive has discussed, in-depth, the importance of aligning technology with the business processes and internal culture of the company. "It is essential that all aspects of the business structure, ranging from the vision, strategy, process, culture, and behaviors, are aligned in order to fully enable digitalization across the company." You can listen to EKT Interactive president, Marty Stetzer, expand on these topics in our podcasts with upstream intelligence.

"Accenture's survey on 'Upstream Oil & Gas Digital Trends' found that more than half of the companies surveyed recognize digital value and are looking to boost investment: in 3-5 years: over 70% plan "more'" or "significantly more" investment."
Image Source: PWC
"The O&G industry is often viewed as an underperformer when it comes to digitalization, particularly when compared to other sectors such as finance and banking, healthcare and wholesale trade. However, when looking at the wider energy landscape, the performance is mixed. A PwC Digital Operations study shows that around 7% of the global O&G companies examined could be ranked as Digital Champions (leaders in digitization), while 35% were categorized as Digital Novices. This compares to 2% and 45%, respectively for the utilities sector and 16% and 26%, respectively for the chemicals sector."
"Despite the growing rhetoric surrounding digitalization within the O&G sector, the definition of the digital oil eld remains fairly vague. In general terms, it refers to a concept that 'combines business process management with digital technologies to automate work flows for maximizing productivity, reducing costs and minimizing the overall risks associated with oil and gas operations'. These technologies and work processes typically center around the concepts of automation, connectivity and data analytics – or in other words, under the umbrella term of 'Industry 4.0'."
Based on Accenture data, the report noted the top digital technologies that oil and gas companies are investing in over the next 3-5 years. Mobile devices, cloud, and big data/analytics were the top three investments for today whereas big data/analytics, IoT, and cloud were the top three for a 3-5 year time frame.
Technology Overview (solid definitions here).

The report lists several technologies you've probably heard of but may not know exactly what they are or how they can be applied to the upstream sector of oil and gas. The report tackles both. 

 

"

Big data

is a term applied to datasets whose size or type is beyond the ability of typical regional databases to capture, manage and process."
"The

Industrial Internet of Things (IIoT)

, which is an application of

Internet of Things (IoT)

, is a system of interrelated computing devices, mechanical and digital machines, objects, or people with the ability to transfer data over a network without human-to-human or human-to-computer interaction."
"

Cloud computing

is the delivery of computing services (including servers, storage, databases, networking, software, analytics and intelligence) over the Internet, or in other words 'the cloud'. It is typically based on a 'pay-as-you-go' payment model, helping companies lower their operational costs and scale-up as business needs alter."
"

Edge computing

is computing happening as close as possible to the sources of data, such as sensors, other operational systems and workforce."

"

Robotics and drones both represent a form of automation that is being increasingly deployed across a multitude of industries."

"

Wearable technology and mobile devices include technologies such as personal monitoring systems, head-mounted displays, smart watches, smart phones, tablet computers."

"

Artificial intelligence refers to a computer's ability to perform tasks and make decisions that would historically require some level of human intelligence."

"

3D printing is a computer-assisted process that generates three-dimensional objects by depositing successive layers of material."
The technology overview section of the report is particularly valuable for readers interested in how these technologies can be applied to the upstream sector of oil and gas, which we didn't mention in this report because the Upstream Intelligence white paper covers it well.
"Uncertain ROI" and "lack of transparency and trust" were the two largest challenges associated with digital technologies, according to a PwC survey.
"The process of digitalization itself involves a significant amount of data generation and connectivity across workstreams." A fairly large barrier for digital transformation in the oil and gas industry is its depth and breadth, the fact that it is geographically spread out and functions more like several smaller industries wrapped into one.
Closing advice for effectively digitally managed teams:

Business-led transformation, not just siloed.
Fragmentation is part of the industry. It's recommended to work around it but the nature of having exploration and production companies, EPCs, private players, contractors, and more makes it difficult to implement company-wide initiatives.
Raligning the supply chain to faciliate digital transformation is recommened by the report.
Quality data is more important than just sticking a bunch of sensors on a rig and hoping for the best. Data management strategies are recommended and also affect the supply chain.
"A shortage of digital-ready workers and the ongoing challenge of recruiting millennials into a perceived 'environmentally unfriendly' sector will serve to slow the adoption of digital technology in the oil and gas industry."
Since one of the biggest barriers of investing in digital tools is uncertainty surrounding ROI, the report recommends an executive-led digital strategy that leads with the business proposition and is supported by the technology.

The report has a few case studies embedded that are helpful for putting all of these concepts in a real-world setting.
---
Carbon Capture and Storage
Energized #15 CCS Spotlight Issue describes what CCS is and gives a primer on the technology. As a refresher, Carbon Capture and Storage involves capturing the CO2 produced from fossil fuels, compressing it under high pressure, and then transporting it via pipelines or ships for storage in the deep ocean or underground geological reservoirs. By keeping the CO2 out of the atmosphere, CCS has the potential to reverse climate change.
CCS can be done artificially by capturing, transporting, and securely storing CO2 emissions underground in depleted oil and gas fields or in deep saline aquifer formations. CCS also occurs naturally in the environment but can be enhanced by planting trees that absorb CO2 during photosynthesis.
In sum, Carbon Capture and Storage is truly phenomenal for the energy industry. The unparalleled efficiencies of natural gas and oil compared to renewables along with widespread efforts to reduce emissions by oil and gas companies is helping to redefine the image of the oil and gas industry. Carbon capture efforts, coupled with emissions-conscious and more efficient oil and gas operations, would be a game-changer. Carbon capture is in its infancy along with many of the recent IoT innovations discussed in Energized. That being said, if history means anything, initiatives tend to move fast when all parties win. CCS and clean-burning fossil fuels just might be the friendly duo that everyone can get behind.
+ 2019 Global Status of CCS Report – Global CCS Institute
For those interested in further detail on CCS, this report is for you. Recently released, the report is a call to action for the need for carbon capture, quoting leaders such as Bill Gates who feel the same way.
"Another way we can get zero-carbon electricity is carbon capture, utilization, and storage" 
-Bill Gates
In the meantime, here a few key takeaways from the report:
"There are now 51 large-scale CCS facilities globally. These include 19 in operation, four under construction, and 28 in various stages of development. Of all the facilities in operation, 17 are in the industrial sector and two are in power."
"The Americas continue to lead the way with 24 large-scale CCS facilities in operation and various stages of development, followed by 12 in Europe, 12 in Asia Pacific, three in the Middle East."
"The total capture and storage capacity of these large-scale CCS facilities at all stages of development has risen by 34 percent since 2019, which equals 97.5 million tonnes per annum of CO2."
"To date, more than 260 million tonnes of anthropogenic CO2 has been safely captured and permanently stored globally."
"The next wave of CCS facilities will most likely be characterized by hubs and clusters. Instead of relying on a single sink, single-source model, hubs and clusters aggregate emissions from numerous industrial and power plants. This model will help reduce operational and commercial risks and lead to lower costs through economies of scale."
Source: CCS Institute
Topics in the report include the following:
Meeting the climate challenge: The need for CCS
Global status of CCS

Global CCS facilities update
Policy levers for accelerating deployment
Global CO2 storage overview
Legal and regulatory overview

Regional overviews

International climate policy overview
Americas
Europe
Middle East and Central Asia
Asia Pacific

CCS Development: Technology and Applications

Natural gas
Hydrogen
CCS in the power sector
Bioenergy with Carbon Capture and Storage (BECCS)
Direct Air Capture (DAC)
CO2 Utilization
CCS Innovation
Industry's Transition to a Net-zero Future
As a closing remark for CCS, note than in Energized #35 we discussed a Wall Street Journal article on Exxon's innovation.
According to Exxon, the company's efforts on carbon capture and storage (CCS) have "accounted for more than 40 percent of cumulative CO2 captured" since 1970.  CCS technological innovation is a way for oil and gas companies to participate in reducing greenhouse gas emissions while still dealing in the business of hydrocarbons.
CCS and other environmental efforts are important for Exxon since it is betting big on the future of oil and gas, and thus will benefit from proving that it is dedicated to a sustainable energy future.
---
LNG
Energized #19: LNG Spotlight Issue was our longest issue of the year. Check it out for an in-depth look at what LNG is, the business and markets of LNG, as well as details about the LNG situation in different geographies.
What is LNG?
+ Oil 101 Introduction to LNG – EKT Interactive
Introduction to LNG is the latest arrival to the Oil 101 suite of training modules. Follow the above link to access our training content, including the LNG module. The LNG module includes topics on:
Natural Gas Fundamentals
What is LNG?
LNG Supply Chain
Land-based Liquefaction
FLNG, Floating Liquefaction
LNG Storage and Transportation
Regasification and FSRU Facilities
The Positive Demand Outlook for both Natural Gas and LNG
So, what is LNG?
LNG is simply natural gas in liquid form. It is primarily methane with some ethane.
When LNG is liquefied during a refrigeration process, the gas does not change its chemical state but condenses to occupy 1/600th of the initial gas volume.
LNG is odorless, colorless, non-corrosive and non-toxic, and it will not burn as a liquid.
+ Liquefied Natural Gas – Shell
What is LNG and how can we use it?
Shell provides a good explanation of what LNG is and their approach to processing and shipping LNG. Follow the link above to read more and watch their 10-minute video on the topic.
Global LNG Export Leaders
Currently, Qatar, Australia, and the United States are the top 3 LNG-exporting countries. The US, in particular, is growing substantially due to rising exports and construction of liquefaction plants in 2018 and 2019. Under current growth rates and investments, the IEA forecasts the following between now and 2040.
Take note to compare the IEA's world energy outlook forecast with the 2017 data below on LNG exports and market share by country (in MTPA)
Notice the drastic increase in US exporting market share between 2017 and 2019.
An EIA report at the end of 2018 covered by the Houston Chronicle anticipated that U.S. LNG export capacity was set to double by the end of 2019. "LNG producers currently have the ability to export 3.6 billion cubic feet of natural gas per day. But with at least 18 LNG production units expected to come into service over the next 12 months, export capacity is expected to grow to 8.9 billion cubic feet per day by the end of 2019. At that level, the U.S. will be the third-largest LNG exporter in the world behind Australia and Qatar."
In the first four months of 2019, U.S. exports of LNG rose 68% compared with the same period a year earlier, a phenomenal start that puts the U.S. on track for the EIA's forecast.
LNG Carrier Capacity Perspective
The US is the number one producer of natural gas, currently cranking around 100 billion cubic feet per day. Note that an LNG carrier, depending on the class, can carry 5 million to 10 million cubic feet of LNG. Since LNG is 1/600th the volume of natural gas, the gas-equivalent of this carrier capacity is more like 3 billion-6 billion cubic feet per shipment or around 5% of US daily production. This is all to show just how much energy each LNG carrier is transporting, and why infrastructure investments in regasification plants, liquefaction plants, export terminals, and LNG carrier builds have gone up in recent years.
Global LNG Import Leaders
So who buys LNG? Go ahead and mentally triangulate between Qatar, Australia, and the United States, and you'll get your answer.
If you guessed East Asia you'd be correct. Japan, Korea, and China import more than 50% of the world's LNG. India, Bangladesh, and other Southeast Asian countries are expected to be ripe buyers in the coming decades as they continue to industrialize. LNG import terminals not only improve the reliability of power grids in developing nations, but they also can reduce energy costs as well.
+ Politics, NOCs drive China's uncertain LNG market – Oil & Gas Journal
An in-depth analysis of the headwinds facing one of the biggest potential long-term LNG clients: China.
Understanding the Importance of LNG 
+The LNG Moment: How US production could change more than just markets – Atlantic Council
Adapted from comments given by The Honorable Paula Stern, Ph.D. at the Atlantic Council IN TURKEY Program's "New Regional Gas Market Dynamics under LNG Expansion & the Shale Gas Revolution" conference on February 26, 2019, with contributions from Ben Perkins.
This article is specifically focused on global trade relations and LNG markets.
It provides an excellent intermediate introduction to LNG,  in terms of both depth and breadth.
The article is an excellent sum of the advantages and importance, geopolitically and economically, of LNG.
Geopolitically, "One of the biggest effects of this LNG revolution is the ability of a country to obtain competitive or alternate shipments of natural gas in spite of preexisting geographical limitations or political pressures."
The security that LNG offers arguably outweighs the costs, especially for countries with access to import terminals. Notice that most of the countries that import LNG have a coastline. The reason LNG is so valuable, geopolitically, is because it allows any country with capital and trade to be self-reliant in its energy needs. Tethered to a pipeline, even with a fair contract, is always going to be a security risk since fuel is the lifeblood of war. Many dominant economies, such as China, Japan, and Germany, the 2nd, 3rd, and 4th largest economies, respectively, are energy-dependent. That's why all three are very interested in LNG imports from multiple suppliers to diversify their energy needs.
Economically, instead of relying on a pipeline from one supplier, like the EU does with Russia, the option to import LNG, in mass, limits the pricing power of the supplier from a pipeline.
"The fact is that even though the United States now produces more natural gas than Russia, Russian gas travels to Europe through an established and growing series of relatively inexpensive pipelines. American gas must travel to coastal terminals in the United States through a yet-incomplete system of pipelines before undergoing a costly liquefaction process and being shipped to Europe. This means the price of US gas is still not competitive with Russian prices in Europe."
Other economic topics of conversation include the reduction of OPEC's pricing power due to the rise in US oil and gas production.
"Liquefied Natural Gas (LNG) imports and exports are not new. What is new is the shale revolution, which triggered surging gas production in the United States…Over the last decade, increases in US oil and gas production related to US-developed fracking technology have brought substantial diversification to international energy supply and diminished the role of OPEC."
In sum, you have many strategic (political) reasons why countries need LNG, several economic reasons why it's advantageous, and finally, plenty of financial requirements for contracts, import and export terminals, liquefaction and regasification plants, production orders for tankers, and construction of pipelines.
+ The new natural gas revolution – IEA "The Energy Mix"2
"The IEA projects that 50 countries will be importing LNG by 2025, up from just 10 at the start of this century."
Business of LNG
The business of LNG is arguably the most important thing to watch once you have a handle on what LNG is and how vital it is for the world energy economy. That's because it takes almost an unfathomable amount of scale and complexity to pull off these large scale infrastructure projects. LNG is a win-win for energy-dependent countries and energy-rich countries, like the United States, where local consumption is quickly outpacing production growth.
Energized #36 discussed Chevron's divestment programs and the valuation of oil and gas assets and how companies are shifting their attention away from legacy assets and towards shale assets. Key shale plays like the Appalachian, Haynesville, Barnett, and Permian are expected to provide low-cost feedstocks for the gas compression industry. This expectation is supported by the US Energy Information Administration's (EIA's) 2019 reference case, which "represents EIA's best assessment of how US and world energy markets will operate through 2050, based on many key assumptions." In the reference case, the EIA notes that "total US natural gas production across most cases is driven by continued development of the Marcellus and Utica shale plays in the East." The case continues, "after 2020, production grows at a higher rate than consumption in most cases, leading to a corresponding growth in U.S. exports of natural gas to global markets."
+ Cheniere and Tellurian – The Motley Fool
As for the company side, we are going to focus on Tellurian and Cheniere, a classic David and Goliath combo, respectively, that are attempting some of the largest scale liquefaction trains and LNG export terminals in the world.
Companies like Cheniere and Tellurian are going all-in on a sustained U.S. natural gas boom dependent on infrastructure developments to export the natural gas, in liquid form, to buyers across the world. That's largely because The U.S. is now the No. 1 oil and gas producer in the world.
"In 2017, the U.S. was a net exporter of natural gas for the first time since 1957. If you were to ask how many Americans thought this would be possible 10 years ago, it would have likely been very few."
"That's because U.S. energy success has largely stemmed from the shale revolution, where producers have found new ways to use hydraulic fracturing and horizontal drilling to make exploring tight shale rock formations economically feasible. The shale revolution looks to continue, as interest is high for infrastructure developments, from pipelines to roads, that are critical to sustaining a long-term oil and gas boom."
"Equally important to infrastructure is the amount of hydrocarbon reserves. According to the U.S. Energy Information Agency (EIA), "proved reserves of natural gas increased by 123.2 trillion cubic feet (Tcf) (36.1%) to 464.3 Tcf at year-end 2017 — a new U.S. record for total natural gas proved reserves." To further illustrate the shale revolution's impact, two-thirds of the total proved reserves cited by the EIA are natural gas from shale."
Check out the Motley Fool article for more on Cheniere and Tellurian.
---
IMO 2020
Our most recent Energized Spotlight Issue, IMO 2020, took you deep into the details of IMO 2020, the International Maritime Organization's long-anticipated regulatory reduction in sulfur emissions that goes into effect January 1st, 2020. IMO 2020 affects multiple industries and will hopefully lead to a more sulfur-free world, but it won't be easy. The spotlight issue provides a background of the topic, then goes into the impact on the shipping industry, impact on traders, and the impact on the refiners.
According to Seahawk Investments, "In order to comply with IMO 2020, shipowners will primarily choose either to switch to VLSFO [very low sulfur fuel oil] or to install scrubbers on existing vessels. IMO 2020 is a game-changer in the shipping industry, affecting shipowners, refiners, and all other key stakeholders along the marine fuel supply chain. The world will see a greener environment in the shipping industry, but also a profound change in global fuel supply and demand. Some players such as refiners with an already set-up infrastructure to supply compliance fuel, or marine equipment suppliers for scrubbers benefit from the changes. Shipping costs are likely to increase once the regulation takes effect."
+ Exxon and IMO 2020 – The Motley Fool
When you see supermajors like Exxon position themselves for IMO 2020, you know it's a big deal.
"Exxon is preparing for IMO 2020 by upgrading facilities, most notably its Antwerp coker which "upgrades bunker fuel oil currently produced in our Northern European refineries to higher-value products, including ultra-low sulfur diesel," said Vice President of Investor Relations Neil Hansen during the company's Q3 earnings call. The upgrade of the Antwerp coker widens Exxon's lead as the company with the largest global coking capacity of any supermajor, well positioning Exxon for IMO 2020."
+ 3 IMO 2020 Articles – Hydrocarbon Processing
The December 2019 issue of Hydrocarbon Processing has three solid articles on IMO 2020. The article on page 63, in particular, provides a great perspective.
---
Upstream
+ Permian Basin: Reaching A Tipping Point – Argus Media
A brilliant webinar by Argus Media.
Key topics in this webinar include the following:
-Global demand and supply outlook
-US hydrocarbon supply
-Shale production
The webinar starts by mentioning the recent OPEC+ meeting on December 6th, where OPEC+ agreed to cut production further by 500,000 bpd adding to a total cut of 1.7 million bpd below October 2018 levels.
The total cut was really more like 3 million bpd since Iran, Libya and Venezuela severely reduced production. For Iran and Venezuela, it was mostly a result of US sanctions.
Growth forecasts by the EIA are mostly a result of increased US shale production, specifically from the Permian Basin.
Permian production is rising despite old well declines and lower rig counts, which we've mentioned in several issues of this newsletter. Note that the rig count fell below 800 to 799 this week.
Divergence is happening.
"Companies with deep pockets, economy of scale, and the best geology will continue to grow production dramatically."
"ExxonMobil, Chevron, and Occidental have aggressive growth plans in the Permian."
These large companies are using the best IoT and leveraging the digital oilfield.
The divergence trend began a while back, starting with "shareholders demanding producers balance their budgets", another point we've discussed frequently in this newsletter.
The model has shifted from a production mindset to a cash flow perspective and clamping down on borrowing money.
"ExxonMobil, following a $6.6 billion purchase of acreage in 2017 in the Permian, has steadily expanded its operations. Unconventional output rose by 72% from a year earlier to 293,000 boe/d in the third quarter of 2019. It currently has 55 rigs operating in the basin, matching the target set for year-end 2019, versus 51 rigs in the second quarter and 46 rigs in the first quarter."
"Similarly, Chevron says it's on track to raise its output from the Permian to 900,000 boe/d by 2023, holding its rig count steady around 20. Chevron's Permian output rose by 35% from a year earlier to 455,000 boe/d in the third quarter."
""I don't think OPEC has to worry that much more about US shale growth long-term," Pioneer Natural Resources' chief executive Scott Sheffield."
"The world's biggest independent, ConocoPhillips, unveiled a 10-year savings and operations plan aimed at improving margins and boosting shareholder returns. It set its capital expenditure budget at about $7 billion per year through to 2029 compared with guidance of $6.3 billion this year. Annual output is expected to grow by 3% with that level of spending, while a total of $50 billion in cash flow will be generated."
"Another major shale operator, Occidental, sharply lowered its capital expenditure plan as it focuses on deleveraging the balance sheet after its acquisition of Anadarko. The company has pegged its 2020 spending target at $5.3-$5.5 billion, down some 3.6 billion from the combined 2019 capital budgets of Occidental and Anadarko. That capex will generate production growth of 2% in the year."
"US upstream bankruptcies showed an uptick this summer after substantially decreasing in 2017 and 2018. As of early October 2019, 33 companies filed for bankruptcy compared with 24 in 2017 and 28 in 2018."
US shale production growth is slowing. December is estimated to rise 49,000 bpd, but the growth rate was nearly 120,000 b/d in 2Q and 3Q.
Total output from top US shale basins is now over 9 million bpd. As mentioned earlier, "the increase comes even as rig count falls."
Production output from the West Texas/ Southeast New Mexico Delaware Basin is expected to peak in 2024 but production out of the Midland Basin isn't expected to peak until the mid-2030s, according to Pioneer's Sheffield.
"New production out of the Delaware is lighter than WTI and the ability to blend the oil to WTI is limited."
"The increase of light oil coming into the Midland, Texas pricing hub has led to the segregation of a new grid, "West Texas Light," with 44-50 degree API gravity compared to WTI's Midland 42-44 degree API gravity. Delaware yield is averaging a discount of 60 cents per barrel compared to WTI Midland."
+Shale Cools, Takes Toll on Economy – The Wall Street Journal
A somewhat bleak conclusion to the year, or is it?
"In the past, we were just getting every warm body we could," Mr. Urteaga said at a recent cookout in Midland. "Because it's leveled off some, we're able to check references, make sure guys have the experience they're putting on their résumés."
A slight slowdown in the Permian Basin could be a good thing for infrastructure developments to catch up, supply of hotel rooms and housing to catch up to demand, and production to slow and wait for export terminal construction since production is already outpacing domestic consumption.
"MIDLAND, Texas—America's hottest oil-drilling regions—such as this one at the heart of the Permian Basin—are seeing their economies soften as shale producers slash spending, leading to emptier hotels, choosier employers and less overtime for workers."
"North American shale investment, or spending on drilling and fracking, is forecast to fall about 6% this year, then tumble another 14% in 2020, adjusted for inflation, according to energy analytics firm Rystad Energy."
"In Texas, the nation's top oil-producing state, energy industry employment has dropped at an annualized rate of 2.1% in the year to date through September, Dallas Fed data show."
"Oil-and-gas workers have begun to see their hours cut, and hotel occupancy in Midland has fallen 14% through the first 10 months of the year from a year earlier, according to hospitality benchmarking firm STR Inc."
"Including reinvested dividends, a broad index of U.S. oil-and-gas companies' share prices has fallen about 47% in the past three years as the S&P 500 index soared roughly 49%, according to FactSet."
---
Midstream
+ Permian Basin: Reaching A Tipping Point – Argus Media
Part two of the Argus webinar discussed the midstream build-out in the Permian, including new pipelines, port expansion and plans for offshore DLCC terminals. Here are a few key takeaways:
"In 2019 several new pipelines went into service including Plains All American Pipeline's, 670,000 barrel a day Cactus 2 line from the Permian to Corpus Christi and Epic's 400,000 barrel a day line which also targets Corpus Christi. The Epic line was meant to carry NGLs, but was temporarily placed into crude service until the larger group has pipelines comes into service next year."
"Also in 2019 Enterprise put in service its own NGL conversion, adding 200,000 barrels a day of capacity to the Houston area and Energy Transfer deploys its Permian expresses to buy an extra 120,000 barrels a day. More recently, Phillips 66 in late November placed it's 900,000 barrel a day pipeline into initial service to destinations in Corpus Christi."
"More Permian projects are on the way. One is a very large project, which could be as big as 1.5 million barrels a day known as Winton 2 Webster."
"Epic Midstream is also planning to start up its main cruise line with an initial 600,000 barrels a day in the first quarter of 2020 from West Texas to Corpus Christi. In addition, Enterprise Products Partners, already a major player in US crude exports, is planning to build two more long haul pipelines from the Permian to the Houston area. The new lines called Midland 2 Echo 3 and Midland 2 Echo 4 will each have a capacity of 450,000 barrels a day."
"Midland 2 Echo 3 should be in service in the third quarter of 2020 and the other in the first half of 2021. Enterprise said recently that it's crude pipeline systems and the Permian to Houston could move between 1.3 million barrels a day and 1.8 million barrels a day depending on market demand."
"Corpus Christi is becoming a key outlet for US crude exports due to the number of pipelines that have their destinations in Corpus."
"The spread between WTI Midland and West Texas and WTI Houston has narrowed significantly with the start of each new pipeline starting last year, which with an expansion of Plainville American Sunrise pipeline."
The spread between spot prices in West Texas and Houston was as high as $23 per barrel when natural gas prices at the Waha Hub in West Texas turned negative in the Spring of 2019.
"Natural gas output tops 15 BCF a day in September according to the latest monthly data."
"Kinder Morgan is planning up to two more Permian lines, but those could take a while to build. The company recently delayed at the in-service date for its Permian highway pipeline to early 2021. That would also be a two BCF a day project."
"Crude exports are now above 3 million barrels a day and have destinations across all major regions including Asia Pacific, Europe, and Latin America. According to the most recent census data which came out just last week, US crude exports reached a record high in October at about 3.4 million barrels a day. In that month, crude was exported to 31 countries."
---
Downstream
Refer to the "impact on refiners" section of IMO 2020.
From a business standpoint,
+ Chevron and ExxonMobil's Downstream Businesses – The Motley Fool
Efficiency
| Metric | Chevron | ExxonMobil |
| --- | --- | --- |
| Upstream revenue | $23,883 | $17,810 |
| Downstream revenue | $81,221 | $153,715 |
| Total revenue | $110,166 | $197,765 |
| Upstream earnings | $9,310 | $8,305 |
| Downstream earnings | $1,809 | $1,425 |
| Total net income* | $9,512 | $9,044 |
*TOTAL NET INCOME INCLUDES INCOME (LOSS) ATTRIBUTABLE TO NON-CONTROLLING INTERESTS OF THE CORPORATION. FIGURES IN MILLIONS OF DOLLARS. DATA FOR NINE MONTHS ENDING SEPT. 30, 2019. DATA SOURCES: CHEVRON AND EXXONMOBIL.
"Chevron's and ExxonMobil's recent Q3 earnings reports added yet another chapter in the ongoing saga of Chevron simply outperforming Exxon on efficiency. In Q2, Chevron had announced average cash flow breakeven at just $51 a barrel, the lowest of any supermajor. Chevron also flashed the lowest net debt ratio at 13.5% and industry-leading earnings per barrel (EPB) of $2.66 for its downstream business. This efficiency continued for the nine months ending Sept. 30, 2019, as Chevron topped Exxon's upstream and downstream earnings, as well as total net income despite the fact that ExxonMobil is the larger company. All in all, Chevron has proved that its efforts to increase efficiency are working, leading to successful performance even in the current mediocre oil-priced environment."

"Exxon achieved lower net income than Chevron despite the fact that its revenue was nearly double. This disparity is mostly the result of Exxon having the second-largest refining distillation capacity in the world compared to Chevron at No. 17. The downstream business (refining) is a high-revenue, low-margin game that represents the vast majority of Exxon's and Chevron's revenue, but a minority share of their earnings. Chevron turns more revenue into earnings by focusing on the higher-margin upstream side of oil and gas. Chevron has proved that its upstream business can make money at lower oil prices, providing a cushion in the current market while paving the way for upside when oil prices are higher. As for its downstream business, Chevron's selective investment decisions have led to, again, more income from revenue."
---
This concludes EKT Interactive's 2019 Energy Recap. Thank you for reading.
-Danny Foelber
EKT Interactive Managing Editor